July 1st - 4th - Squaw Valley Freedom Fest
Celebrate summer skiing and the 4th of July with a music and ski festival at Squaw Valley! There will be 3 days of live music mid-mountain, paying tribute to the 1991 concert by the Jerry Garcia Band that took place near this location. Enjoy even more music daily at the High Camp pool & hot tub, FREE shows at KT Base Bar and fireworks show on Monday evening following the free show by Big Head Todd and the Monsters!
July 3rd - Kings Beach Beach Party
The 38th annual July 3rd Fireworks & Beach Party will take place from 4-10pm outside the North Tahoe Event Center adjacent to the expansive beach at Kings Beach State Recreation Area. The Beach Party is a fundraiser for the Kings Beach fireworks and is open to all ages; admission is FREE. Enjoy food vendors, a beer/wine and mixed drink garden, free watermelon eating and sand castle building contests, periodical live music performances the San Diego Marine's Double Time Brass Band, a raffle to win a standup paddleboard, patriotic and glow items, and facepainting. The event is capped off by a dazzling fireworks display at 9:30pm.
Win a Paddleboard donated by BOGA paddleboards by purchasing raffle tickets at the Beach Party. 5 tickets for $20 and all proceeds go towards the Kings Beach Fireworks. Raffle drawing takes place at approximately 7:30pm at the Beach Party. Must be present to win.
July 4th - Firecracker Mile
A one mile run on July 4th along the parade route to Old Town Truckee. A fun way to spend 4th of July morning; Run and Stay and enjoy the parade. 

Pre-Registration: June 29th-July 3rd at Tahoe Mountain Sports (Safeway Plaza) from 10 am to 6pm Online at www.Active.com // There is a family Fun Wave and an Elite Wave. All finishers receive a souvenir cup.

Race day Registration: 8-9:15 am 10995 Donner Pass Rd (across from US Bank) Races st arts at 9:45 am SHARP!
Parking can be hard to find so plan on arriving early.

Head to www.TRUCKEEFUNRUN.com for more info.
July 4th - Tahoe City Beach Bash
The fireworks and beach party to celebrate our country's birthday has been a family tradition in Tahoe City for 72 years! The festivities will begin as a fun family beach day in Tahoe City leading up to the biggest, brightest and most dazzling firework show to date! Enjoy the lake all day long with food & activities taking place on Commons Beach and throughout town. Then all eyes point up to the sky for the spectacular fireworks that are fired off right off shore in front of you. It's breathtaking. A perfect ending to four perfect days of celebrating our beautiful country. 
July 4th - Truckee 4th of July Parade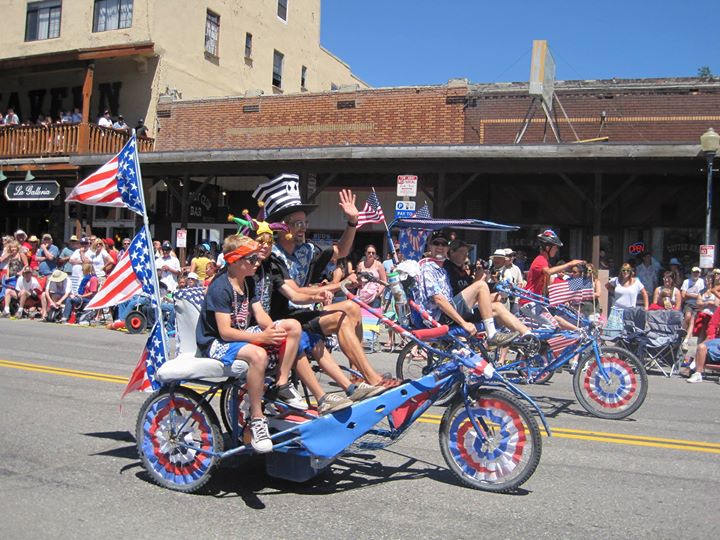 If you're looking for the quintessential display of small town Americana, the Truckee 4th of July Parade is where it's at. Crowds line the streets from the Truckee Firehouse (next to Wild Cherries) all the way to historic Downtown Truckee. Catch the best float performances in historic downtown Truckee where many floats put on a special show for the Judge. The parade begins at 10 am.