Floor Plan
https://tours.photo-tecture.com/918431
Primary Bedroom w/ ensuite bath (Downstairs)

JR Primary Bedroom w/ ensuite bath (Downstairs)

JR Primary Bedroom w/ ensuite bath (Main)

Bedroom 4 w/ ensuite bath

Lofted Bedroom (Above Main Floor) w/ ensuite bath
Great Location and House with a Few Problems.
Reviewed on 2022-03-07 by
Wendy
Updated on 2022-03-07
Just got back from a ski trip where we stayed at Creek Side at Alpine Meadows. The location is excellent, the house roomy enough for our party of 8. We also liked that each bedroom has its own bathroom. A few problems: cell coverage is poor (a cell phone booster would help) and the wi-fi set-up badly needs upgrading (we checked the serial number of the router, and it's 17 years old!). Also, we could've used more towels and there were no tissues provided. I know the rental agent says they disclose these things in the rental agreement, but still, for what we paid, these shouldn't have been issues. Seems a bit stingy to me.
Great Cabin but inflexible management
Reviewed on 2021-11-09 by
Todd
Updated on 2021-11-09
I stayed with a group of 7 over the weekend. We really enjoyed the cabin, with it's large great room and giant windows overlooking the creek. The bedrooms were large and comfortable, and we appreciated that each bedroom had its own bathroom. The cell coverage is spotty and the wifi is very slow (~5 mbps) so it's not ideal if you are looking to work remote. Our challenges with management began with them not allowing cancellations due to the fires this summer (we were supposed to stay over Labor Day but had to reschedule due to the fires). But that was understandable and they clearly stated that in their agreement. Once at the cabin, they only provided 1 roll of paper towels and 2 small rags for the kitchen. When I messaged them about it, they replied that they expected guests to bring their own supplies beyond the 1 roll of paper towels. Given that we spent over $3k renting the cabin for the weekend, this felt stingy. We also weren't close to a store so it was inconvenient cooking and cleaning without paper towels or rags. Additionally, I asked for a 2 hour grace period for a late checkout, and they said that we would have to pay $100 for a late checkout. Once again, felt stingy and not accommodating.
Manager Response:
Thank you for taking the time to put together a review. We are happy to hear that you enjoyed the home overall. We are very transparent about our policies and how rentals work in our check-in documentation. We clearly tell guests that we stock the homes with a starting supply of toiletries and that you will likely need to provide your own if you have a large group or are staying several nights.
Great Stay
Reviewed on 2021-06-20 by
Christine
Updated on 2021-06-20
We really enjoyed this rental-it was exactly as advertised and no disappointments for us. We especially enjoyed the lovely views outside of the large picture window in the family room-just a beautiful sight to look out onto the creek. Kitchen was well stocked, home was roomy, a quiet neighborhood and it has a good location in the area. Would definitely rent it again. There was a couple of not so good reviews on this place when I was searching for a rental and I am so glad I did not pay attention to them.
Great home - generally very happy
Reviewed on 2021-02-03 by
Dinesh
Updated on 2021-02-03
House was fantastic. Only suggestions are: 1 - the whole TV setup was old, confusing and generally didnt work. 2 - cleaning crew should make sure the outside trash cans are empty before check in 3 - upgrade the wifi. it was not secure and kept dropping. Other than that, fantastic home.
Manager Response:
Thank you so much for reviewing Creek Side at Alpine Meadows. We have since updated the A/V instructions. Unfortunately, trash day doesn't always coincide with our guests arriving and departing, but rest assured is picked up once a week. As disclosed on our listing, the only internet provider available is satellite and can be slow compared to urban areas.
Home needs work
Reviewed on 2020-08-12 by
Kevin
Updated on 2020-08-12
The house was great for my family of 10. Kitchen and Grand room were fantastic for meals and games. The problem is the home needs work. Deck, master bath shower almost unacceptable. Garbage disposal sticks. Lots of cobwebs and spiders in home could have been cleaner upon arrival. Fun few days in Alpine.
Manager Response:
Thank you for your review and feedback. We have since scheduled a full deep cleaning at the property and took care of the cobwebs. We appreciate you letting us know about the garbage disposal and master bathroom shower. Our maintenance team has since been to the house and confirmed them both in working order!
Creek side at Alpine
Reviewed on 2020-07-01 by
Thomad
Updated on 2020-07-01
The house was great and the location was ideal. The only letdown was the lack of air conditioning and the tiny deck .
Manager Response:
Thanks for your feedback- glad you enjoyed your time at this beautiful home. While the deck out back is fairly small, the backyard is enjoyable as it backs up to a creek, and comes equipped with a hot tub on the ground floor. 
Great location to Squaw and Alpine Meadow Ski Resort
Reviewed on 2020-03-23 by
Beth R.
Updated on 2020-03-23
Great space for our group of 9, Each bedroom had their own private bath. Lovely view of the creek. Kitchen does need to be decluttered, pots/pans need to be updated. Crockpot should be large to accommodate large groups. No kitchen towels. Also note: if it snows, the renter is responsible to clear the driveway and decks.
Manager Response:
So glad you enjoyed this home! Future guests should note that while homes will be stocked with the basic cooking essentials, pots and pans, knives, serving dishes and utensils, etc. specialty items like crockpots aren't typically provided.  To also clarify, we shovel the walkways and hot tub, etc prior to each guest's arrival, but if it is snowing actively during your stay, you may need to maintain the walkways for your own use!
Awesome spot on a roaring creek! great location
Reviewed on 2019-08-09 by
Jim W.
Updated on 2019-08-09
perfect for our family of 8! we cooked a lot- plenty of everything. oven does seem to need attention- couple of times it took a long long time to cook. great neighborhood. already recommended it to some friends.
Manager Response:
Thank you for your review, we are so very glad you enjoyed the home and location and would welcome you and your friends back anytime! We weren't able to duplicate the issue with the oven as it seems to heat up to set temp just fine for us. If future guests have this issue, feel free to reach out to our office. We are always happy to help!
Great House, Poor Service
Reviewed on 2019-07-09 by
Erika
Updated on 2019-07-09
Hi Team, We absolutely loved the house, however, the guest service was one of the worst we've had in a while. The internet went out at the start of our vacation and a manager came by for 2.5 hours to fix it. Unfortunately, he couldn't fix it. With a promised follow the next day, we received no phone call, no update, absolutely nothing. We also called for an early check-in and received very poor customer service - the woman I spoke to was unyielding, even though the house was empty, clean and we could have easily checked in, she would not budge. At 4:01PM, we received a text that we could then check-in. It felt wildly rigid and unnecessary. While we loved the house, for the price tag, we do expect slightly better treatment than a holiday inn.
Manager Response:
Thank you for your feedback. Frankly, I am surprised to hear that our service wasn't to your liking. The reason we were unable to accommodate an early check in was because we did have a renter depart on the morning of your arrival.  In these cases, our housekeepers and operations team need until 4pm to prepare the home for your arrival. We understood your desire to arrive to the home early, so we made sure that we emailed the code your way the moment the home was ready for you, which from my records looks like it was around 3:45pm. Further, we apologize that the internet had trouble even after 2 and half hours of troubleshooting from our team. The following morning we did however get a hold of Exwire, the internet provider, and our office staff spent another hour resolving the issue with the provider remotely. Once we got confirmation that the issue was resolved, our staff left you a voicemail explaining that things should be up and running for your group now and to call if you had further trouble. Since we didn't hear from your group for the remainder of your stay, we assumed you were all set. If for some reason you didn't get our voicemail, we apologize. We will be sure to be more diligent in our communication next time around to ensure that our renters are in the loop with the results of our efforts.
Beautiful and comfortable
Reviewed on 2019-06-18 by
Byron
Updated on 2019-06-18
This is a clean and beautiful home which was suited perfectly for our family of 11.
Amazing views, lovely setting, very comfortable for a large group.
Reviewed on 2019-06-04 by
Margie H.
Updated on 2019-06-04
Very roomy! All bedrooms and bathrooms were outstanding and large! Views from almost every room! Quality furnishings. Huge dining table. Kitchen VERY well-stocked! In fact, I've never seen so much glassware in a private home! Perhaps fewer glasses and cups and more empty cupboards for food storage would be a good idea
Very nice house for family ski weekend
Reviewed on 2019-03-07 by
Sam
Updated on 2019-03-07
We enjoyed our stay very much! Big kudos especially to Tahoe Getaways for having the driveway and front door access well plowed and shoveled after a huge amount of snow fell right before our arrival. It was really nice that the outdoor lights were on, given our arrival in the dark, and the house was warm. The house was comfortable and spacious. The radiant heat was lovely, though it was a challenge to get it even upstairs and down. Not that it was a problem. Very nice having 2 dishwashers for a big family group. Kitchen was well equipped but could have had some items updated: can opener didn't work; grater barely worked; glasses were all very small. Fairly minor things, though! Overall we really enjoyed our stay and would rent this house again! Thank you!
big home but really not kept up well
Reviewed on 2019-01-01 by
Peter
Updated on 2019-01-01
hot tub filthy pots and pans in cabinets dirty and greasy microwave didn't work (replaced) sink in bath completely clogged (fixed on second day) beds and linens very dated and uncomfortable great dining room table and gathering areas kitchen nice and open
Manager Response:
Thank you for reviewing your experience. We are sorry that you had these issues. We do service the hot tub on the day of your arrival, so don't hesitate to enjoy! Future renters should contact us upon arrival if they have any concerns about the hot tub as we have staff out in the field everyday and happy to take another look if something looks amiss. I'm glad we were able to resolve the microwave and the bathroom sink, both on the day that they were reported. We hope to make it up to you next time.
Creek Retreat
Reviewed on 2018-09-11 by
Anthony
Updated on 2018-09-11
Beautiful place to stay.Clean. Fresh. Great views from the rooms. Access to creek was the best for us. Also close 10 minute drive to grocery store.
wonderful cabin
Reviewed on 2018-07-26 by
Lesley
Updated on 2018-07-26
Excellent, will rent the same place again.
Such a lovely time on the creek at Alpine!!
Reviewed on 2018-05-01 by
Kelly
Updated on 2018-05-01
Our group had just a fantastic time at this rental. We hadn't realized how much the creek would be rushing (I'm sure that depends on time of year and how much snow fell the previous winter), but it felt like we were on a river. Mesmerizing to sit and watch. Finally a rental with a dining room table that seats the number of people it says it can sleep! This is a pet peeve of mine and we had a lovely dinner with all 11 of us (the table seats 12) at one table. Everything was clean and comfortable and we will be back for sure.
Perfect House for a Big Family
Reviewed on 2018-03-12 by
Vance
Updated on 2018-03-12
The house is one of the few we've rented which is perfect for our family for a ski vacation. Each bedroom has a bathroom. The kitchen is big and the dining table can fit a lot of people. The location is also great.
Snow trip
Reviewed on 2018-01-23 by
Shelley
Updated on 2018-01-23
We we 6 adults and 6 children. I'm in a wheelchair. We enjoyed our stay. The bed and bath for wheelchair use are on the entry level, so it worked pretty good for me. Sink was high. A few minor problems when we arrived but they were quickly taken care of. Beautiful spot with it being right in the creek.
Best vacation ever!
Reviewed on 2017-08-09 by
Ann
Updated on 2017-08-09
Our family had such an awesome time at this rental. The quiet and scenic location right next to Bear Creek was wonderful - the grandkids had so much fun playing in the creek. It's a beautiful home and furnished well, kitchen well-stocked with supplies, adequate beds and linens. Remember this is a person's home, not a hotel so don't expect luxury soaps or extra towels or perfect furnishings. Like many Alpine meadows homes they are furnished with relics from owners' pasts. The home was clean except for the carpets, which were in dire need of cleaning. The resident vacuum cleaners did not work so we couldn't really keep the floors clean. Also, the outside deck really needed powerwashing - very cobwebb-y. I would give it 4.5 stars if not for these few cleaning issues. Be aware also there are 4 rooms with king-size beds and 1 room with 3 single beds; so only beds for 11, not 13. A couple of the rooms have floor space for a crib or couple of sleeping bags. The upstairs loft is open to below so not private, although there is a screen that helps.
Great times!
Reviewed on 2017-08-03 by
Susi & Paul
Updated on 2017-08-03
Perfect for 5 couples. Well stocked kitchen.
The openness of the main floor made for a good gathering place. Located conveniently between Tahoe City and Truckee. Squaw Valley is your next door neighbor!!! The room with three twin beds needs some attention. Accept the fact that internet reception just doesn't work 95% of the time.
Vacation
Reviewed on 2017-07-17 by
Julie
Updated on 2017-07-17
We enjoyed this house very much. There was plenty of room for all (there were 12 of us). The location was perfect. Very beautiful and peaceful right on the creek. It was so relaxing falling asleep at night to the sound of the great. As other reviews mentioned, there is very limited WiFi but I thought it was nice to disconnect. Would definitely stay again.
Relaxing big home with a stream behind it!
Reviewed on 2017-06-17 by
Manoj
Updated on 2017-06-17
4 families spent a relaxing 2 nights in this big house. All equipment worked well and the house was spotless. The management company (Tahoe Getaways) was very professional and helpful. Their responses were timely even during the (long) weekend. The Tahoe Getaways app was a one-stop source for all relevant information - highly recommend installing it. Jacuzzi was a hit with the kids. Garage admits small cars ... we drove SUV and minivans and they remained parked outside. Internet was VERY slow but that seems to be a pervasive problem in those parts.
Great weekend getaway !
Reviewed on 2017-03-21 by
Kevin
Updated on 2017-03-21
We rented this house for an office ski trip. One couple had a small child, which worked out well with the front bedroom since it is pretty isolated from the rest of the house and has a separate kitchenette. Hut tub is nice right along the creek. Snow was stacked up above our heads! Very clean and the property manager was accommodating and worked with us when the interstate was closed for a few hours due to a snowstorm on our departure day. It fits 4 cars (2 in garage, 2 out). Bring your own firewood. Internet speeds were pretty terrible consistent with all the other Alpine Meadows rental house reviews. Would recommend!
Almost perfect
Reviewed on 2017-02-05 by
Sebastian
Updated on 2017-02-05
Beautiful house, plenty of space in a great location.
However, the house is advertised for 13 people but:
- it actually only has 11 beds, plus an inflatable mattress that you'll have to put somewhere
- it only had towels for 11. When I asked the property management to bring more, they said it would be challenging with the "traffic situation" and never brought them. Two people had to share.
Terrific Location
Reviewed on 2017-01-18 by
Celia
Updated on 2017-01-18
A couple of families enjoyed staying at this residence. We had a problem with the television and the rental company was prompt in fixing it. The location for skiing is ideal, we were able to travel back and forth to Alpine Meadows with small children during the day. The bad wifi throughout the valley drove everyone crazy. We were forewarned of this issue. The grandparents loved it because there were always plenty of people willing to play games. We would stay here again. Especially loved the hot tub and the creek in the backyard. The long dining room table was terrific too.
Perfect Thanksgiving
Reviewed on 2016-11-29 by
Sarah
Updated on 2016-11-29
Great stay. The home had everything needed to prepare a full Thanksgiving dinner. Everyone loved that each room had its own bathroom. The heated floors were nice. Beds were comfy.
SPARTAN Base! Good for a great nights sleep! ;-)
Reviewed on 2016-10-11 by
Ginger
Updated on 2016-10-11
Fabulous rental! Fit our needs perfectly and the kitchen was stocked with plenty of appliances.
Thank you so much for letting us enjoy your amazing home!
Quiet Weekend With No Electronics
Reviewed on 2016-08-10 by
Eric
Updated on 2016-08-10
The property was wonderful, quite, and comfortable. The kitchen and dining area were perfect for our large family gatherings. Two dishwashers was a nice touch, but the microwave was quite small. The internet connection was ridiculously slow, cell phone service was poor, and we had trouble getting movies to play. But an unplugged weekend was hardly a drawback.
Manager Response:
Glad to hear you enjoyed the home! Alpine Meadows has the most limited options for internet service in all of Tahoe and some carriers offer limited cell phone service as well, so we appreciate you sharing this with our future guests.
Great home for a ski trip
Reviewed on 2016-03-26 by
Robert T.
Updated on 2016-03-26
The house was great. Nice kitchen with excellent appliances, double dishwasher really came in handy. House was close to the slopes and ideal for driving into town. Property management company was really great to work with; very customer oriented.
Winter vacation home
Reviewed on 2016-01-06 by
Juan
Updated on 2016-01-06
The home is perfect for a winter vacation.
Cozy space!
Reviewed on 2015-12-15 by
Connie
Updated on 2015-12-15
Really beautiful home, one caveat is that it could have been more clean. In fact the oven was so dirty it caught on fire! Scared us but otherwise lovely home
Nice Alpine Meadows rental
Reviewed on 2015-12-14 by
Mike
Updated on 2015-12-14
Great place, nice location with creek in back and hot tub that was on and ready when we arrived. Lots of windows which enhances the great view. The only disappointment for us was they need to upgrade the wi-fi. Its really slow and sometimes doesn't work at all. Would help since cell phone service with AT&T doesn't work at this cabin. Also, more bathroom towels would be helpful.
Manager Response:
We are glad you enjoyed you stay at Creekside... one of our most popular houses! We hear you loud and clear with the internet. Unfortunately, internet options in Alpine Meadows are limited (neither AT&T or the cable provider serve Alpine). The best option is a satellite service called X-wire, of which is used at Creekside. It can be especially snow when its snowing outside. Regarding the towels, we stock towels based on the sleeping capacity of the property (one face cloth, one hand towel, and one bath towel each). While there are beach towels at the property for the hot tub, we always recommend that guests bring extras just in case. 

 
great place for families
Reviewed on 2015-12-10 by
Courtney
Updated on 2015-12-10
What a terrific house. Great for multiple families.
Comfortable house
Reviewed on 2015-08-12 by
Denise
Updated on 2015-08-12
We enjoyed our stay at Creekside and would definitely stay there again. There were a couple of things that popped up that they fixed them immediately.
Only think I would mention is that it can fit 13 people but two of them will be sharing a blow up Aero bed and sharing a room with another couple. My fault for not reading more carefully.
Tahoe vacation
Reviewed on 2015-07-26 by
Kathleen
Updated on 2015-07-26
Absolutely no complaints. We loved the house and were very comfortable. One of our granddaughters even saw a baby beaver outside. The river setting was beautiful.
Unseasonably warm but great accommodations
Reviewed on 2015-02-09 by
Kaprice
Updated on 2015-02-09
Creek Side at Alpine was a great house in a great location. A very short drive to Alpine Meadows and Squaw Valley and close to Tahoe City for dining and shopping. The house was in great shape and had an excellent layout. It was also very well stocked with any utensil or appliance you could want. The only complaint would be the very slow DSL internet access. We had 7 adults all with their typical devices and often we had to disconnect devices from the wifi in order to allow others to use the internet.
Great week-long stay with 7 adults and 10 kids
Reviewed on 2015-01-05 by
Jacques Frederic
Updated on 2015-01-05
We had a great stay over NYE at Creekside Manor. The house is very well built, 5 bedrooms where noise doesn't really travel - including to some extent in the loft which was surprising. Comfortably held 17 people. Great layout for children as they can run around but it still feels like everyone is together. Great location in Alpine, close to the road but no road noise because of the creek in between. Highly recommend. Property management company is great to deal with - easy during the rezzy process and when the grill broke on NYE someone answered the phone at 8a and offered to fix it that day. Couldn't ask for more.
Creek Side at Alpine
Reviewed on 2014-12-29 by
Robert
Updated on 2014-12-29
Very good.Heat made a loud whistling noise when turnd high turnd down and o k.Most heat from fire place . Works great!
Beautiful Home
Reviewed on 2014-12-02 by
Megan
Updated on 2014-12-02
We enjoyed a wonderful Thanksgiving weekend in this home. They have truly thought of every comfort in this home and our stay was extremely comfortable for the entire family including our dog.
The only problem (or blessing) was that the internet connection was very poor and our AT&T cell phones did not work at all. We enjoyed a restful stay and the teenagers (and adults) were unplugged!
Nice Experience
Reviewed on 2014-09-04 by
Nisha
Updated on 2014-09-04
Perfect vacation home for a big group and kid- friendly too. We would love to come back again.
August Family Reunion in Alpine Meadows
Reviewed on 2014-08-21 by
Phyllis
Updated on 2014-08-21
Our kids and grandkids all had a spectacular time - the cabin was just right for the 13 of us, the hot tub felt great after hiking and horseback riding, the creek along the side of our cabin provided hours of entertainment for our 4 and 5 year olds and we were just far enough away from Tahoe City to feel the peace and quiet of the area, yet easily get to beaches, restaurants and events.
Creekside Stay
Reviewed on 2014-07-16 by
Wendy
Updated on 2014-07-16
The location was great, and overall the house was great. The dining room held 15 adults, the living area was cozy, and the sound of the creek was refreshing. Our one complaint was that the loft should not count as a bedroom as you could see into the space from many spots downstairs, its bath was very small, and the storage space for clothing was limited. Once one person was awake downstairs, people in the loft could hear every sound. The management group, Tahoegetaways, was very professional and responsive to our immediate needs. I can highly recommend the property as a four bedroom with a loft that has no privacy at all, so if a real fifth bedroom is needed, this may not work.
Great home
Reviewed on 2014-02-05 by
Bonnie
Updated on 2014-02-05
we were looking for a pet friendly house and this one was one of three that allowed them. The house was absolutely beautiful and big. It accommodated our entire family with plenty of room. The open concept was so nice and relaxinng for everyone. The kitchen was well stocked with all the utensils, dishes, etc needed to cook and eat meals. Each bedroon had its own private bathroom which was very nice. The view from the main floor out over the creek was stunning. It was a little pricey but the house itself and the fact we were able to bring our dog was a huge point for us. The location was perfect for any pythons you wanted to do.
Beautiful Creekside home
Reviewed on 2014-01-24 by
Susan
Updated on 2014-01-24
Our family Christmas with 12 people loved staying in this spacious, beautiful house with 5 bathrooms, large kitchen and dining table to seat 14. Fun sledding down the road out front and close proximity to Alpine and Squaw Valley skiing. Only downside was spotty Internet during the day.
Nice location, spacious accommodations
Reviewed on 2014-01-14 by
David
Updated on 2014-01-14
Eight of us, 4 couples, stayed for a week. House worked out very well for us with lots of room and spacious main area. Location along the creek was very nice. Property was very clean. Two dishwashers were an unexpected bonus and very convenient for a large group eating "in," as we did.
PERFECT!
Reviewed on 2013-08-25 by
Squaw Native
Updated on 2013-08-25
Hosted a reunion. 28 people fit easily in the great Room with its wide open arrangement and views outside. Kitchen fully stocked with everything. Bedrooms w/own bathrooms were great for five couples. Noise for loft bedroom was not an issue since everyone retired and got up around same time. WiFi was great bonus. Clean. Main floor level with quiet street. Main deck just big enough. BBQ worked great. Minor negative is only access to creek and hot tub is through bedroom or front door. One bedroom was used as a quiet place for baby and sick individual. Everyone in group very pleased with house.
[2]
JR Primary Bedroom
1 King
JR Primary Bedroom
1 King
Lofted Bedroom (Above Main Floor)
1 King
Location
Creek Side at Alpine Meadows
Condo type
Summer 3 NT Creek Side at Alpine Meadows
Custom
Private Hot Tub
Pet Friendly
Outdoor Furniture (Seasonal)
Gas Grill
Wireless Internet
Cable Television
Wood Fireplace
Washer
Dryer
Dishwasher x2
Full Kitchen
Coffee Maker
Driveway Parking for 2
Garage Parking for 2
Limited Mobility Accessible
King Bed
Suitability
Children Welcome
Pets Considered
Smoking Not Allowed
Free Parking
Fireplace
Decked area
Central heating
Hot Water
Private Living Room
Lock On Bedroom Door
Pets allowed
Entertainment
Television
Satellite or Cable Service
Laptop Friendly
Pool/Spa
Hot Tub
Jacuzzi
Jacuzzi/hot tub
Attractions
Autumn Foliage
Marina
Museums
Pond
Health Beauty Spa
Themes
Family
Luxury
Romantic
Away From It All
Adventure
Sports Activities
Location Types
Downtown
Mountain
Resort
River
Rural
Town
Village
Mountain View
Mountain views
Rural/countryside retreats
Beach or lakeside relaxation
Skiing: property is in a ski resort
More…
Don't wait -
34
people are currently interested in reserving this property!
4 Primary Suites, Pet Friendly, Hot Tub, Shuttle to Slopes

Primary Bedroom (King)
JR Primary Bedroom (King)
JR Primary Bedroom (King)
Bedroom 4 (Twin Single)
Lofted Bedroom (Above Main Floor) (King)
Private Hot Tub
Pet Friendly
Outdoor Furniture (Seasonal)
Gas Grill
Wireless Internet
Cable Television
Wood Fireplace
Washer
Dryer
Dishwasher
Full Kitchen
Coffee Maker
Driveway Parking for 2
Garage Parking for 2
Limited Mobility Accessible
King Bed
Available Specials
1322 Mineral Springs trail
96146
Olympic Valley
,
CA
United States
39° 10' 53.7564" N, 120° 12' 48.7152" W
[9]
[10]
[11]
[12]
[13]
[14]
[15]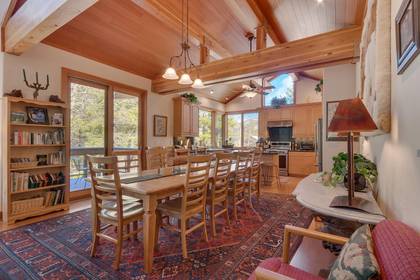 [16]
[17]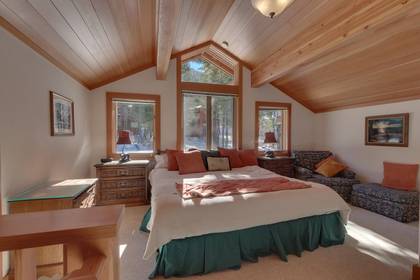 [18]
[19]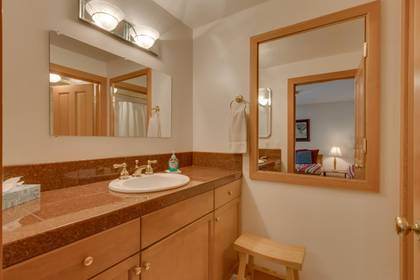 [20]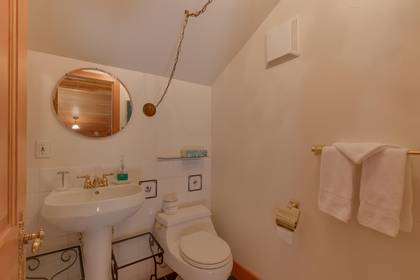 [21]
[22]
[23]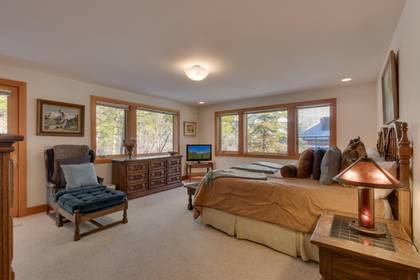 [24]
[25]
[26]
[27]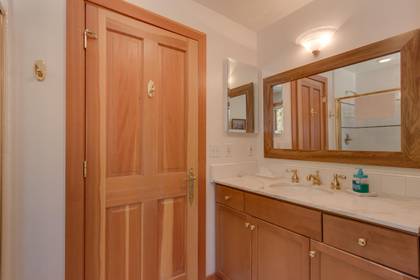 [28]
[29]
[30]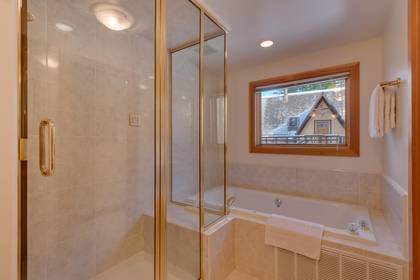 [31]
[32]
[33]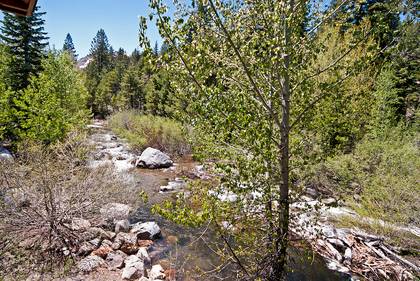 [34]
[35]
[36]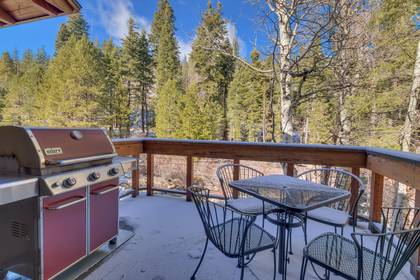 [37]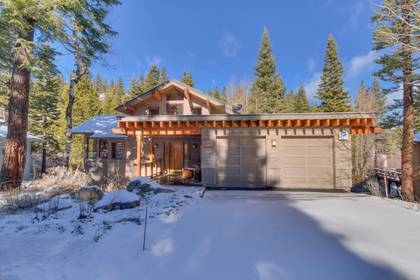 [38]
[39]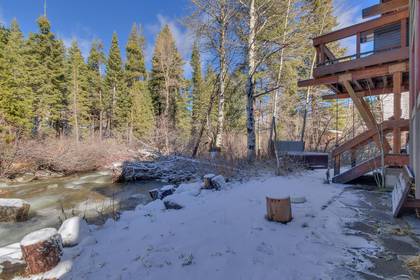 [40]
5 Bedrooms
5 Baths
King Bed
Pet Friendly
Luxury
Private Hot Tub
This gorgeous Tahoe vacation rental home is located on the bank of the idyllic Bear Creek in Alpine Meadows, less than five minutes from Palisades Tahoe (formally known as Squaw Valley/Alpine Meadows) and about ten minutes from Tahoe City. 
Custom built in 2002, this Tahoe vacation home has all the amenities you could desire in an alpine ski resort. Upon entry to this magnificent vacation house, you are welcomed in the great room, styled for comfort with its stone fireplace, cathedral ceiling, home theater system and large windows.
The open plan flows through the dining room to the well appointed kitchen (including two dishwashers) with breakfast bar. The dining room is perfect for memorable family dinners with its large table that comfortably seats twelve. Each of the four Primary suites (one of which is an open loft style over the main living space) includes a king bed, attached bathroom, and views of the creek.
The sunny decks, gas BBQ and hot tub can be enjoyed within a lushly landscaped setting, with the soothing sound of the river creating the ultimate sense of relaxation. Book your next ski vacation today at Creek Side at Alpine Meadows!
SILVER LEVEL PROPERTY
• 3,200 Square Feet
• Hot Tub - accessible through downstairs bedroom
• River Views
• Well traveled dogs (2 maximum) welcome (fee applies)
• Wheel Chair Friendly
• 4 Primary Suites with King Beds
ABOUT THE AREA
Tucked between Truckee and Tahoe City, Palisades Tahoe is a picturesque playground for families and off-the-radar thrill-seekers alike. Chalet-style lodges and approachable hospitality mean that the skiing and riding experience always comes first. From easy-riding progression parks to wide-open bowls, Palisades Tahoe brings an exciting challenge to any level of skier or snowboarder. And with more than 270 trails spread over 6,000 skiable acres, mountain adventures (and groomed runs) await at every bump, jump, and chairlift.
In the summer, Alpine Meadows offers a relaxed and peaceful refuge among sweeping valley views, meandering creeks and hidden alpine lakes. The more adventurous can find their fix with some of the best hiking, horseback riding and epic mountain biking around. When you're ready for a day at the lake or a night out on the town, sandy beaches and the Tahoe City boardwalk are just ten minutes from your door.
POLICIES & DISCLOSURES:
1. Maximum Day Time & Night Time Occupancy is 10 Adults and 1 Child (under 16)
2. Parking for 4 vehicles. Street parking is prohibited year-round.
3. Fifth bedroom is technically a loft.
4. Internet service in Alpine Meadows (satellite provider) is known to be slow compared to urban standards, especially in bad weather. Refunds will not be issued for internet service interruptions.
5. Creek Side at Alpine is located in an exceptionally quiet neighborhood. Noisy or disruptive behavior will not be tolerated by neighbors or Tahoe Getaways.
6. Due to Extreme Fire Danger – The use of ANY outdoor firepit or fireplace is strictly prohibited at any of our rental properties. We appreciate your understanding and cooperation as we work to keep our community safe from wildfires.
Placer County STR Permit Number STR20-5800
Placer County Good Neighbor Flyer [41] 
 
Amenities
Internet
Fireplace
Heating
Washer
Dryer
Parking
Garage
Telephone
Living Room
Hair Dryer
Ironing Board
Linens Provided
Towels Provided
Iron
Shampoo
Carbon Monoxide Detector
First Aid Kit
Fire Extinguisher
Smoke Detector
Internet Access
Cable/satellite TV
Parking space Accessible
Parking space
TV
Linens provided
Towels provided
Private Entrance
Self Check-In
Lock Box Lock Box
Deadbolt Lock
Outdoor Lighting
Bed Linens
Extra Pillows And Blankets
Conditioner
Dates
Price
11/27/2022 - 11/30/2022

$618

/nt

12/01/2022 - 12/01/2022

$550

/nt

12/02/2022 - 12/03/2022

$600

/nt

12/04/2022 - 12/05/2022

$550

/nt

12/06/2022 - 12/14/2022

$600

/nt

12/15/2022 - 12/15/2022

$925

/nt

12/16/2022 - 12/17/2022

$990

/nt

12/18/2022 - 12/18/2022

$925

/nt

12/19/2022 - 12/20/2022

$785

/nt

12/21/2022 - 12/22/2022

$1,576

/nt

12/23/2022 - 12/26/2022

$1,800

/nt

12/27/2022 - 01/01/2023

$2,443

/nt

01/02/2023 - 01/02/2023

$1,773

/nt

01/03/2023 - 01/03/2023

$1,241

/nt

01/04/2023 - 01/04/2023

$942

/nt

01/05/2023 - 01/05/2023

$1,018

/nt

01/06/2023 - 01/07/2023

$1,284

/nt

01/08/2023 - 01/08/2023

$971

/nt

01/09/2023 - 01/11/2023

$825

/nt

01/12/2023 - 01/12/2023

$1,100

/nt

01/13/2023 - 01/14/2023

$1,600

/nt

01/15/2023 - 01/15/2023

$1,523

/nt

01/16/2023 - 01/18/2023

$825

/nt

01/19/2023 - 01/22/2023

$971

/nt

01/23/2023 - 01/25/2023

$825

/nt

01/26/2023 - 01/29/2023

$971

/nt

01/30/2023 - 01/31/2023

$825

/nt

02/01/2023 - 02/01/2023

$785

/nt

02/02/2023 - 02/05/2023

$925

/nt

02/06/2023 - 02/08/2023

$785

/nt

02/09/2023 - 02/12/2023

$925

/nt

02/13/2023 - 02/15/2023

$785

/nt

02/16/2023 - 02/16/2023

$925

/nt

02/17/2023 - 02/19/2023

$1,812

/nt

02/20/2023 - 02/20/2023

$1,733

/nt

02/21/2023 - 02/21/2023

$1,386

/nt

02/22/2023 - 02/23/2023

$1,753

/nt

02/24/2023 - 02/25/2023

$1,993

/nt

02/26/2023 - 02/26/2023

$1,287

/nt

02/27/2023 - 02/27/2023

$994

/nt

02/28/2023 - 03/02/2023

$900

/nt

03/03/2023 - 03/04/2023

$1,300

/nt

03/05/2023 - 03/05/2023

$925

/nt

03/06/2023 - 03/08/2023

$785

/nt

03/09/2023 - 03/09/2023

$925

/nt

03/10/2023 - 03/11/2023

$990

/nt

03/12/2023 - 03/12/2023

$925

/nt

03/13/2023 - 03/15/2023

$785

/nt

03/16/2023 - 03/19/2023

$925

/nt

03/20/2023 - 03/22/2023

$785

/nt

03/23/2023 - 03/23/2023

$925

/nt

03/24/2023 - 03/25/2023

$1,100

/nt

03/26/2023 - 03/26/2023

$925

/nt

03/27/2023 - 03/29/2023

$785

/nt

03/30/2023 - 03/30/2023

$990

/nt

03/31/2023 - 04/01/2023

$1,100

/nt

04/02/2023 - 04/02/2023

$990

/nt

04/03/2023 - 04/05/2023

$785

/nt

04/06/2023 - 04/06/2023

$925

/nt

04/07/2023 - 04/08/2023

$1,018

/nt

04/09/2023 - 04/09/2023

$925

/nt

04/10/2023 - 04/12/2023

$785

/nt

04/13/2023 - 04/13/2023

$925

/nt

04/14/2023 - 04/15/2023

$1,018

/nt

04/16/2023 - 04/20/2023

$618

/nt

04/21/2023 - 04/22/2023

$672

/nt

04/23/2023 - 04/27/2023

$618

/nt

04/28/2023 - 04/29/2023

$672

/nt

04/30/2023 - 05/04/2023

$618

/nt

05/05/2023 - 05/06/2023

$672

/nt

05/07/2023 - 05/11/2023

$618

/nt

05/12/2023 - 05/13/2023

$672

/nt

05/14/2023 - 05/18/2023

$618

/nt

05/19/2023 - 05/20/2023

$672

/nt

05/21/2023 - 05/25/2023

$618

/nt

05/26/2023 - 05/27/2023

$672

/nt

05/28/2023 - 06/01/2023

$618

/nt

06/02/2023 - 06/03/2023

$672

/nt

06/04/2023 - 06/08/2023

$618

/nt

06/09/2023 - 06/10/2023

$672

/nt

06/11/2023 - 06/13/2023

$618

/nt

06/14/2023 - 06/15/2023

$690

/nt

06/16/2023 - 06/18/2023

$800

/nt

06/19/2023 - 06/22/2023

$690

/nt

06/23/2023 - 06/25/2023

$800

/nt

06/26/2023 - 06/27/2023

$690

/nt

06/28/2023 - 06/29/2023

$759

/nt

06/30/2023 - 07/05/2023

$948

/nt

07/06/2023 - 07/07/2023

$862

/nt

07/08/2023 - 07/09/2023

$800

/nt

07/10/2023 - 07/13/2023

$690

/nt

07/14/2023 - 07/16/2023

$920

/nt

07/17/2023 - 07/20/2023

$794

/nt

07/21/2023 - 07/23/2023

$920

/nt

07/24/2023 - 07/27/2023

$794

/nt

07/28/2023 - 07/30/2023

$920

/nt

07/31/2023 - 07/31/2023

$794

/nt

08/01/2023 - 08/03/2023

$690

/nt

08/04/2023 - 08/06/2023

$800

/nt

08/07/2023 - 08/10/2023

$690

/nt

08/11/2023 - 08/13/2023

$800

/nt

08/14/2023 - 08/17/2023

$690

/nt

08/18/2023 - 08/20/2023

$800

/nt

08/21/2023 - 08/24/2023

$690

/nt

08/25/2023 - 08/27/2023

$800

/nt

08/28/2023 - 08/30/2023

$690

/nt

08/31/2023 - 08/31/2023

$794

/nt

09/01/2023 - 09/03/2023

$920

/nt

09/04/2023 - 09/04/2023

$690

/nt

09/05/2023 - 09/07/2023

$618

/nt

09/08/2023 - 09/09/2023

$672

/nt

09/10/2023 - 09/14/2023

$618

/nt

09/15/2023 - 09/16/2023

$672

/nt

09/17/2023 - 09/21/2023

$618

/nt

09/22/2023 - 09/23/2023

$672

/nt

09/24/2023 - 09/28/2023

$618

/nt

09/29/2023 - 09/30/2023

$672

/nt

10/01/2023 - 10/05/2023

$618

/nt

10/06/2023 - 10/07/2023

$672

/nt

10/08/2023 - 10/12/2023

$618

/nt

10/13/2023 - 10/14/2023

$672

/nt

10/15/2023 - 10/19/2023

$618

/nt

10/20/2023 - 10/21/2023

$672

/nt

10/22/2023 - 10/26/2023

$618

/nt

10/27/2023 - 10/28/2023

$672

/nt

10/29/2023 - 11/02/2023

$618

/nt

11/03/2023 - 11/04/2023

$672

/nt

11/05/2023 - 11/09/2023

$618

/nt

11/10/2023 - 11/11/2023

$672

/nt

11/12/2023 - 11/16/2023

$618

/nt

11/17/2023 - 11/18/2023

$672

/nt

11/19/2023 - 11/21/2023

$618

/nt

11/22/2023 - 11/25/2023

$985

/nt

11/26/2023 - 11/30/2023

$618

/nt

12/01/2023 - 12/02/2023

$672

/nt