Floor Plan
https://tours.photo-tecture.com/839385
Master Bedroom w/ Ensuite Bath (Upstairs)

Bedroom 2 (Upstairs)

Bedroom 3 (Main Floor)

Additional Area

Upstairs Living Room- King Sofa Sleeper
Wonderful Home
Reviewed on 2022-01-05 by
Decameron
Updated on 2022-01-05
The West Pine Cabin has everything you want and is turn key ready. Great Decks and lots of room for kids and Family. Thank You,
Wonderful stay.
Reviewed on 2021-10-12 by
Kathleen
Updated on 2021-10-12
Great house with lots of room to spread out and enjoy the beauty of Lake Tahoe. Home was really clean and well equipped.
Westshore Visit
Reviewed on 2021-08-31 by
James
Updated on 2021-08-31
The cabin was clean and stocked with basics (clean towels, paper products, etc.) and it was made available to us according to our updated arrival time. While the cabin was nice enough, I was surprised to see that the outside grounds were minimally maintained, with piles of discarded wood and debris at the rear of the property. We had many guests drop by during the days we were at the cabin, and several guests even commented on the appearance of the exterior of the home.
Manager Response:
Thank you for taking the time to review West Pine Cabin. We are pleased you enjoyed your stay and appreciate you letting us know about the landscaping. We have brought the homeowner into the loop and they plan on taking care of it during the next vacancy.
Great home!
Reviewed on 2021-08-09 by
Lisa
Updated on 2021-08-09
Great home! Great location! Thank you for sharing your home!
Cute house, lots of climbing stairs
Reviewed on 2021-06-18 by
Kelly
Updated on 2021-06-18
We enjoyed our stay here (family of 6 and 2 dogs). Unique house but be ready to climb stairs a lot. It wasn't as clean or luxurious as we expected at that price but management came out right away to make the place more comfortable for us. We enjoyed the hot tub. Downstairs was a little dark but the upstairs living room was really bright and comfortable. If you like super soft squishy beds, this house has that! The pull out bed upstairs was huge and very firm. We didn't use the bunk bed room. The downstairs sofa isn't the best for sleeping either but it's very big and nice for the family to relax.
5 Star
Reviewed on 2019-09-25 by
Kathleen
Updated on 2019-09-25
Loved our stay! The house was really clean and well stocked. The location is perfect for all kind of activities. Super quiet at night with comfortable beds. Will definitely stay there again!
Great Location
Reviewed on 2019-08-07 by
Gayle B.
Updated on 2019-08-07
Overall this is a great property to rent! Place was clean and spacious, but a little funky, which adds to the charm. My one and only complaint was there was no counter space in the kitchen or place to really store any food because most cabinets were already full. But other than that, no other complaints. It had a great front deck and walking distance to Sunnyside and beach.
West Pine Rental
Reviewed on 2018-10-02 by
Leslie
Updated on 2018-10-02
We thoroughly enjoyed this house. Very clean, kitchen organized nicely unlike other homes we've rented, and updated in most places. The only problem we saw were the cushions around the "pit" in living area. One member of family just leaned on one which appeared to be taut but it was loose and she almost went head first into table. Tahoe Getaway staff were excellent in every way.
parkland house
Reviewed on 2018-08-08 by
Tom
Updated on 2018-08-08
good time, home layout not the best--see seating pit. BBQ needs to be replaced. Should have TV on wall of upper big room---the best gathering room in the home.
The instructions to wash the "old use" sheets/sheets not on beds---very strange. We washed those sheets. We won't rent a place with those req's again.
Manager Response:
Thank you for the feedback on your recent stay. There may be a bit of confusion with what was asked of your group upon check-out. For future renters, what we believe Tom is referring to is the request that if a group uses and dirties any of the extra sheets stored in the linen closet, that you begin a load of laundry to help our housekeepers turn the home over. They do rely on having one set of clean sheets to be able to allow the most timely access to the homes for our next renters. We hope that you didn't feel like you needed to wash the already laundered set if you did not utilize them. We apologize about any confusion there and hope this sheds some light for future renters.
Absolutely Fantastic Home
Reviewed on 2018-07-05 by
David
Updated on 2018-07-05
Clean, spacious, warm, and perfect location. The space upstairs for entertaining with the bar was great to talk, find some privacy if needed. The hot tub was in perfectly clean condition and was great after some long hikes. Everything was in working order. Thank you.
Great Lication
Reviewed on 2018-06-18 by
Jeffrey
Updated on 2018-06-18
This home is a great location on the West Shore. Very close to Sunnyside and Tahoe City. Very bike friendly. Will come back again.
Pineland Dr.
Reviewed on 2018-05-21 by
Eric
Updated on 2018-05-21
All in all, it was very positive.
A great cabin with a lot of room
Reviewed on 2018-05-14 by
Joshua
Updated on 2018-05-14
We really loved this cabin. The master bedroom was great along with master bathroom. There was a ton of firewood outside to use. This place is great for a large group.
The only negative thing was the downstairs living room could use more light and the upstairs family room needed a TV.
Wonderful cabin getaway
Reviewed on 2017-11-24 by
Aparna
Updated on 2017-11-24
We spent three nights in this wonderful house. It has a small cabin feel but is actually a very spacious house. We cooked dinners in the kitchen which is nicely stocked and played slot of board games in front of the antiques woodstock.We tookwalks to the small beach at Sunnyside.This place is ideally located and we will visit again
Wonderful and very clean
Reviewed on 2017-10-31 by
Marco
Updated on 2017-10-31
Excellent home, comfortable, clean and it had everything we needed with lots of room for entertaining and socializing.
Nice dog friendly West Tahoe rental
Reviewed on 2017-09-17 by
Sara
Updated on 2017-09-17
We enjoyed a great week in late summer at this home. There was plenty of room for us, my parents, and our two young kids. Loved that we could bring our dogs. The house is very comfortable with lots of indoor and outdoor spaces to hang out. It had everything we needed in term so bedding and kitchen supplies. Te location is great for access to Sunnyside and Homewood and just a quick drive to South Lake Tahoe beaches or up to Tahoe City.
We would definitely come back.
Great Home for Large Groups
Reviewed on 2017-08-29 by
Maizy
Updated on 2017-08-29
Great home for a large group, we had 8 people stay in the house very comfortably! Wonderful location and beautiful home with great amenities. Only complaint is that parts of the home looked like it hadn't been dusted in a while - large cobwebs in the downstairs bathroom and along the ceilings in rooms throughout the house. Wonderful house, would highly recommend!
Manager Response:
So glad to hear you enjoyed your stay! We will get our housekeeping team to take care of the dusting right away.
[2]
Property Features
Additional Area Upstairs Living Room- King Sofa Sleeper
Ski Lease Rate $6,800/MO - ALREADY LEASED FOR 2022-2023 SEASON.
Custom
Private Hot Tub
Pet Friendly
Walking Distance to Lake
Outdoor Furniture (Seasonal)
Near Bike Path
Ski Lease
Pool Table
Gas Grill
Wireless Internet
Cable Television
Wood Fireplace
Washer
Dryer
Dishwasher
Full Kitchen
Coffee Maker
Driveway Parking for 4
Foosball Table
Additional Sleeping Area
King Bed
NO A/C
Entertainment
Television
Pool Table
Satellite or Cable Service
Foosball
Pool/Spa
Hot Tub
Jacuzzi
Jacuzzi/hot tub
Attractions
Autumn Foliage
Marina
Museums
Health Beauty Spa
Local Features
Babysitting
Fitness Center
Groceries
Hospital
Laundromat
Medical Services
More…
Don't wait -
39
people are currently interested in reserving this property!
Relax and Unwind on Tahoe's West Shore - 3 BR, Pet Friendly & Hot Tub - Excellent all seasons location!

Master Bedroom (King)
Bedroom 2 (Bunk Bed)
Bedroom 3 (Queen)
Private Hot Tub
Pet Friendly
Walking Distance to Lake
Outdoor Furniture (Seasonal)
Near Bike Path
Ski Lease
Pool Table
Gas Grill
Wireless Internet
Cable Television
Wood Fireplace
Washer
Dryer
Dishwasher
Full Kitchen
Coffee Maker
Driveway Parking for 4
Foosball Table
Additional Sleeping Area
King Bed
NO A/C
Available Specials
375 Pineland Drive
96145
Tahoe City
,
CA
United States
39° 8' 15.756" N, 120° 9' 27.45" W
[11]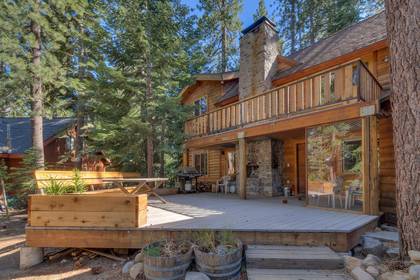 [12]
[13]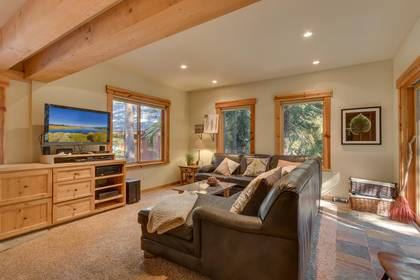 [14]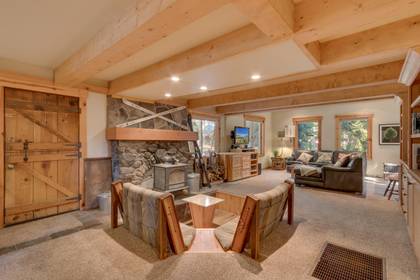 [15]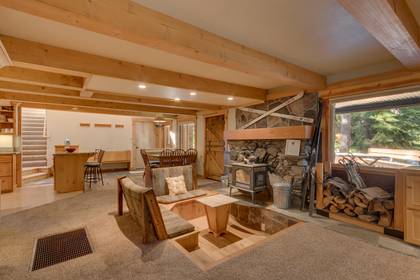 [16]
[17]
[18]
[19]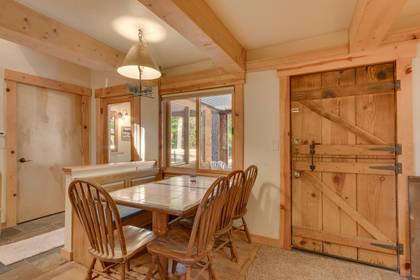 [20]
[21]
[22]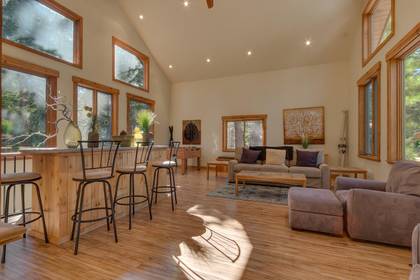 [23]
[24]
[25]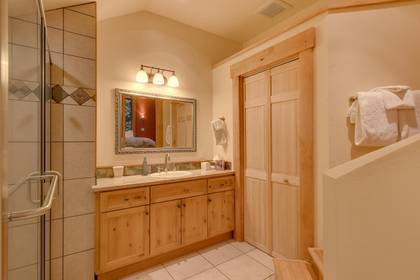 [26]
[27]
[28]
[29]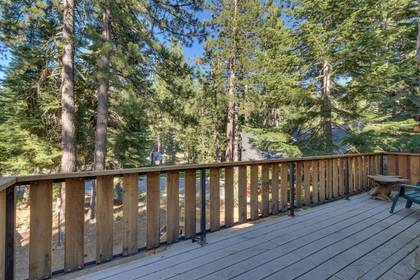 [30]
[31]
[32]
[33]
3 Bedrooms
3 Baths
Additional Sleeping Area
Additional Area
Ski Lease
Pet Friendly
Private Hot Tub
With the charm of a classic Old Tahoe cabin, and the functional appeal provided by an a airy new addition, West Pine is a cozy getaway with easy access to wherever your adventures take you.
Feel the weight of city life slowly lift as you take in the traditional wood stove in front of the stone hearth and sunken sitting area. Nearby, relax on the comfortable sectional in front of the flat-screen television, or curl up with one of the books from the home's ample library. The kitchen has been remodeled and reflects a gas cooktop and updated aesthetic that seamlessly integrates with the traditional pine finishes. A large bedroom is also on this floor, equipped with a queen bed, seating area, and skylight.
Upstairs, light fills the open, newly added living space, outfitted with multiple seating areas, a bar, and a foosball table. Down the hall, a small bunk room with a television offers a quiet retreat for the younger travelers. The Master suite is just next door, with a King bed, television, and ensuite bath.
This Tahoe City cabin offers plenty of outdoor space as well, with a partially covered hot tub, elevated ground floor patio with seating and a gas grill, and an upstairs deck.
SILVER LEVEL PROPERTY
• 2350 Square Feet
• Hot Tub
• Walk to Lake
• Pool Table
• Well traveled dogs (2 maximum) welcome (fee applies)
ABOUT THE AREA
Conveniently located two miles south of Tahoe City, you'll find the quintessential Tahoe neighborhood of Sunnyside. This heavily wooded section on Lake Tahoe's west shore features Old Tahoe style homes and classic cabins. Homes in this neighborhood are all centrally located on between Homewood and Tahoe City.
Just down the road you'll find Sunnyside Resort and Marina and William Kent Shoreline. William Kent beach is situated in a wooded setting and offers picnic tables and grills with views across Lake Tahoe of the eastern shoreline. Next door, Sunnyside Resort is a favorite year round lakeside dining option.
During the ski season, you are less than fifteen minutes from Homewood Mountain Resort. Or travel to Palisades Tahoe (formally known as Squaw Valley/Alpine Meadows) which is the largest ski resort in Lake Tahoe.  Palisades Tahoe has a shuttle that runs continuously between the base area of Olympic Valley & Alpine Meadows when both resorts are open for operations, weather, and traffic permitting.
POLICIES & DISCLOSURES:
1. Maximum Day Time & Night Time Occupancy is 8 people.
2. Parking for 4 vehicles. Street parking is prohibited year-round.
3. This home has a small built in table which can seat six, and a bar. This is the only dining area in the home.
4. This home does not have a bathtub.
5. The area advertised as the second bedroom is actually a fully enclosed "sleeping area", which does not offer egress, and is disclosed as such per Placer County Ordinance No.: 5990-B.
6. Due to Extreme Fire Danger – The use of ANY outdoor firepit or fireplace is strictly prohibited at any of our rental properties. We appreciate your understanding and cooperation as we work to keep our community safe from wildfires. 
"PET RULES" We welcome well-behaved dogs over 18 months of age at this home, as long as we have been informed about your dog(s) prior to your arrival and an additional, one time, non-refundable $30/night pet fee has been paid for each dog (2 dogs Max)
*Placer Good Neighbor Flyer - https://www.tahoegetaways.com/sites/default/files/files/Placer%20Good%20Neighbor%20Flyer%20-%20Tahoe%20Getaways.pdf
Placer County STR Permit Number STR20-11144
Amenities
Internet
Fireplace
Heating
Washer
Dryer
Parking
Garage
Living Room
Hair Dryer
Ironing Board
Linens Provided
Towels Provided
Iron
Internet Access
Cable/satellite TV
Parking space Accessible
Parking space
TV
Linens provided
Towels provided
Lock Box lock box
Dates
Price
08/17/2022 - 08/18/2022

$400

/nt

08/19/2022 - 08/20/2022

$450

/nt

08/21/2022 - 08/21/2022

$401

/nt

08/22/2022 - 08/25/2022

$400

/nt

08/26/2022 - 08/27/2022

$472

/nt

08/28/2022 - 08/28/2022

$507

/nt

08/29/2022 - 09/01/2022

$430

/nt

09/02/2022 - 09/04/2022

$507

/nt

09/05/2022 - 09/05/2022

$430

/nt

09/06/2022 - 09/08/2022

$340

/nt

09/09/2022 - 09/10/2022

$416

/nt

09/11/2022 - 09/15/2022

$340

/nt

09/16/2022 - 09/17/2022

$416

/nt

09/18/2022 - 09/22/2022

$340

/nt

09/23/2022 - 09/24/2022

$416

/nt

09/25/2022 - 09/29/2022

$340

/nt

09/30/2022 - 09/30/2022

$395

/nt

10/01/2022 - 10/01/2022

$404

/nt

10/02/2022 - 10/06/2022

$347

/nt

10/07/2022 - 10/08/2022

$404

/nt

10/09/2022 - 10/13/2022

$347

/nt

10/14/2022 - 10/15/2022

$404

/nt

10/16/2022 - 10/20/2022

$347

/nt

10/21/2022 - 10/22/2022

$404

/nt

10/23/2022 - 10/27/2022

$347

/nt

10/28/2022 - 10/29/2022

$404

/nt

10/30/2022 - 11/03/2022

$347

/nt

11/04/2022 - 11/05/2022

$404

/nt

11/06/2022 - 11/10/2022

$347

/nt

11/11/2022 - 11/12/2022

$404

/nt

11/13/2022 - 11/15/2022

$347

/nt

11/16/2022 - 11/17/2022

$358

/nt

11/18/2022 - 11/19/2022

$416

/nt

11/20/2022 - 11/21/2022

$358

/nt

11/22/2022 - 11/26/2022

$585

/nt

11/27/2022 - 12/01/2022

$358

/nt

12/02/2022 - 12/03/2022

$416

/nt

12/04/2022 - 12/06/2022

$358

/nt

12/07/2022 - 12/07/2022

$420

/nt

12/08/2022 - 12/11/2022

$504

/nt

12/12/2022 - 12/14/2022

$420

/nt

12/15/2022 - 12/16/2022

$504

/nt

12/17/2022 - 12/22/2022

$728

/nt

12/23/2022 - 12/25/2022

$946

/nt

12/26/2022 - 01/02/2023

$1,268

/nt

01/03/2023 - 01/05/2023

$975

/nt

01/06/2023 - 01/08/2023

$529

/nt

01/09/2023 - 01/11/2023

$441

/nt

01/12/2023 - 01/15/2023

$529

/nt

01/16/2023 - 01/18/2023

$441

/nt

01/19/2023 - 01/22/2023

$529

/nt

01/23/2023 - 01/25/2023

$441

/nt

01/26/2023 - 01/29/2023

$529

/nt

01/30/2023 - 01/31/2023

$441

/nt

02/01/2023 - 02/01/2023

$420

/nt

02/02/2023 - 02/05/2023

$504

/nt

02/06/2023 - 02/08/2023

$420

/nt

02/09/2023 - 02/12/2023

$504

/nt

02/13/2023 - 02/15/2023

$420

/nt

02/16/2023 - 02/16/2023

$504

/nt

02/17/2023 - 02/19/2023

$845

/nt

02/20/2023 - 02/20/2023

$771

/nt

02/21/2023 - 02/23/2023

$617

/nt

02/24/2023 - 02/25/2023

$735

/nt

02/26/2023 - 02/26/2023

$504

/nt

02/27/2023 - 03/01/2023

$420

/nt

03/02/2023 - 03/05/2023

$504

/nt

03/06/2023 - 03/08/2023

$420

/nt

03/09/2023 - 03/12/2023

$504

/nt

03/13/2023 - 03/15/2023

$420

/nt

03/16/2023 - 03/19/2023

$504

/nt

03/20/2023 - 03/22/2023

$420

/nt

03/23/2023 - 03/26/2023

$504

/nt

03/27/2023 - 03/29/2023

$420

/nt

03/30/2023 - 03/31/2023

$504

/nt

04/01/2023 - 04/01/2023

$416

/nt

04/02/2023 - 04/06/2023

$358

/nt

04/07/2023 - 04/08/2023

$416

/nt

04/09/2023 - 04/13/2023

$358

/nt

04/14/2023 - 04/15/2023

$416

/nt

04/16/2023 - 04/20/2023

$358

/nt

04/21/2023 - 04/22/2023

$416

/nt

04/23/2023 - 04/27/2023

$358

/nt

04/28/2023 - 04/29/2023

$416

/nt

04/30/2023 - 05/04/2023

$358

/nt

05/05/2023 - 05/06/2023

$416

/nt

05/07/2023 - 05/11/2023

$358

/nt

05/12/2023 - 05/13/2023

$416

/nt

05/14/2023 - 05/18/2023

$358

/nt

05/19/2023 - 05/20/2023

$416

/nt

05/21/2023 - 05/25/2023

$358

/nt

05/26/2023 - 05/28/2023

$507

/nt

05/29/2023 - 06/01/2023

$430

/nt

06/02/2023 - 06/04/2023

$507

/nt

06/05/2023 - 06/08/2023

$430

/nt

06/09/2023 - 06/11/2023

$507

/nt

06/12/2023 - 06/15/2023

$430

/nt

06/16/2023 - 06/18/2023

$507

/nt

06/19/2023 - 06/20/2023

$430

/nt

06/21/2023 - 06/21/2023

$419

/nt

06/22/2023 - 06/25/2023

$520

/nt

06/26/2023 - 06/27/2023

$419

/nt

06/28/2023 - 06/28/2023

$461

/nt

06/29/2023 - 07/05/2023

$726

/nt

07/06/2023 - 07/07/2023

$660

/nt

07/08/2023 - 07/09/2023

$520

/nt

07/10/2023 - 07/12/2023

$419

/nt

07/13/2023 - 07/13/2023

$520

/nt

07/14/2023 - 07/16/2023

$598

/nt

07/17/2023 - 07/19/2023

$482

/nt

07/20/2023 - 07/23/2023

$598

/nt

07/24/2023 - 07/26/2023

$482

/nt

07/27/2023 - 07/30/2023

$598

/nt

07/31/2023 - 07/31/2023

$482

/nt

08/01/2023 - 08/02/2023

$419

/nt

08/03/2023 - 08/06/2023

$520

/nt

08/07/2023 - 08/09/2023

$419

/nt

08/10/2023 - 08/13/2023

$520

/nt

08/14/2023 - 08/16/2023

$419

/nt

08/17/2023 - 08/19/2023

$520

/nt