Virtual Tour
https://my.matterport.com/show/?m=JfeTMneduDV&brand=0
Master Bedroom w/ Ensuite Bath (Main Floor)

Bedroom 2 (Downstairs)

Bedroom 3 (Downstairs)

Additional Area

Additional Sleeping Area: Twin over Full Bunk Bed (No windows or closet)
4 Star
Reviewed on 2022-03-14 by
Claire
Updated on 2022-03-14
The house is in a great location and as depicted online, with spectacular views of the lake. The furnishings were comfortable and the linens and towels were superior. My only feedback is when renting a house of this size for a week for a cost of $6236.00, it would have been helpful to have adequate garbage bags and toilet paper available.
Beautiful home, great location
Reviewed on 2021-08-24 by
Tim
Updated on 2021-08-24
The deck and view are stunning and Dollar Point is a nice and small town far from the main road. We had a great stay and the home was able to host our 3 generational group with ease. The Tahoe weather was smokey and the house didn't have A/C which made it a bit tricky to stay cool and breath healthy air. The deck railing is still shaky and given the 30+ ft fall below, it made our group nervous the entire time.
Manager Response:
Thank you for your review! It is true that this home, like most homes in the area, does not have A/C. However, fans are provided and it can be managed. I have made a note about the deck railing and our team will be inspecting it during our next visit to the property.
Nancy Bocina
Reviewed on 2019-09-16 by
Michael
Updated on 2019-09-16
Our week at your home suited us perfectly. The accommodations were clean and very comfortable. The location was delightful. Perfect choice for a lovely family get-away. It was also assuring to have Tahoe Getaways available to assist us with any problems that we may have encountered. I wouldn't hesitate to highly recommend Tahoe Getaways to friends and family.
Tahoe Vacation 2019
Reviewed on 2018-09-05 by
Dennis
Updated on 2018-09-05
We had a wonderful time at Water's Edge at Lakefront Dollar Point. We always stay in Dollar Point and enjoy the amenities of private beach and poo. The property was very nice, comfortable and had all the amenities.
The remote control for the garage door didn't work. We changed the batteries but to no avail. The only thing I would suggest is to wash the bath mats. Besides that, we would definitely stay there again. Loved having a garage and beautiful view.
Our Stay at Water's Edge at Dollar Point
Reviewed on 2017-10-17 by
Roger
Updated on 2017-10-17
First of all, we were pleased with the friendly manner and helpfulness of the manager. The property and the beautiful views were amazing. The interior of the home was well laid out and comfortable. The glass doors and windows provided beautiful views of
the lake from almost anywhere. We would recommend this property to friends and family any time.
Dollar Point Lake Front
Reviewed on 2017-08-07 by
Monique
Updated on 2017-08-07
Loved the location and the views! Home nice, clean. 2 baths for 9 people difficult, but worked out ok. Have rented several places in Tahoe, and suggestions that would improve this rental: very disappointed to have a lovely view and deck, but no dining furniture on outside deck, just cheap fold up chairs, no table was huge disappointment. Couldn't sit outside and eat and enjoy view. Deck rail NOT SAFE, loose! We took a group photo against rail and it is LOOSE- scary! It's a loing way down! Very dangerous needs repair! No bar stools at kitchen counter to sit and eat? 7 people shared downstairs bath, yet with plenty of wall space there are no towel hooks for bath or face towles in bathroom! Only 1 by shower! Towels hanging everywhere on doors, beds-simple hooks by bath and sinks would be helpful!
Neighbors had beach access rocks moved so access to water/buoy would be easier- very rocky and difficult to get in and out- why not have rocks moved to make sandy entrance like neighbors?
Lovely Tahoe, Lovely Home
Reviewed on 2016-07-01 by
Robin
Updated on 2016-07-01
This beautiful, well appointed home is the perfect place to spend time near Lake Tahoe. The home layout has two living areas to accommodate different age groups. Dollar Point is close to Tahoe City (and other towns on Lake Tahoe) but is a nice separate friendly community that itself has very nice amenities. Water front access is great and the view is truly amazing. Wonderful property!
Dollar Point
Reviewed on 2015-07-31 by
Sandra
Updated on 2015-07-31
Great location and view. Loved the community pool and other facilities. A lot of room in house. Well maintained. Only issue was we could not get either DVD player to work and lost disc in lower DVD player. Beautiful location.
Family getaway
Reviewed on 2014-11-17 by
Gayle
Updated on 2014-11-17
We took my 92 year old mother for a long weekend to Tahoe. Due to her mobility issues, we needed a house with a bedroom and living space on one floor which this provided along with magnificent views. Other bedrooms and an additional living space were downstairs with gorgeous views also. The weather was perfect, and my mom enjoyed her mini vacation.
Bear Alert
Reviewed on 2014-09-29 by
Rita
Updated on 2014-09-29
Our vacation was lovely and I wish we could have stayed a few more days. The property was well suited for our needs and its location was superb. On the down side: we missed not having a third bathroom;the wooden deck chairs are not in good repair; the toaster sticks and fails to eject the toasted bread. On the other hand,the customer service provided by the staff at Tahoe Resort Property Management was outstanding. Thank you very much to the property owners and to the management company.
Dollar Point Lakefront Gem
Reviewed on 2014-09-15 by
Michele
Updated on 2014-09-15
We had a wonderful time AGAIN this summer. The house is kept up well and its such a close walk/drive/ride into Tahoe City. The proximity to the lake is perfect!
Family vacation
Reviewed on 2014-09-07 by
Paul
Updated on 2014-09-07
Liked the house but not really convenient to the sandy beach or tennis courts.
Great house and location
Reviewed on 2013-10-24 by
Robert
Updated on 2013-10-24
Loved our stay in Dollars Point. The house was perfect with our son's family all staying downstairs and us in the upstairs. We all enjoyed the comforts of home with the beautiful view. Kitchen was great, well stoked.Carpets was the only thing needing a little more attention.
[2]
Location
Water's Edge Lakefront at Dollar Point
Condo type
Managed Services Water's Edge Lakefront at Dollar Point
Property Features
Additional Area Additional Sleeping Area: Twin over Full Bunk Bed (No windows or closet)
Custom
Walking Distance to Lake
Outdoor Furniture (Seasonal)
Buoy Available
Lakefront
Lake View
Gas Grill
Wireless Internet
Cable Television
Wood Fireplace
Washer
Dryer
Dishwasher
Full Kitchen
Coffee Maker
Driveway Parking for 2
Garage Parking for 2
Limited Mobility Accessible
No Pets
Additional Sleeping Area
King Bed
NO A/C
Dining Area
Entertainment
Television
Stereo
Satellite or Cable Service
Books
Laptop Friendly
Stereo system
Attractions
Marina
Museums
Playground
Health Beauty Spa
Local Features
ATM Bank
Babysitting
Fitness Center
Groceries
Hospital
Laundromat
Medical Services
Waterfront
Themes
Family
Romantic
Away From It All
Location Types
Beach
Lake
Mountain
Resort
Waterfront
Beach Front
Lake Front
Lake View
Water View
Mountain View
Water views
Mountain views
Beach or lakeside relaxation
Lake Access
More…
Don't wait -
78
people are currently interested in reserving this property!
3 Bedroom 3 Bath Lake Front At North Tahoe-Private Deck-Private Buoy

Master Bedroom (King)
Bedroom 2 (King)
Bedroom 3 (Queen)
Walking Distance to Lake
Outdoor Furniture (Seasonal)
Buoy Available
Lakefront
Lake View
Gas Grill
Wireless Internet
Cable Television
Wood Fireplace
Washer
Dryer
Dishwasher
Full Kitchen
Coffee Maker
Driveway Parking for 2
Garage Parking for 2
Limited Mobility Accessible
No Pets
Additional Sleeping Area
King Bed
NO A/C
Dining Area
Available Specials
3370 Edgewater Drive
96145
Tahoe City
,
CA
United States
39° 11' 5.154" N, 120° 5' 42.0324" W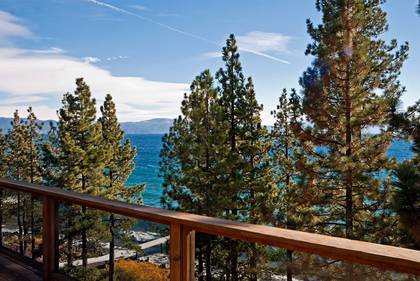 [8]
[9]
[10]
[11]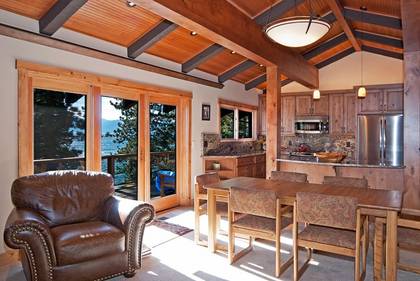 [12]
[13]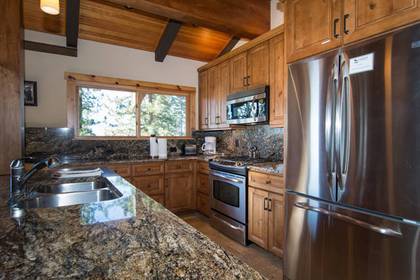 [14]
[15]
[16]
[17]
[18]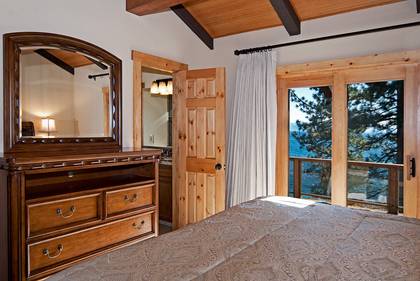 [19]
[20]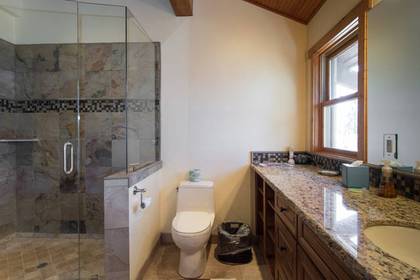 [21]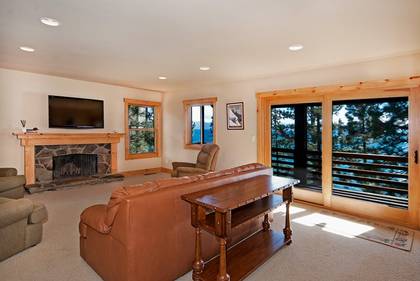 [22]
[23]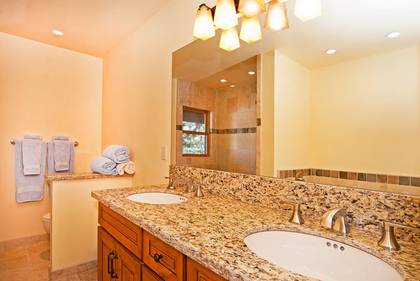 [24]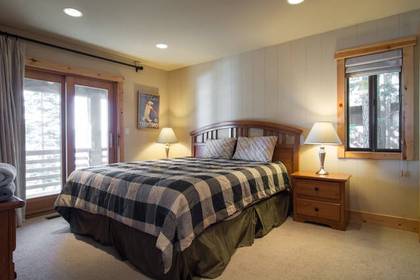 [25]
[26]
[27]
[28]
[29]
[30]
[31]
3 Bedrooms
2 Baths
Additional Sleeping Area
Additional Area
Lake View
Lakefront
Looking for lakefront rental in the well-loved Dollar Point neighborhood?  This is the home for you! 
This home is laid out wonderfully for a vacation rental. You enter into the open and inviting great room to see beautiful lake views. On the upper level you'll find the living room complete with flat screen TV, wood fireplace, newly remodeled kitchen and large deck. Down the hall you'll find a very comfortable master bedroom with king bed and en-suite bath with a large glass shower. Guests with mobility concerns, will appreciate there are no stairs to navigate to enter the home, nor to occupy the master suite.
Downstairs the family room is spacious and also includes a second wood fireplace and flat screen TV.  The remaining bedrooms are located down the hall and share a large hall bath.  While very small, there is a fourth bedroom with a full over twin bunk bed.  
GOLD LEVEL PROPERTY
 • 2100 Square Feet
 • Beautiful Lake Views 
 • Private Beach (rocky) 
 • Private Buoy 
 • Two Wood Fireplaces
 • Mobility Friendly
 • No pets
ABOUT THE AREA
Situated just east of Tahoe City on Lake Tahoe's beautiful north shore lies one of the area's most coveted neighborhoods– Dollar Point. The entire community resides on the lake side of the main highway, making it the perfect location for a peaceful and relaxing getaway. With a number of homes in our portfolio located within an easy walk of one another, this is the perfect place for a multi-family getaway. 
In the summer, Dollar Point truly can't be beat. For those looking for adventure, hop on the bike path that exits the community and follow the Truckee River north, or visit Tahoe City, home to everything from home grown coffee shops to lakefront fine dining, all just minutes away.
In the winter, Dollar Point offers central access to almost all of North Lake Tahoe's premier ski areas. Palisades Tahoe (formally known as Squaw Valley/Alpine Meadows), Northstar, and Homewood are all just a 20 minute drive from your Dollar Point home.
POLICIES & DISCLOSURES
1. Maximum Day Time & Night Time Occupancy is 8 people.
2. Parking for 4 vehicles. Street parking is prohibited year-round.
3. Dollar Point amenities are no longer available to renters. 
4. Boater's must provide their own mooring lines.
5. There is short but steep downward slope from the house to the lake shore.
6. Tahoe Getaways cannot provide watercraft of any kind; guests must provide their own means of transport to the buoy.
7. During drought years, the pier may be too shallow to navigate for some boats.
8. Due to Extreme Fire Danger – The use of ANY outdoor firepit or fireplace is strictly prohibited at any of our rental properties. We appreciate your understanding and cooperation as we work to keep our community safe from wildfires. 
*Placer Good Neighbor Flyer - https://www.tahoegetaways.com/sites/default/files/files/Placer%20Good%20Neighbor%20Flyer%20-%20Tahoe%20Getaways.pdf
Placer County STR Permit Number STR20-7666
 
Amenities
Internet
Fireplace
Heating
Washer
Dryer
Parking
Garage
Telephone
Living Room
Hair Dryer
Ironing Board
Linens Provided
Towels Provided
Iron
Shampoo
Carbon Monoxide Detector
First Aid Kit
Fire Extinguisher
Hangers
Smoke Detector
Essentials
Internet Access
Cable/satellite TV
Parking space Accessible
Parking space
TV
Linens provided
Towels provided
Private Entrance
Lock Box lock box
Deadbolt Lock
Outdoor Lighting
Bed Linens
Dates
Price
08/17/2022 - 08/18/2022

$800

/nt

08/19/2022 - 08/20/2022

$990

/nt

08/21/2022 - 09/05/2022

$900

/nt

09/06/2022 - 09/08/2022

$808

/nt

09/09/2022 - 09/10/2022

$1,000

/nt

09/11/2022 - 09/15/2022

$808

/nt

09/16/2022 - 09/17/2022

$1,000

/nt

09/18/2022 - 09/22/2022

$808

/nt

09/23/2022 - 09/24/2022

$1,000

/nt

09/25/2022 - 09/29/2022

$808

/nt

09/30/2022 - 09/30/2022

$950

/nt

10/01/2022 - 10/01/2022

$970

/nt

10/02/2022 - 10/06/2022

$825

/nt

10/07/2022 - 10/08/2022

$970

/nt

10/09/2022 - 10/13/2022

$825

/nt

10/14/2022 - 10/15/2022

$970

/nt

10/16/2022 - 10/20/2022

$825

/nt

10/21/2022 - 10/22/2022

$970

/nt

10/23/2022 - 10/27/2022

$825

/nt

10/28/2022 - 10/29/2022

$970

/nt

10/30/2022 - 11/03/2022

$825

/nt

11/04/2022 - 11/05/2022

$970

/nt

11/06/2022 - 11/10/2022

$825

/nt

11/11/2022 - 11/12/2022

$970

/nt

11/13/2022 - 11/15/2022

$825

/nt

11/16/2022 - 11/17/2022

$850

/nt

11/18/2022 - 11/19/2022

$1,000

/nt

11/20/2022 - 11/21/2022

$850

/nt

11/22/2022 - 11/26/2022

$900

/nt

11/27/2022 - 12/01/2022

$850

/nt

12/02/2022 - 12/03/2022

$1,000

/nt

12/04/2022 - 12/08/2022

$850

/nt

12/09/2022 - 12/10/2022

$1,000

/nt

12/11/2022 - 12/15/2022

$850

/nt

12/16/2022 - 12/16/2022

$1,000

/nt

12/17/2022 - 12/22/2022

$965

/nt

12/23/2022 - 12/25/2022

$1,255

/nt

12/26/2022 - 01/02/2023

$1,622

/nt

01/03/2023 - 01/05/2023

$1,247

/nt

01/06/2023 - 01/07/2023

$840

/nt

01/08/2023 - 01/11/2023

$696

/nt

01/12/2023 - 01/14/2023

$840

/nt

01/15/2023 - 01/18/2023

$696

/nt

01/19/2023 - 01/21/2023

$840

/nt

01/22/2023 - 01/25/2023

$696

/nt

01/26/2023 - 01/28/2023

$840

/nt

01/29/2023 - 01/31/2023

$696

/nt

02/01/2023 - 02/01/2023

$663

/nt

02/02/2023 - 02/04/2023

$800

/nt

02/05/2023 - 02/08/2023

$663

/nt

02/09/2023 - 02/11/2023

$800

/nt

02/12/2023 - 02/15/2023

$663

/nt

02/16/2023 - 02/16/2023

$800

/nt

02/17/2023 - 02/19/2023

$1,271

/nt

02/20/2023 - 02/20/2023

$1,160

/nt

02/21/2023 - 02/23/2023

$928

/nt

02/24/2023 - 02/25/2023

$1,105

/nt

02/26/2023 - 03/01/2023

$663

/nt

03/02/2023 - 03/04/2023

$800

/nt

03/05/2023 - 03/08/2023

$663

/nt

03/09/2023 - 03/11/2023

$800

/nt

03/12/2023 - 03/15/2023

$663

/nt

03/16/2023 - 03/18/2023

$800

/nt

03/19/2023 - 03/22/2023

$663

/nt

03/23/2023 - 03/25/2023

$800

/nt

03/26/2023 - 03/29/2023

$663

/nt

03/30/2023 - 03/31/2023

$800

/nt

04/01/2023 - 04/01/2023

$1,000

/nt

04/02/2023 - 04/06/2023

$850

/nt

04/07/2023 - 04/08/2023

$1,000

/nt

04/09/2023 - 04/13/2023

$850

/nt

04/14/2023 - 04/15/2023

$1,000

/nt

04/16/2023 - 04/20/2023

$850

/nt

04/21/2023 - 04/22/2023

$1,000

/nt

04/23/2023 - 04/27/2023

$850

/nt

04/28/2023 - 04/29/2023

$1,000

/nt

04/30/2023 - 05/04/2023

$850

/nt

05/05/2023 - 05/06/2023

$1,000

/nt

05/07/2023 - 05/11/2023

$850

/nt

05/12/2023 - 05/13/2023

$1,000

/nt

05/14/2023 - 05/18/2023

$850

/nt

05/19/2023 - 05/20/2023

$1,000

/nt

05/21/2023 - 05/25/2023

$850

/nt

05/26/2023 - 05/27/2023

$1,000

/nt

05/28/2023 - 06/01/2023

$850

/nt

06/02/2023 - 06/03/2023

$1,000

/nt

06/04/2023 - 06/06/2023

$850

/nt

06/07/2023 - 06/08/2023

$1,275

/nt

06/09/2023 - 06/11/2023

$1,500

/nt

06/12/2023 - 06/15/2023

$1,275

/nt

06/16/2023 - 06/18/2023

$1,500

/nt

06/19/2023 - 06/21/2023

$1,275

/nt

06/22/2023 - 06/27/2023

$1,750

/nt

06/28/2023 - 06/28/2023

$1,925

/nt

06/29/2023 - 07/05/2023

$2,420

/nt

07/06/2023 - 07/07/2023

$2,200

/nt

07/08/2023 - 07/13/2023

$1,750

/nt

07/14/2023 - 07/30/2023

$2,013

/nt

08/01/2023 - 08/19/2023

$1,750

/nt