Primary Bedroom w/ ensuite bath (Lower Level)

Bedroom 2 w/ ensuite bath (Lower Level)

Bedroom 3 (Main Level)

Bedroom 4 (Upper Level)

Bedroom 5 (Upper Level)

Studio Above Garage w/ ensuite bath and kitchenette
[2]
Studio Above Garage
1 Queen
Location
Trailside Retreat at Alpine
Condo type
Summer 3 NT Trailside Retreat at Alpine
Property Features
Ski Lease Rate $11,250/MO - ALREADY LEASED FOR 2022-2023 SEASON. JAN START
Custom
Private Hot Tub
Pet Friendly
Outdoor Furniture (Seasonal)
Ski Shuttle Service
Ski Lease
Gas Grill
Wireless Internet
Wood Fireplace
Washer
Dryer
Dishwasher
Full Kitchen
Coffee Maker
Driveway Parking for 2
Garage Parking for 2
Limited Mobility Accessible
NO A/C
Dining Area
Suitability
Children Welcome
Pets Considered
Smoking Not Allowed
Minimum Age Limit 25
Free Parking
Fireplace
Decked area
Central heating
Hot Water
Private Living Room
Pets allowed
Entertainment
Television
Stereo
Satellite or Cable Service
Laptop Friendly
Pool/Spa
Hot Tub
Jacuzzi
Jacuzzi/hot tub
Attractions
Autumn Foliage
Marina
Museums
Playground
Health Beauty Spa
Local Features
ATM Bank
Babysitting
Fitness Center
Groceries
Hospital
Laundromat
Massage Therapist
Medical Services
Themes
Family
Away From It All
Adventure
Sports Activities
Location Types
Lake
Mountain
Resort
River
Rural
Mountain View
Skiing: property is in a ski resort
Ski View
More…
Don't wait -
9
people are currently interested in reserving this property!
Large family home, close to slopes, private hot tub + pet friendly

Primary Bedroom (Queen)
Bedroom 2 (Queen)
Bedroom 3 (Double)
Bedroom 4 (Twin Single)
Bedroom 5 (Queen)
Studio Above Garage (Queen)
Private Hot Tub
Pet Friendly
Outdoor Furniture (Seasonal)
Ski Shuttle Service
Ski Lease
Gas Grill
Wireless Internet
Wood Fireplace
Washer
Dryer
Dishwasher
Full Kitchen
Coffee Maker
Driveway Parking for 2
Garage Parking for 2
Limited Mobility Accessible
NO A/C
Dining Area
Available Specials
1830 Deer Park
96146
Alpine Meadows
,
CA
United States
39° 10' 45.1128" N, 120° 13' 44.9868" W
[6]
[7]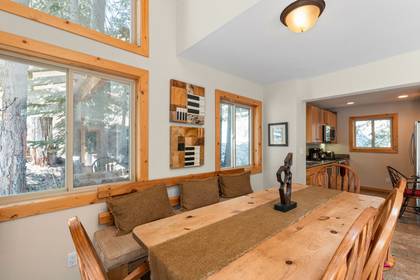 [8]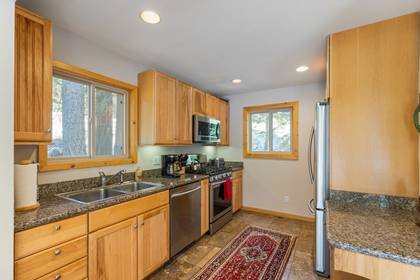 [9]
[10]
[11]
[12]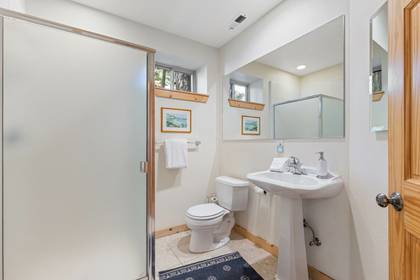 [13]
[14]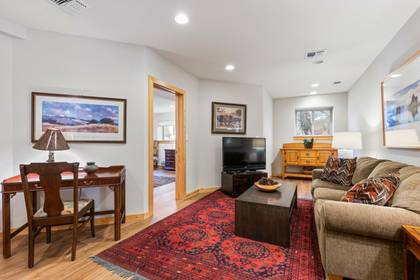 [15]
[16]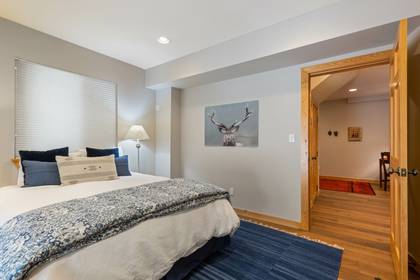 [17]
[18]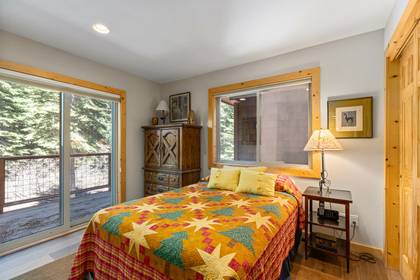 [19]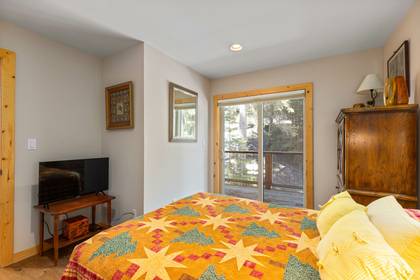 [20]
[21]
[22]
[23]
[24]
[25]
[26]
[27]
[28]
[29]
[30]
[31]
[32]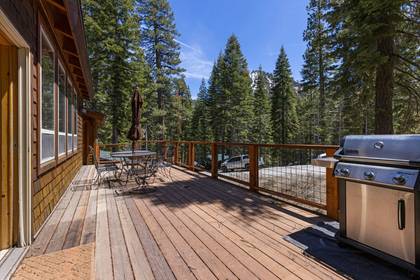 [33]
[34]
6 Bedrooms
5 Baths
Ski Lease
Pet Friendly
Private Hot Tub
This large Alpine Meadows home is a great summer and winter destination.  In the summer, you will find endless hiking and exploring in the area.  In the winter, you can lease this home and spend your free time on the slopes at Palisades Tahoe.  
This three-story home has a fun and unique layout.  Enter on the first floor where you will find a family room with large flat screen tv and two large bedrooms.  The first bedroom has a queen-sized bed, walk-in closet, ensuite bathroom with tub & shower combo as well as a sliding door out to the private hot tub.  The second bedroom, which is considered the primary bedroom, has a queen bed, a walk-in closet, and an ensuite bathroom with a walk-in shower. 
Head up to the main level of the home and where you will find the main living room with a real wood burning fireplace, flat-screen tv, and access out to a bright deck with bbq and furniture in the summer.  The kitchen and dining room are also on the main level and have stainless steel appliances, plenty of counter space, and a dining table for eight.  An additional bedroom is on the main floor with a queen-size bed, small flat screen tv, and a sliding door to a private deck area.  This bedroom has access to the full bathroom with a tub and shower combo on the main level.
On the top floor of the home, you will find the last two bedrooms that share a full bath with a tub and shower combo.  The first room has two double beds, and the second room has a cozy queen bed.  
This large home is great for families looking to get away from it all.  Summer or winter this home has what you are looking for with plenty of room, multiple entertainment areas, easy access to adventure, and a private hot tub to relax in.  
SILVER  LEVEL PROPERTY
• 3268 square feet
• Private Hot Tub
• 2 minutes drive to Alpine Meadows Base Lodge at Palisades Tahoe, or 15-minute walk (approx 1/2 mile).
 • Well traveled dog (1 maximum) welcome (fee applies)
ABOUT THE AREA
Tucked between Truckee and Tahoe City, Alpine Meadows is a picturesque playground for families and off-the-radar thrill-seekers alike. Chalet-style lodges and approachable hospitality mean that the skiing and riding experience always comes first. From easy-riding progression parks to wide-open bowls, Palisades Tahoe (formally known as Squaw Valley/Alpine Meadows) brings an exciting challenge to any level of skier or snowboarder. And with more than 270 trails spread over 6,000 skiable acres, mountain adventures (and groomed runs) await at every bump, jump and chairlift.
In the summer, Alpine Meadows offers a relaxed and peaceful refuge amongst sweeping valley views, meandering creeks, and hidden alpine lakes. The more adventurous can find their fix with some of the best hiking, horseback riding, and epic mountain biking around. When you're ready for a day at the lake or a night out on the town, sandy beaches and the Tahoe City boardwalk are just ten minutes from your door.
POLICIES & DISCLOSURES
1. Maximum Day Time & Night Time Occupancy is 10 Adults and 2 Children (under age 16)
2. Parking for 4 vehicles .  Street parking is prohibited year-round.
3. Property is in a very high snow load area, 4WD is highly recommended.
4. Internet access in Alpine Meadows is known to be slow compared to urban standards. Refunds will not be issued if internet service is inadequate.
5. Due to Extreme Fire Danger – The use of ANY outdoor firepit or fireplace is strictly prohibited at any of our rental properties. We appreciate your understanding and cooperation as we work to keep our community safe from wildfires.
Placer County Good Neighbor Flyer - [35]
Placer County STR Permit Number STR22-5119
Amenities
Internet
Fireplace
Wood Stove
Heating
Washer
Dryer
Parking
Garage
Living Room
Hair Dryer
Ironing Board
Linens Provided
Towels Provided
Iron
Carbon Monoxide Detector
Fire Extinguisher
Smoke Detector
Internet Access
Parking space Accessible
Parking space
TV
Linens provided
Towels provided
Private Entrance
Lock Box
Outdoor Lighting
Bed Linens
Dates
Price
11/27/2022 - 11/30/2022

$429

/nt

12/01/2022 - 12/01/2022

$500

/nt

12/02/2022 - 12/03/2022

$550

/nt

12/04/2022 - 12/08/2022

$500

/nt

12/09/2022 - 12/10/2022

$550

/nt

12/11/2022 - 12/14/2022

$500

/nt

12/15/2022 - 12/18/2022

$800

/nt

12/19/2022 - 12/20/2022

$680

/nt

12/21/2022 - 12/25/2022

$1,250

/nt

12/26/2022 - 01/02/2023

$1,500

/nt

01/03/2023 - 01/03/2023

$980

/nt

01/04/2023 - 01/04/2023

$816

/nt

01/05/2023 - 01/05/2023

$880

/nt

01/06/2023 - 01/08/2023

$800

/nt

01/09/2023 - 01/11/2023

$680

/nt

01/12/2023 - 01/15/2023

$800

/nt

01/16/2023 - 01/18/2023

$680

/nt

01/19/2023 - 01/22/2023

$800

/nt

01/23/2023 - 01/25/2023

$680

/nt

01/26/2023 - 01/29/2023

$800

/nt

01/30/2023 - 02/01/2023

$680

/nt

02/02/2023 - 02/05/2023

$800

/nt

02/06/2023 - 02/08/2023

$680

/nt

02/09/2023 - 02/12/2023

$800

/nt

02/13/2023 - 02/15/2023

$680

/nt

02/16/2023 - 02/16/2023

$800

/nt

02/17/2023 - 02/21/2023

$1,500

/nt

02/22/2023 - 02/22/2023

$860

/nt

02/23/2023 - 02/26/2023

$1,012

/nt

02/27/2023 - 02/27/2023

$860

/nt

02/28/2023 - 03/01/2023

$680

/nt

03/02/2023 - 03/05/2023

$800

/nt

03/06/2023 - 03/08/2023

$680

/nt

03/09/2023 - 03/12/2023

$800

/nt

03/13/2023 - 03/15/2023

$680

/nt

03/16/2023 - 03/19/2023

$800

/nt

03/20/2023 - 03/22/2023

$680

/nt

03/23/2023 - 03/26/2023

$800

/nt

03/27/2023 - 03/29/2023

$680

/nt

03/30/2023 - 04/02/2023

$800

/nt

04/03/2023 - 04/05/2023

$680

/nt

04/06/2023 - 04/06/2023

$800

/nt

04/07/2023 - 04/08/2023

$880

/nt

04/09/2023 - 04/09/2023

$800

/nt

04/10/2023 - 04/12/2023

$680

/nt

04/13/2023 - 04/13/2023

$800

/nt

04/14/2023 - 04/15/2023

$880

/nt

04/16/2023 - 04/20/2023

$429

/nt

04/21/2023 - 04/22/2023

$505

/nt

04/23/2023 - 04/27/2023

$429

/nt

04/28/2023 - 04/29/2023

$505

/nt

04/30/2023 - 05/04/2023

$429

/nt

05/05/2023 - 05/06/2023

$505

/nt

05/07/2023 - 05/11/2023

$429

/nt

05/12/2023 - 05/13/2023

$505

/nt

05/14/2023 - 05/18/2023

$429

/nt

05/19/2023 - 05/20/2023

$505

/nt

05/21/2023 - 05/23/2023

$429

/nt

05/24/2023 - 05/24/2023

$489

/nt

05/25/2023 - 05/27/2023

$575

/nt

05/28/2023 - 05/31/2023

$489

/nt

06/01/2023 - 06/03/2023

$575

/nt

06/04/2023 - 06/07/2023

$489

/nt

06/08/2023 - 06/10/2023

$575

/nt

06/11/2023 - 06/14/2023

$489

/nt

06/15/2023 - 06/17/2023

$575

/nt

06/18/2023 - 06/21/2023

$489

/nt

06/22/2023 - 06/24/2023

$575

/nt

06/25/2023 - 06/27/2023

$489

/nt

06/28/2023 - 06/28/2023

$538

/nt

06/29/2023 - 06/29/2023

$633

/nt

06/30/2023 - 07/05/2023

$1,045

/nt

07/06/2023 - 07/08/2023

$575

/nt

07/09/2023 - 07/12/2023

$489

/nt

07/13/2023 - 07/13/2023

$575

/nt

07/14/2023 - 07/15/2023

$661

/nt

07/16/2023 - 07/19/2023

$562

/nt

07/20/2023 - 07/22/2023

$661

/nt

07/23/2023 - 07/26/2023

$562

/nt

07/27/2023 - 07/29/2023

$661

/nt

07/30/2023 - 07/31/2023

$562

/nt

08/01/2023 - 08/02/2023

$489

/nt

08/03/2023 - 08/05/2023

$575

/nt

08/06/2023 - 08/09/2023

$489

/nt

08/10/2023 - 08/12/2023

$575

/nt

08/13/2023 - 08/16/2023

$489

/nt

08/17/2023 - 08/19/2023

$575

/nt

08/20/2023 - 08/23/2023

$489

/nt

08/24/2023 - 08/26/2023

$575

/nt

08/27/2023 - 08/30/2023

$489

/nt

08/31/2023 - 09/02/2023

$661

/nt

09/03/2023 - 09/03/2023

$562

/nt

09/04/2023 - 09/04/2023

$489

/nt

09/05/2023 - 09/07/2023

$429

/nt

09/08/2023 - 09/09/2023

$505

/nt

09/10/2023 - 09/14/2023

$429

/nt

09/15/2023 - 09/16/2023

$505

/nt

09/17/2023 - 09/21/2023

$429

/nt

09/22/2023 - 09/23/2023

$505

/nt

09/24/2023 - 09/28/2023

$429

/nt

09/29/2023 - 09/30/2023

$505

/nt

10/01/2023 - 10/05/2023

$429

/nt

10/06/2023 - 10/07/2023

$505

/nt

10/08/2023 - 10/12/2023

$429

/nt

10/13/2023 - 10/14/2023

$505

/nt

10/15/2023 - 10/19/2023

$429

/nt

10/20/2023 - 10/21/2023

$505

/nt

10/22/2023 - 10/26/2023

$429

/nt

10/27/2023 - 10/28/2023

$505

/nt

10/29/2023 - 11/02/2023

$429

/nt

11/03/2023 - 11/04/2023

$505

/nt

11/05/2023 - 11/09/2023

$429

/nt

11/10/2023 - 11/11/2023

$505

/nt

11/12/2023 - 11/16/2023

$429

/nt

11/17/2023 - 11/18/2023

$505

/nt

11/19/2023 - 11/20/2023

$429

/nt

11/21/2023 - 11/25/2023

$1,040

/nt

11/26/2023 - 11/30/2023

$429

/nt

12/01/2023 - 12/02/2023

$505

/nt