Floor Plan
https://tours.photo-tecture.com/public/vtour/display/1920050#!/
Master Bedroom w/ ensuite bath (Downstairs)

Bedroom 2 (Downstairs)

Bedroom 3 (Downstairs)
4 Star
Reviewed on 2021-08-03 by
Barbra
Updated on 2021-08-03
Comfortable livingroom and beds. Kitchen was well stocked with dishes and cooking utensils. Nice hot tub and patio.
3
Reviewed on 2020-09-16 by
Carol
Updated on 2020-09-16
Good location HOA beach excellent Sufficient cleaning; could be cleaner under beds and couch cushions. Kitchen could use more accessories—wine opener, salad bowl Fridge had some precipitation—water on the shelves and bins. Stove—back burner did not seem to heat
Manager Response:
Thanks for the review and feedback! While I can assure you the home was professionally cleaned by a licensed vendor prior to your stay, we have since had a full deep clean to take care of all the items you mentioned. We are currently in the process of updating our inventory and have fixed the issue with the refrigerator and stove burner!
4 Star
Reviewed on 2019-08-05 by
Jeff
Updated on 2019-08-05
We had a great stay at the Tahoe Woods property and will look to stay there again in the future. The only drawback for the house is that the kitchen is understocked and lacking many of the amenities for cooking at the house and has just the bare essentials.
Manager Response:
Thank you for taking the time to review your stay at Tahoe Woods. While the home is equipped with all of the basic pots, pans and cooking supplies you should need, we always suggest taking a look at our Pre-Trip Checklist to see what home owners provide, what we provide, and what we suggest packing!
Nice cabin
Reviewed on 2018-12-31 by
Julie
Updated on 2018-12-31
The area that the cabin was located was beautiful. The cabin itself was very nice except if you were trying to sleep downstairs and there were people walking around upstairs you could hear them. More towels would have been nice since there was a jacuzzi. The kitchen was not well stocked with pots and pans and there was only one clear bowl to use for cooking, no storage containers at all. Just a small inconvenience though as we still had a wonderful time with our family.
Manager Response:
Thank you for taking the time to review your experience! We are happy that you enjoyed the home and appreciate the feedback.  We have guests in house, but will be sure to take inventory and bring the kitchen items back up to standard as soon as we can. Future renters should note that we do supply at least one set of towels per person, but if you'd like extra to use for the hot tub as well, we suggest you come prepared! 
Our Tahoe Getaway
Reviewed on 2018-10-02 by
James
Updated on 2018-10-02
This little house was very homey. The location was great, not to far from the beach, grocery store & Squaw Valley Resort. It was very clean inside. We had a trouble connecting to wifi/internet - but it was OK because we interacted with each other rather than everyone on their phones. The beds were a little high (especially if you are older and have troubles) and they were not the most comfortable. I loved that I was able to take my fur babies with us on our stay-cation. Overall, this place was VERY NICE and COMFY! I would recommend it. We had a WONDERFUL WEEKEND!
Tahoe Woods! Great spot.
Reviewed on 2018-07-25 by
Jane
Updated on 2018-07-25
Such great memories made here. Location of this house was great for getting to activities south of Tahoe City, the HOA Park was awesome. Being the hottest July in years the house cooled off nicely. Beds were comfy and the hot tub a bonus! Everyone at Tahoe getaways was so professional, immediate answered on questions on the area. I will stay with them again.
Great House
Reviewed on 2018-07-16 by
Crystal
Updated on 2018-07-16
The house was great and fit all 6 of us perfectly. Everything was there that was stated. We requested an umbrella for the outside table and had it the next day. One thing is that its quite a distance to the lake. We brought bikes thinking it was a short distance, but it was quite a haul back with the steep hills into the neighborhood. The private HOA beach is quite a bit down the road, definitely not walking distance with all your beach stuff for the day
Great Tahoe home!
Reviewed on 2017-10-11 by
Kevin
Updated on 2017-10-11
We had a great long weekend with our two young children and dog at this home. The house was in a good location, convenient to Tahoe City, restaurants and ammenities like bike rentals and trails. The house more or less had what we needed, but could use some maintenance (to the wood in many areas), and some general updates to TV's and internet connection was very slow and spotty. All in all we would stay at this home again!
Beautiful cabin in a quiet relaxing location
Reviewed on 2017-09-08 by
Jennifer
Updated on 2017-09-08
Beautiful clean cabin, location is very quiet. Only real downside was poor water pressure. Would definitely stay at those property again!
Great Vacation Home
Reviewed on 2017-07-06 by
Samara
Updated on 2017-07-06
Home was exactly as described, particularly the living area/kitchen and the deck/hot tub were even better and larger than expected.
Positives:
Great living area- perfect for entertaining
Short drive to the lake and in a nice quite neighborhood away from the crowds (too far to walk though)
Hot tub and BBQ were a plus
Not Many Negatives to think of!
Spartan Weekend
Reviewed on 2016-10-04 by
Aaron
Updated on 2016-10-04
It was great! Very nice place with in a great location. Kitchen was great and the beds were very comfortable.
Fammily Get A Way
Reviewed on 2016-10-01 by
Jennifer
Updated on 2016-10-01
The cabin was clean on arrival, but the beds were small (double size) and a small twins. The kitchen had sufficient appliances, dishes, utensils, and a working BBQ. Floor insulation needs improvement. We can hear people walking on the second floor from below.
Tahoe Woods
Reviewed on 2016-08-16 by
Robbi
Updated on 2016-08-16
We enjoyed staying here. The street has two entrances to Page Meadows trails and a beautiful view of the lake at one end. The house needs some updating, but was fine for our trip. Having use of the garage was perfect for storage of bikes. One suggestion: It would have been nice to have had a few yellow jacket traps placed. They were relentless!!
Very good
Reviewed on 2016-08-02 by
Erin
Updated on 2016-08-02
The process was smooth, the house was what I expected and ready early. Overall a good choice. I thought a couple minor things would have made it more convenient, such as adequate cookware and seating for six. The house was clean, but the deck was dirty and a bit run down. After much searching, found towels in the dryer. Furnishings were nice. The HOA beach was very nice! Really liked its amenities and it was walkable to Sunnyside.
Perfect tahoe getaway
Reviewed on 2016-07-12 by
Dana
Updated on 2016-07-12
This home was perfect for our family get away.
Ideal
Reviewed on 2014-09-22 by
Carolyn
Updated on 2014-09-22
The property description was accurate. Other homes are nearby, but there aren't many being lived in. The house is separated from the street by many trees. The noisiest night was when a bear cub became separated in the street from its mother and bleated loudly until she was near. Because of that experience with the bears, we wished that we had access to the garage for our rental vehicle.
The house wasn't lacking for amenities, but we could have used the user manuals for a few. We enjoyed many luscious meals in the well-appointed kitchen. Check the food cupboards before shopping, because other renters leave usable staples.
The house was very clean, when we arrived. It was easy to maintain. Beds were comfortable with large closets for holding clothing.
Our only emergency phone call at night to the property manager was promptly answered. With no manual or experience with the gas fireplace, we needed help understanding why the exhaust fan continued to run after we turned the fireplace off.
The hot tub was a terrific way to relax in the evening and watch the billions of stars.
I would recommend this property to everyone.
The Sunnyside area was a great place to stay. We were able to have our share of hiking in the neighborhood, at Taylor Creek Visitor Center, and at Eagle Creek falls (just a trickle), biking along the Truckee River, canoeing on Lake Tahoe, swimming in Lake Tahoe, and restaurant dining at Sunnyside. We even rode the ski gondola at Northstar.
Tahoe Woods
Reviewed on 2014-08-16 by
Alison
Updated on 2014-08-16
Overall it was fine. The only things that could be improved is the kitchen pans and other kitchen supplies could use some updating - like measuring cups and spoons, no flat sheet pan etc. The beds in the rooms were very high and hard to get in and out of, but comfortable for sleeping. The night lights in the rooms didn't work. The only other suggestion would be is to have extra keys - using the lock box was kind of a pain
Tahoe Woods/Tahoe Park Vacation Home
Reviewed on 2014-08-15 by
Matt
Updated on 2014-08-15
Positives:
(1)Location: Quite neighborhood, dead-end street without a lot of traffic, and access to LTPA beach. If you want LTPA access, this is probably the best neighborhood, less congested than Tahoe Park and better location than Talmont.
(2)Size: The home's a good size for a small family, and they allow dogs.
(3)The property manager: We've rented from this property manager 4 or 5 times and always had a good experience, even when there were issues to address.
Negatives:
(1)Condition/cleanliness: The house has some deferred maintenance needs (carpets, interior paint, screen door, decks, spa). The condition of the home has gotten noticeably worse in the last 3 years (i.e., they've put little-no money into the home in the last 3 years we've stayed here).
(2)Beds and linens: There's no mattress pads on the beds, makes an otherwise comfortable mattress (in the master room, the guest room mattress is not as new or comfortable) somewhat uncomfortable. If you're staying here, bring your own mattress pads and sheets.
(3)Kitchen supplies/dishes: The kitchen is only moderately well-stocked. There's lots of pans and (dull) knives and enough silverware, but they need more glasses, bowls, plates. Also, there's almost no dish towels.
(4)TV's small and old: If you're a TV watcher or want to bring your kid's Xbox One (i.e., anything needing an HDMI input), you're out of luck.
Basically, the house is mostly ok as it sits now, but has a few issues. If they put a couple thousand dollars into the place, it would be really, really nice given its location and other amenities. We'd probably stay here again but I'll also be looking around before next year to see what else might meet our needs, if the property manager doesn't address these issues.
Cozy
Reviewed on 2014-07-10 by
Derrick
Updated on 2014-07-10
The house is a nice and cozy place to stay for a couple or a family. The house has three bedrooms and two full baths all on the walk in level to the right of entryway. Upstairs has a nice living space dining table and a full kitchen with breakfast bar. We really enjoyed the hot tub and staring at the stars in the evenings. We had many inconveniences with our stay. The local gas company was replacing gas lines in the neighborhood so there was a lot of construction noise and we had one day from 9am-4pm where the gas was shut off due to the replacement of the lines. It happened on the day after we arrived and forced us to change our plans for the day.
[2]
Property Features
Ski Lease Rate $6,200/MO - ALREADY LEASED FOR 2022-2023 SEASON. Jan 5 - May 5
Custom
Private Hot Tub
Outdoor Furniture (Seasonal)
Shared Pier Access
Access to Private Beach
Ski Lease
Gas Grill
Wireless Internet
Cable Television
Gas Fireplace
Washer
Dryer
Dishwasher
Full Kitchen
Coffee Maker
Driveway Parking for 3
Garage Parking for 1
No Pets
NO A/C
Suitability
Children Welcome
Pets Not Allowed
Smoking Not Allowed
Minimum Age Limit 25
Other Long Term Renters
Free Parking
Fireplace
Decked area
Central heating
Hot Water
Private Living Room
Lock On Bedroom Door
Entertainment
Television
Satellite or Cable Service
Laptop Friendly
Pool/Spa
Hot Tub
Jacuzzi
Jacuzzi/hot tub
Attractions
Autumn Foliage
Marina
Museums
Health Beauty Spa
Local Features
Babysitting
Fitness Center
Groceries
Hospital
Laundromat
Medical Services
More…
Don't wait -
14
people are currently interested in reserving this property!
3 BR Wonderful Tahoe West Shore Cabin w/ Hot Tub and Tahoe Park HOA + Private Beach

Master Bedroom (Queen)
Bedroom 2 (Queen)
Bedroom 3 (Twin Single)
Private Hot Tub
Outdoor Furniture (Seasonal)
Shared Pier Access
Access to Private Beach
Ski Lease
Gas Grill
Wireless Internet
Cable Television
Gas Fireplace
Washer
Dryer
Dishwasher
Full Kitchen
Coffee Maker
Driveway Parking for 3
Garage Parking for 1
No Pets
NO A/C
Available Specials
405 Tahoe Woods Blvd
96145
Tahoe City
,
CA
United States
39° 9' 2.4264" N, 120° 9' 12.0276" W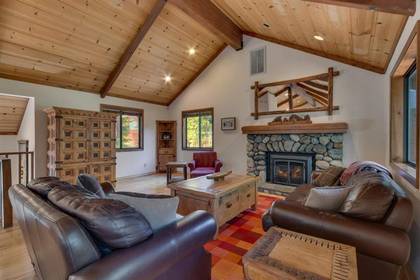 [9]
[10]
[11]
[12]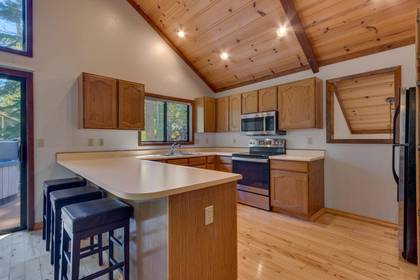 [13]
[14]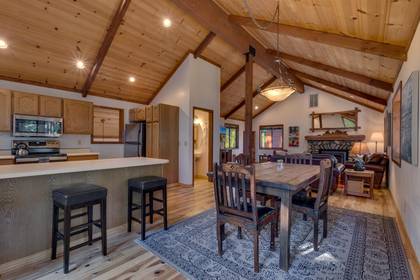 [15]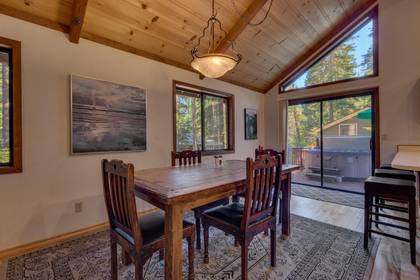 [16]
[17]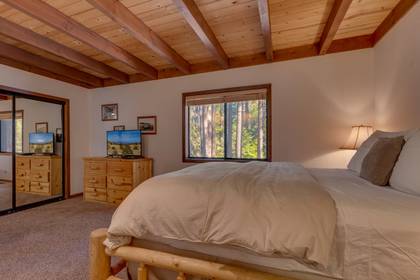 [18]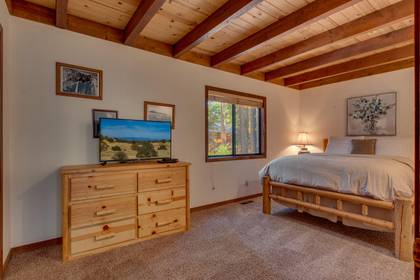 [19]
[20]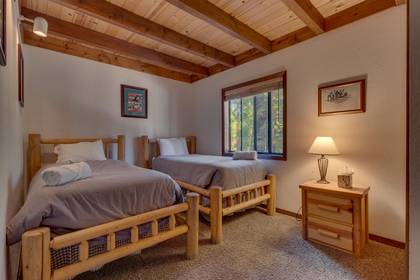 [21]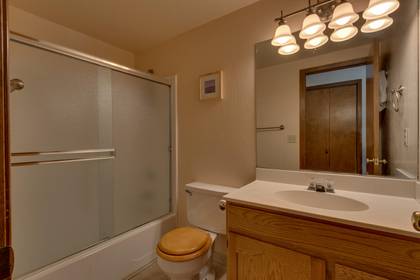 [22]
[23]
[24]
[25]
[26]
[27]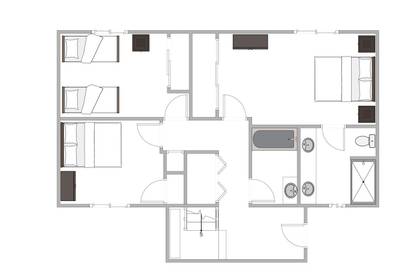 [28]
[29]
[30]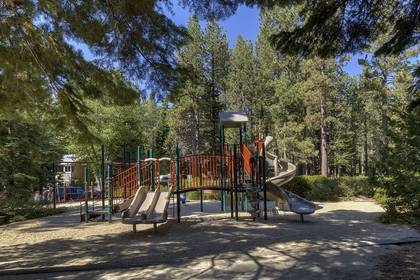 [31]
[32]
[33]
3 Bedrooms
2 Baths
Ski Lease
Private Hot Tub
Clean, cute and comfortable vacation rental home. This remodeled cabin is situated in a friendly neighborhood on a quiet cul-de-sac on the west shore of Tahoe City less than a mile from Sunnyside.
Tahoe Woods is a classic mountain cabin offering a light, bright common area situated upstairs and all three bedrooms on the first floor. The open great room features vaulted pine ceilings, recessed lighting, a river rock gas fireplace, and a sunny deck with a hot tub, BBQ, and dining set.
Ideal location for both summer & winter activities, hiking & biking trails just behind the house to National Forest and 2.5 miles from Tahoe City and close to ski areas, shops and restaurants.
BRONZE LEVEL PROPERTY
• Approx 1550 Square Feet
• Hot Tub
• Gas Fireplace
• Close to Hiking and Biking Trails
• Tahoe Park HOA Beach (See Details Below)
• Available for SKI LEASE during the Winter Months!
• No Pets
ABOUT THE AREA
Located three and a half miles south of Tahoe City on Lake Tahoe's west shore, you'll find the quiet residential neighborhood known as Talmont Estates. The Talmont neighborhood offers easy access to Paige Meadows and miles of back-country which is popular for hiking/biking in summer and cross country skiing/snowshoeing in winter.
Access to the Lake Tahoe Park Associate HOA beach offers an escape from summer crowds and the convenient location means you'll never sit in west shore traffic. The Tahoe Park beach offers over three acres of lakefront enjoyment with two piers, a playground, basketball, bocce ball, volleyball, and picnic areas.
During the ski season, you are less than fifteen minutes from Homewood Mountain Resort. Or travel to Palisades Tahoe (formally known as Squaw Valley/Alpine Meadows) which is the largest ski resort in Lake Tahoe.  Palisades Tahoe has a shuttle that runs continuously between the base area of Olympic Valley & Alpine Meadows when both resorts are open for operations, weather, and traffic permitting.
Tahoe Park HOA Amenities Include:
• 3 1/2 acres of Private Beach and manicured Park with 850 feet of lake front footage
• 2 Piers
• Beach Volleyball
• Swing Set
• Basketball
• Picnic and BBQ area
• Horseshoe Pits
• Bocce Ball
POLICIES & DISCLOSURES:
1. Maximum Day Time & Night Time Occupancy is 6 people. 
2. Parking for 4 vehicles. Street parking is prohibited year-round.
3. Due to Extreme Fire Danger – The use of ANY outdoor firepit or fireplace is strictly prohibited at any of our rental properties. We appreciate your understanding and cooperation as we work to keep our community safe from wildfires.  
Placer Good Neighbor Flyer - https://www.tahoegetaways.com/sites/default/files/files/Placer%20Good%20Neighbor%20Flyer%20-%20Tahoe%20Getaways.pdf
Placer County STR Permit Number STR21-81412
Amenities
Internet
Fireplace
Heating
Washer
Dryer
Parking
Garage
Telephone
Living Room
Hair Dryer
Ironing Board
Linens Provided
Towels Provided
Iron
Internet Access
Cable/satellite TV
Parking space
Parking space Accessible
TV
Linens provided
Towels provided
Lock Box lock box
Dates
Price
11/27/2022 - 11/27/2022

$293

/nt

11/28/2022 - 11/28/2022

$325

/nt

11/29/2022 - 12/01/2022

$309

/nt

12/02/2022 - 12/03/2022

$330

/nt

12/04/2022 - 12/04/2022

$309

/nt

12/05/2022 - 12/05/2022

$325

/nt

12/06/2022 - 12/08/2022

$309

/nt

12/09/2022 - 12/10/2022

$330

/nt

12/11/2022 - 12/13/2022

$300

/nt

12/14/2022 - 12/14/2022

$325

/nt

12/15/2022 - 12/15/2022

$330

/nt

12/16/2022 - 12/18/2022

$389

/nt

12/19/2022 - 12/20/2022

$324

/nt

12/21/2022 - 12/22/2022

$468

/nt

12/23/2022 - 12/25/2022

$520

/nt

12/26/2022 - 01/01/2023

$800

/nt

01/02/2023 - 01/03/2023

$780

/nt

01/04/2023 - 01/04/2023

$324

/nt

01/05/2023 - 01/05/2023

$389

/nt

01/06/2023 - 01/08/2023

$408

/nt

01/09/2023 - 01/11/2023

$340

/nt

01/12/2023 - 01/15/2023

$408

/nt

01/16/2023 - 01/18/2023

$340

/nt

01/19/2023 - 01/22/2023

$408

/nt

01/23/2023 - 01/25/2023

$340

/nt

01/26/2023 - 01/29/2023

$408

/nt

01/30/2023 - 01/31/2023

$340

/nt

02/01/2023 - 02/01/2023

$324

/nt

02/02/2023 - 02/05/2023

$389

/nt

02/06/2023 - 02/08/2023

$324

/nt

02/09/2023 - 02/12/2023

$389

/nt

02/13/2023 - 02/15/2023

$324

/nt

02/16/2023 - 02/16/2023

$389

/nt

02/17/2023 - 02/19/2023

$597

/nt

02/20/2023 - 02/21/2023

$545

/nt

02/22/2023 - 02/23/2023

$626

/nt

02/24/2023 - 02/25/2023

$597

/nt

02/26/2023 - 02/26/2023

$447

/nt

02/27/2023 - 02/27/2023

$373

/nt

02/28/2023 - 03/01/2023

$324

/nt

03/02/2023 - 03/05/2023

$389

/nt

03/06/2023 - 03/08/2023

$324

/nt

03/09/2023 - 03/12/2023

$389

/nt

03/13/2023 - 03/15/2023

$324

/nt

03/16/2023 - 03/19/2023

$389

/nt

03/20/2023 - 03/22/2023

$324

/nt

03/23/2023 - 03/25/2023

$389

/nt

03/26/2023 - 03/30/2023

$325

/nt

03/31/2023 - 04/01/2023

$375

/nt

04/02/2023 - 04/06/2023

$325

/nt

04/07/2023 - 04/08/2023

$375

/nt

04/09/2023 - 04/13/2023

$325

/nt

04/14/2023 - 04/15/2023

$375

/nt

04/16/2023 - 04/20/2023

$325

/nt

04/21/2023 - 04/22/2023

$375

/nt

04/23/2023 - 04/27/2023

$325

/nt

04/28/2023 - 04/29/2023

$375

/nt

04/30/2023 - 05/04/2023

$325

/nt

05/05/2023 - 05/06/2023

$375

/nt

05/07/2023 - 05/11/2023

$325

/nt

05/12/2023 - 05/13/2023

$375

/nt

05/14/2023 - 05/18/2023

$325

/nt

05/19/2023 - 05/20/2023

$375

/nt

05/21/2023 - 05/25/2023

$325

/nt

05/26/2023 - 05/28/2023

$410

/nt

05/29/2023 - 06/01/2023

$348

/nt

06/02/2023 - 06/04/2023

$410

/nt

06/05/2023 - 06/08/2023

$348

/nt

06/09/2023 - 06/11/2023

$410

/nt

06/12/2023 - 06/15/2023

$348

/nt

06/16/2023 - 06/18/2023

$410

/nt

06/19/2023 - 06/20/2023

$348

/nt

06/21/2023 - 06/21/2023

$375

/nt

06/22/2023 - 06/25/2023

$430

/nt

06/26/2023 - 06/27/2023

$375

/nt

06/28/2023 - 06/28/2023

$413

/nt

06/29/2023 - 07/05/2023

$633

/nt

07/06/2023 - 07/07/2023

$575

/nt

07/08/2023 - 07/09/2023

$430

/nt

07/10/2023 - 07/12/2023

$375

/nt

07/13/2023 - 07/13/2023

$430

/nt

07/14/2023 - 07/16/2023

$518

/nt

07/17/2023 - 07/19/2023

$431

/nt

07/20/2023 - 07/23/2023

$518

/nt

07/24/2023 - 07/26/2023

$431

/nt

07/27/2023 - 07/30/2023

$518

/nt

07/31/2023 - 07/31/2023

$431

/nt

08/01/2023 - 08/02/2023

$375

/nt

08/03/2023 - 08/06/2023

$430

/nt

08/07/2023 - 08/09/2023

$375

/nt

08/10/2023 - 08/13/2023

$430

/nt

08/14/2023 - 08/16/2023

$375

/nt

08/17/2023 - 08/19/2023

$430

/nt

08/20/2023 - 08/20/2023

$410

/nt

08/21/2023 - 08/24/2023

$348

/nt

08/25/2023 - 08/27/2023

$410

/nt

08/28/2023 - 08/30/2023

$348

/nt

08/31/2023 - 08/31/2023

$401

/nt

09/01/2023 - 09/03/2023

$471

/nt

09/04/2023 - 09/04/2023

$348

/nt

09/05/2023 - 09/07/2023

$325

/nt

09/08/2023 - 09/09/2023

$375

/nt

09/10/2023 - 09/14/2023

$325

/nt

09/15/2023 - 09/16/2023

$375

/nt

09/17/2023 - 09/21/2023

$325

/nt

09/22/2023 - 09/23/2023

$375

/nt

09/24/2023 - 09/28/2023

$325

/nt

09/29/2023 - 09/30/2023

$375

/nt

10/01/2023 - 10/05/2023

$325

/nt

10/06/2023 - 10/07/2023

$375

/nt

10/08/2023 - 10/12/2023

$325

/nt

10/13/2023 - 10/14/2023

$375

/nt

10/15/2023 - 10/19/2023

$325

/nt

10/20/2023 - 10/21/2023

$375

/nt

10/22/2023 - 10/26/2023

$325

/nt

10/27/2023 - 10/28/2023

$375

/nt

10/29/2023 - 11/02/2023

$325

/nt

11/03/2023 - 11/04/2023

$375

/nt

11/05/2023 - 11/09/2023

$325

/nt

11/10/2023 - 11/11/2023

$375

/nt

11/12/2023 - 11/16/2023

$325

/nt

11/17/2023 - 11/18/2023

$375

/nt

11/21/2023 - 11/25/2023

$450

/nt