Master Bedroom w/ ensuite bath (Upstairs)

Bedroom 2 w/ ensuite bath (Main floor)

Bedroom 3 w/ ensuite bath (Main floor)

Additional Area

Upstairs Bunk Room w/ Twin over Full Bunk Bed (sleeps 2)
Great Kitchen
Reviewed on 2022-08-19 by
Patti
Updated on 2022-08-19
The home was very nice. I have rented many homes before and I have to say your kitchen was the best stocked with cooking supplies, utensils, dishes even a blender. Even extra paper towels with a clean sponge!Thank you for everything
Our stay at Starlight Retreat
Reviewed on 2022-05-31 by
Janet
Updated on 2022-05-31
It was a nice house in a quiet neighborhood except for the construction going on. The construction actually wasn't too bad. It is also a very nice area to be able to go out and walk. The house itself has a back deck that faces out towards the trees with no houses to obstruct the view. My biggest complaint is a check out time of 10 am. Most places allow you to stay until at least 11. All in all it was a good stay.
4.5 star
Reviewed on 2020-03-23 by
Michelle
Updated on 2020-03-23
Starlight Retreat home was lovely. Area was conveniently located to Truckee and Lake Tahoe. We were there when the Coronavirus started and all resorts and restaurants were shut down. We still had a wonderful time. Neighbors were even welcoming! Staff at management company couldn't have been nicer. Only recommendations for the house would be adding steak knives and games or DVD player for renting movies.... and maybe one more wine opener in case the one at the house breaks...
Christmas at Starlight
Reviewed on 2019-12-31 by
Douglas
Updated on 2019-12-31
We really enjoyed our stay at Starlight. Easy check in/check out. The house was fully equipped for a great family holiday. Couple of suggestions would be to check the water heater. We seemed to run out of hot water for evening showers. The ice maker line seemed to freeze so we did not get ice from the automatic ice maker. I would also suggest fixing the remote for the fireplace. Starting the fire manually was adequate but we were nervous when the pilot went out and really did not want anything bad to happen.
Manager Response:
We're happy to hear you enjoyed your stay at Starlight Retreat! Future guests can rest assured that we found the hot-water issue to require a simple temperature adjustment and the ice maker is now functioning properly as well. We truly appreciate your dedication to keeping the property safe while utilizing the manual on/off switch when the remote was non-operational. Future guests should know that we are working on sourcing a new sensor to fix the remote for the fireplace and it should be fixed in no time! As per usual, if issues arise, guests should keep in mind that we are open from 9 to 6 daily and are happy to assist in any way we can to assure your stay is 5 stars. 
[2]
Location
Starlight Retreat at Gray's Crossing
Condo type
Summer 5 NT Starlight Retreat at Gray's Crossing
Property Features
Additional Area Upstairs Bunk Room w/ Twin over Full Bunk Bed (sleeps 2)
Custom
Private Hot Tub
Pet Friendly
Outdoor Furniture (Seasonal)
Gas Grill
Wireless Internet
Cable Television
Gas Fireplace
Washer
Dryer
Dishwasher
Full Kitchen
Coffee Maker
Driveway Parking for 2
Garage Parking for 2
Additional Sleeping Area
NO A/C
Suitability
Children Welcome
Pets Considered
Smoking Not Allowed
Minimum Age Limit 25
Free Parking
Fireplace
Decked area
Central heating
Hot Water
Private Living Room
Lock On Bedroom Door
Entertainment
Television
Satellite or Cable Service
Laptop Friendly
Pool/Spa
Hot Tub
Jacuzzi
Jacuzzi/hot tub
Attractions
Autumn Foliage
Marina
Museums
Playground
Health Beauty Spa
Local Features
Babysitting
Fitness Center
Groceries
Hospital
Laundromat
Medical Services
More…
Don't wait -
17
people are currently interested in reserving this property!
Mountain Getaway Retreat-Minutes Away From Northstar Resort-Pet-Friendly-Fireplace-Private Hot Tub

Master Bedroom (Queen)
Bedroom 2 (Queen)
Bedroom 3 (Queen)
Private Hot Tub
Pet Friendly
Outdoor Furniture (Seasonal)
Gas Grill
Wireless Internet
Cable Television
Gas Fireplace
Washer
Dryer
Dishwasher
Full Kitchen
Coffee Maker
Driveway Parking for 2
Garage Parking for 2
Additional Sleeping Area
NO A/C
Available Specials
11365 China Camp Rd
96161
Truckee
,
CA
United States
39° 20' 59.7984" N, 120° 10' 35.958" W
[10]
[11]
[12]
[13]
[14]
[15]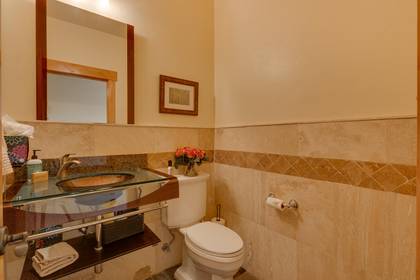 [16]
[17]
[18]
[19]
[20]
[21]
[22]
[23]
[24]
[25]
[26]
[27]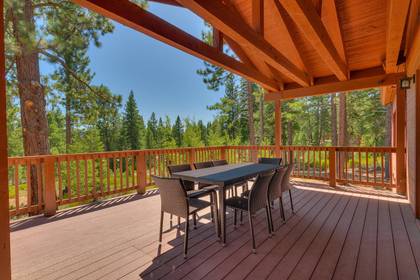 [28]
[29]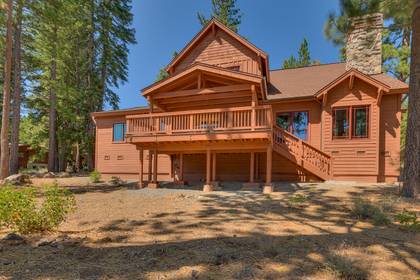 [30]
[31]
[32]
[33]
3 Bedrooms
3.5 Baths
Additional Sleeping Area
Additional Area
Pet Friendly
Private Hot Tub
Nestled in newly developed Gray's Crossing, this technical 3 bedroom Truckee vacation rental (w/ an extra sleeping space) is the perfect home base for your next mountain getaway. Enter onto the home's main floor, traditionally outfitted in the style of the Sierras. Comfortable seating surrounds a wall mounted flat screen television in the cozy great room provides the evening's entertainment.
The adjacent Chef's kitchen is outfitted with stainless steel appliances, including a Bosch double oven and five burner gas range. The spacious dining area offers formal seating for nine guests, and during the summer months, enjoy the option of outdoor dining as well. Two queen guest rooms, each with their own bathroom, are also located on the main floor.
Upstairs, retreat to the private and spacious Master suite, where you'll find a queen bed, fireplace, chaise lounge, work space, and ensuite bath with jetted tub. Double doors open to the upper deck, and another set of doors open to the living room below. (Doors are glass but are fogged for privacy). The converted bunk room provides a fourth sleeping space and is located nearby, and with a television and bean bag, doubles as a hang out for the younger travelers.
SILVER LEVEL PROPERTY
• Approx 2680 sq ft
• Private hot tub
• Outdoor dining (seasonal)
• Gas fireplace
• Spacious Master suite
• Well traveled dog (1 maximum) welcome (fee applies)
ABOUT THE AREA
Gray's Crossing, a 750-acre property on the north end of Martis Valley, offers peaceful seclusion from crowds and traffic without a sense of isolation. With hundreds of acres of open space and loads of hiking and biking trails, it will feel like a remote location. Yet it's anything but, when you realize you're 1.5 miles from Downtown Truckee with its vibrant shops and restaurants.
In the heart of the community is critically acclaimed Peter Jacobsen and Jim Hardy championship golf course – The Golf Club at Gray's Crossing. You can celebrate your best shots at PJ's Grill, but you don't have to play golf to enjoy Truckee's finest outdoor dining with several fire pits and an expansive lawn where all ages can play.
In the winter, visit nearby Northstar California, just a ten minute drive from Gray's Crossing. Enjoy access to almost 100 trails and over 3,000 skiable acres, impeccable grooming, incredible tree skiing and enough variety to challenge every level of skier. Take advantage of world class terrain parks, cross country skiing, a youth Adventure Park, and a 9000 square foot ice rink surrounded by fire pits and a rink side bar.
POLICIES & DISCLOSURES:
1. Maximum daytime and nighttime occupancy is 8 adults. Up to 2 additional children under 13 are allowed (Max 10 total).
2. The county record shows this home as a 3 BR, and therefore it is listed as such, however there is an additional room that acts as a 4th sleeping area. 
3. Parking for 4 vehicles. Street parking is prohibited year-round.
4. This home no longer features a pool table, as depicted in the floorplan. 
5. This home has a Ring camera that views the exterior entryway
7. Spring 2022: A neighboring home is under construction. Noise and nuisance are likely in the coming months.
8. Due to Extreme Fire Danger – The use of ANY outdoor firepit or fireplace is strictly prohibited at any of our rental properties. We appreciate your understanding and cooperation as we work to keep our community safe from wildfires.  
Town of Truckee Certificate STR21-01400
Amenities
Internet
Fireplace
Heating
Washer
Dryer
Parking
Garage
Living Room
Hair Dryer
Ironing Board
Linens Provided
Towels Provided
Iron
Shampoo
Carbon Monoxide Detector
First Aid Kit
Safety Card
Fire Extinguisher
Hangers
Smoke Detector
Essentials
Internet Access
Cable/satellite TV
Parking space Accessible
Parking space
TV
Linens provided
Towels provided
Private Entrance
Self Check-In
Lock Box lock box
Deadbolt Lock
Outdoor Lighting
Bed Linens
Extra Pillows And Blankets
Dates
Price
11/27/2022 - 11/27/2022

$419

/nt

11/28/2022 - 11/28/2022

$441

/nt

11/29/2022 - 12/01/2022

$419

/nt

12/02/2022 - 12/03/2022

$475

/nt

12/04/2022 - 12/04/2022

$419

/nt

12/05/2022 - 12/05/2022

$441

/nt

12/06/2022 - 12/08/2022

$419

/nt

12/09/2022 - 12/10/2022

$493

/nt

12/11/2022 - 12/14/2022

$441

/nt

12/15/2022 - 12/15/2022

$574

/nt

12/16/2022 - 12/18/2022

$675

/nt

12/19/2022 - 12/20/2022

$577

/nt

12/21/2022 - 12/22/2022

$700

/nt

12/23/2022 - 12/25/2022

$1,190

/nt

12/26/2022 - 01/02/2023

$1,585

/nt

01/03/2023 - 01/03/2023

$1,222

/nt

01/04/2023 - 01/04/2023

$577

/nt

01/05/2023 - 01/05/2023

$675

/nt

01/06/2023 - 01/08/2023

$709

/nt

01/09/2023 - 01/11/2023

$606

/nt

01/12/2023 - 01/12/2023

$709

/nt

01/13/2023 - 01/15/2023

$840

/nt

01/16/2023 - 01/18/2023

$606

/nt

01/19/2023 - 01/22/2023

$709

/nt

01/23/2023 - 01/25/2023

$606

/nt

01/26/2023 - 01/29/2023

$709

/nt

01/30/2023 - 01/31/2023

$606

/nt

02/01/2023 - 02/01/2023

$577

/nt

02/02/2023 - 02/05/2023

$675

/nt

02/06/2023 - 02/08/2023

$577

/nt

02/09/2023 - 02/12/2023

$675

/nt

02/13/2023 - 02/15/2023

$577

/nt

02/16/2023 - 02/16/2023

$675

/nt

02/17/2023 - 02/19/2023

$1,172

/nt

02/20/2023 - 02/20/2023

$1,070

/nt

02/21/2023 - 02/21/2023

$909

/nt

02/22/2023 - 02/23/2023

$1,046

/nt

02/24/2023 - 02/25/2023

$1,266

/nt

02/26/2023 - 02/26/2023

$838

/nt

02/27/2023 - 02/27/2023

$664

/nt

02/28/2023 - 03/01/2023

$577

/nt

03/02/2023 - 03/05/2023

$675

/nt

03/06/2023 - 03/08/2023

$577

/nt

03/09/2023 - 03/12/2023

$675

/nt

03/13/2023 - 03/15/2023

$577

/nt

03/16/2023 - 03/19/2023

$675

/nt

03/20/2023 - 03/22/2023

$577

/nt

03/23/2023 - 03/25/2023

$675

/nt

03/26/2023 - 03/30/2023

$441

/nt

03/31/2023 - 04/01/2023

$519

/nt

04/02/2023 - 04/06/2023

$441

/nt

04/07/2023 - 04/08/2023

$519

/nt

04/09/2023 - 04/13/2023

$441

/nt

04/14/2023 - 04/15/2023

$519

/nt

04/16/2023 - 04/20/2023

$441

/nt

04/21/2023 - 04/22/2023

$519

/nt

04/23/2023 - 04/27/2023

$441

/nt

04/28/2023 - 04/29/2023

$519

/nt

04/30/2023 - 05/04/2023

$441

/nt

05/05/2023 - 05/06/2023

$519

/nt

05/07/2023 - 05/11/2023

$441

/nt

05/12/2023 - 05/13/2023

$519

/nt

05/14/2023 - 05/18/2023

$441

/nt

05/19/2023 - 05/20/2023

$519

/nt

05/21/2023 - 05/25/2023

$441

/nt

05/26/2023 - 05/28/2023

$550

/nt

05/29/2023 - 06/01/2023

$467

/nt

06/02/2023 - 06/04/2023

$550

/nt

06/05/2023 - 06/08/2023

$467

/nt

06/09/2023 - 06/11/2023

$550

/nt

06/12/2023 - 06/15/2023

$467

/nt

06/16/2023 - 06/18/2023

$550

/nt

06/19/2023 - 06/20/2023

$467

/nt

06/21/2023 - 06/21/2023

$523

/nt

06/22/2023 - 06/25/2023

$615

/nt

06/26/2023 - 06/27/2023

$523

/nt

06/28/2023 - 06/28/2023

$575

/nt

06/29/2023 - 07/05/2023

$825

/nt

07/06/2023 - 07/07/2023

$750

/nt

07/08/2023 - 07/09/2023

$615

/nt

07/10/2023 - 07/12/2023

$523

/nt

07/13/2023 - 07/13/2023

$615

/nt

07/14/2023 - 07/16/2023

$707

/nt

07/17/2023 - 07/19/2023

$601

/nt

07/20/2023 - 07/23/2023

$707

/nt

07/24/2023 - 07/26/2023

$601

/nt

07/27/2023 - 07/30/2023

$707

/nt

07/31/2023 - 07/31/2023

$601

/nt

08/01/2023 - 08/02/2023

$523

/nt

08/03/2023 - 08/06/2023

$615

/nt

08/07/2023 - 08/09/2023

$523

/nt

08/10/2023 - 08/13/2023

$615

/nt

08/14/2023 - 08/16/2023

$523

/nt

08/17/2023 - 08/19/2023

$615

/nt

08/20/2023 - 08/20/2023

$550

/nt

08/21/2023 - 08/24/2023

$467

/nt

08/25/2023 - 08/27/2023

$550

/nt

08/28/2023 - 08/30/2023

$467

/nt

08/31/2023 - 08/31/2023

$537

/nt

09/01/2023 - 09/03/2023

$633

/nt

09/04/2023 - 09/04/2023

$467

/nt

09/05/2023 - 09/07/2023

$441

/nt

09/08/2023 - 09/09/2023

$519

/nt

09/10/2023 - 09/14/2023

$441

/nt

09/15/2023 - 09/16/2023

$519

/nt

09/17/2023 - 09/21/2023

$441

/nt

09/22/2023 - 09/23/2023

$519

/nt

09/24/2023 - 09/28/2023

$441

/nt

09/29/2023 - 09/30/2023

$519

/nt

10/01/2023 - 10/05/2023

$441

/nt

10/06/2023 - 10/07/2023

$519

/nt

10/08/2023 - 10/12/2023

$441

/nt

10/13/2023 - 10/14/2023

$519

/nt

10/15/2023 - 10/19/2023

$441

/nt

10/20/2023 - 10/21/2023

$519

/nt

10/22/2023 - 10/26/2023

$441

/nt

10/27/2023 - 10/28/2023

$519

/nt

10/29/2023 - 11/02/2023

$441

/nt

11/03/2023 - 11/04/2023

$519

/nt

11/05/2023 - 11/09/2023

$441

/nt

11/10/2023 - 11/11/2023

$519

/nt

11/12/2023 - 11/16/2023

$441

/nt

11/17/2023 - 11/18/2023

$519

/nt

11/21/2023 - 11/25/2023

$680

/nt