Master Bedroom w/ ensuite bath (Upstairs)

Bedroom 2 w/ ensuite bath (Upstairs)

Bedroom 3 (Upstairs)

Bedroom 4 (Upstairs)

Bedroom 5 w/ ensuite bath (Downstairs)

Bedroom 6
[2]
Bedroom 4
1 Twin Single, 1 Bunk Bed
Condo type
Monthly Lease Only Splitrock Gem
Property Features
Ski Lease Rate FROM $50,000/MO - Available for Monthly Lease
Custom
Private Hot Tub
Walking Distance to Lake
Outdoor Furniture (Seasonal)
Buoy Available
Private Pier
Access to Private Beach
Monthly Rental
Lakefront
Lake View
Gas Grill
Wireless Internet
Cable Television
Wood Fireplace
Washer
Dryer
Dishwasher
Full Kitchen
Coffee Maker
Driveway Parking for 2
Garage Parking for 2
No Pets
King Bed
Suitability
Pets Not Allowed
Smoking Not Allowed
Minimum Age Limit
Other Long Term Renters
Entertainment
Stereo
Satellite or Cable Service
Pool/Spa
Swimming Pool
Hot Tub
Heated outdoor pool
Location Types
Resort
Lake Front
Lake View
Water View
Mountain View
More…
Don't wait -
26
people are currently interested in reserving this property!
5 BR Castle in Brockway Lakeside Community - Hot Tub, Pier, and Buoy

Master Bedroom (King)
Bedroom 2 (Queen)
Bedroom 3 (Queen)
Bedroom 4 (Bunk Bed, Twin Single)
Bedroom 5 (Queen)
Bedroom 6 (Queen)
Private Hot Tub
Walking Distance to Lake
Outdoor Furniture (Seasonal)
Buoy Available
Private Pier
Access to Private Beach
Monthly Rental
Lakefront
Lake View
Gas Grill
Wireless Internet
Cable Television
Wood Fireplace
Washer
Dryer
Dishwasher
Full Kitchen
Coffee Maker
Driveway Parking for 2
Garage Parking for 2
No Pets
King Bed
Available Specials
9745 Brockway Springs Dr
96143
Kings Beach
,
CA
United States
39° 13' 37.128" N, 120° 0' 43.7652" W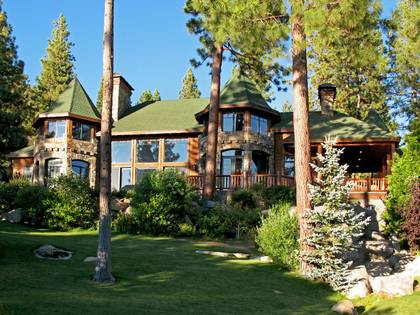 [6]
[7]
[8]
[9]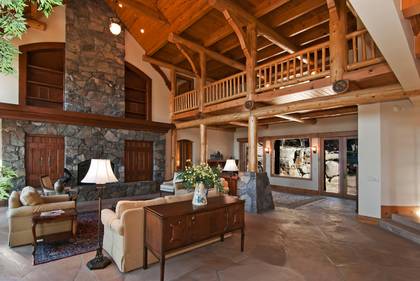 [10]
[11]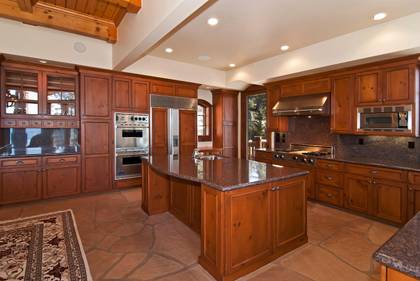 [12]
[13]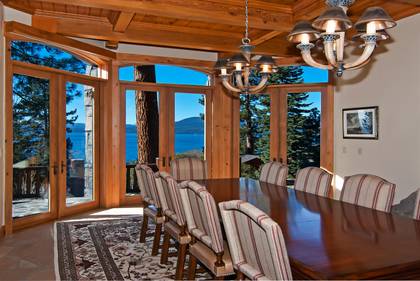 [14]
[15]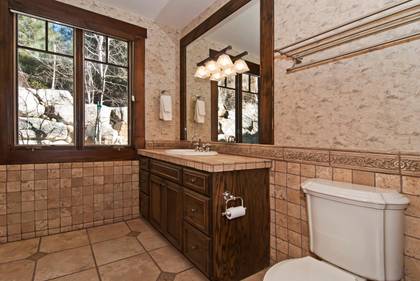 [16]
[17]
[18]
[19]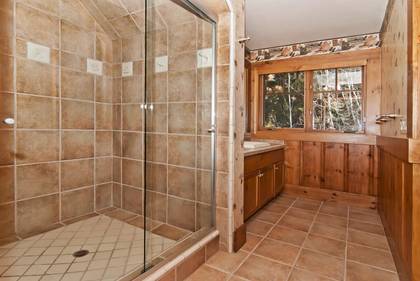 [20]
[21]
[22]
[23]
[24]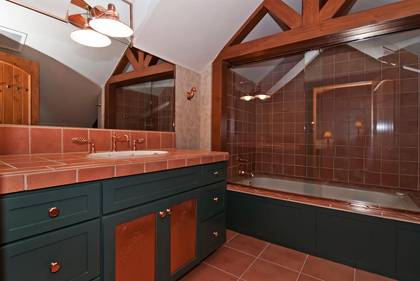 [25]
[26]
[27]
6 Bedrooms
4 Baths
King Bed
Lake View
Lakefront
Monthly Rental
Private Hot Tub
***All bookings subject to owner approval. Please contact Tahoe Getaways for rates and availability.***
A seamless blend of Old Tahoe architecture and modern luxury home technology truly defines this romantic getaway.
This 5000 square foot castle features an enormous living and dining area with 32 foot ceilings, a gigantic Montana castle stone fireplace with a raised 11 foot mantel, four themed bedrooms, gourmet kitchen, and a charming outside porch area complete with heated slab floors & complemented by a Romeo and Juliet buttress balcony and large stone fireplace.
The bold mountain furnishings and unique Old Tahoe memorabilia flawlessly achieve the goal of transporting the rustic elegance of Tahoe life in the 1800s into one of the most incredible Tahoe homes of the 21st century.
PLATINUM LEVEL PROPERTY
Available by the month, Summer & Winter (31 Day Minimum at ALL TIMES) - Summer Rate From $60-$100K per month
• Gated Lake Front Community
• Exclusive Brockway Springs HOA (see below)
• Wood Fireplace
• Hot Tub w/ Lake View
• All 3 Master Bedrooms Enjoy Lake Views
• Plush Landscaped Grounds
• Gated Community
• Buoy (available by advance request; not all requests may be accommodated, see note below)
• No Pets
Located in Brockway Springs, a 20 acre exclusive gated lakefront community. Surrounded by manicured lawns and large granite boulders, also boasting world class amenities such as a lakefront pool, spa, tennis courts, shared pier and buoys.
POLICIES & DISCLOSURES:
1.  THIS HOME IS NOT AVAILABLE FOR SHORT TERM RENTAL. A 31+ NIGHT STAY IS REQUIRED AT ALL TIMES Please contact one of our agents for details as online booking is NOT available.
2. Notice to Boaters: TRPA requires boat inspection/certification and a clean boating certification sticker must be procured.
3. Buoys must be reserved in advance. Please talk to an agent at the time of booking so the appropriate arrangements can be made.
4. Due to Extreme Fire Danger – The use of ANY outdoor firepit or fireplace is strictly prohibited at any of our rental properties. We appreciate your understanding and cooperation as we work to keep our community safe from wildfires.  
Placer Certificate #8265
Placer County Good Neighbor Flyer [28]
 
Amenities
Internet
Fireplace
Heating
Washer
Parking
Garage
Telephone
Living Room
Linens Provided
Towels Provided
Iron
TV
Linens provided
Towels provided
Private Entrance
Lock Box lock box
Outdoor Lighting
Bed Linens
Dates
Price
11/27/2022 - 12/16/2022

$1,500

/nt

12/17/2022 - 01/02/2023

$3,000

/nt

01/03/2023 - 01/03/2023

$2,100

/nt

01/04/2023 - 01/04/2023

$3,600

/nt

01/05/2023 - 01/05/2023

$3,300

/nt

01/06/2023 - 01/07/2023

$3,000

/nt

01/08/2023 - 01/24/2023

$1,500

/nt

01/25/2023 - 02/19/2023

$2,600

/nt

02/20/2023 - 02/23/2023

$2,310

/nt

02/24/2023 - 03/05/2023

$2,600

/nt

03/06/2023 - 03/31/2023

$1,500

/nt

04/01/2023 - 05/31/2023

$1,300

/nt

06/01/2023 - 06/22/2023

$2,300

/nt

06/23/2023 - 07/31/2023

$3,000

/nt

08/01/2023 - 08/15/2023

$2,600

/nt

08/16/2023 - 09/30/2023

$2,300

/nt

10/01/2023 - 11/20/2023

$1,300

/nt

11/21/2023 - 12/02/2023

$1,500

/nt