Master Bedroom W/ ensuite bath (Main)

Bedroom 2 (Main)

Bedroom 3 (Upstairs)

Bedroom 4 (Upstairs)
Floor Plan
https://tours.photo-tecture.com/public/vtour/display/1027936#!/

[2]
Condo type
LT Lease Only Oxen Run Ski Lease at Northstar
Available Specials
Community Hot Tub
Outdoor Furniture (Seasonal)
Access to Fitness Center
Ski Shuttle Service
Ski Lease Only
Access to Swimming Pool
Gas Grill
Wireless Internet
Cable Television
DVD Player
Gas Fireplace
Washer
Dryer
Dishwasher
Full Kitchen
Coffee Maker
Driveway Parking for 3
Garage Parking for 2
No Pets

Master Bedroom (King)
Bedroom 2 (Queen)
Bedroom 3 (Twin Single)
Bedroom 4 (Twin Single)
Don't wait -
18
people are currently interested in reserving this property!
More…
Location
Oxen Run Ski Lease at Northstar
Pool/Spa
Swimming Pool
Jacuzzi
Outdoor pool shared
Entertainment
Television
DVD Player
Satellite or Cable Service
DVD player
Custom
Community Hot Tub
Outdoor Furniture (Seasonal)
Access to Fitness Center
Ski Shuttle Service
Ski Lease Only
Access to Swimming Pool
Gas Grill
Wireless Internet
Cable Television
DVD Player
Gas Fireplace
Washer
Dryer
Dishwasher
Full Kitchen
Coffee Maker
Driveway Parking for 3
Garage Parking for 2
No Pets
1405 Oxen Run
96161
Truckee
,
CA
United States
39° 17' 1.1796" N, 120° 7' 31.08" W
[7]
[8]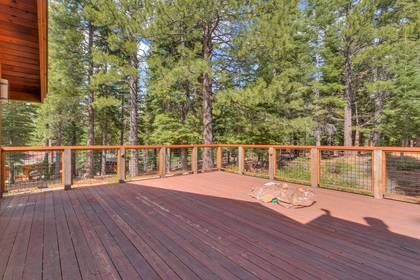 [9]
[10]
[11]
[12]
[13]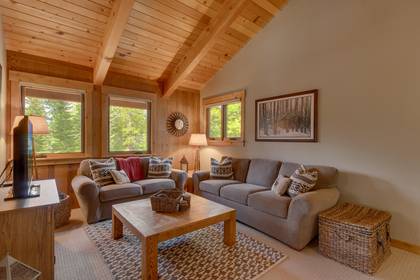 [14]
[15]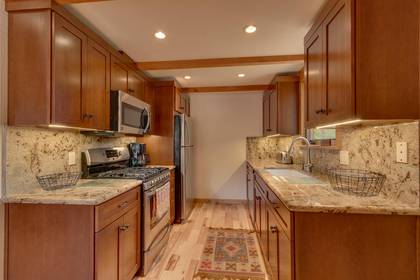 [16]
[17]
[18]
[19]
[20]
[21]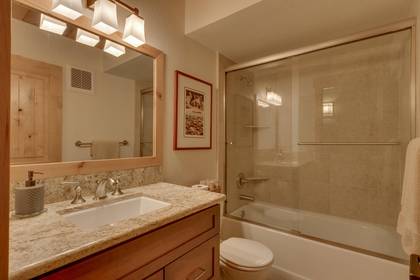 [22]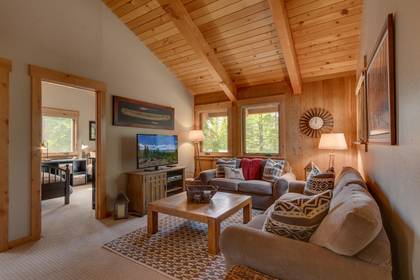 [23]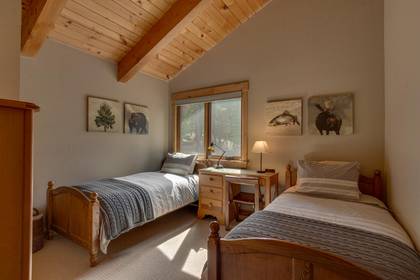 [24]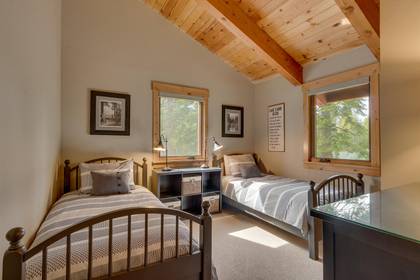 [25]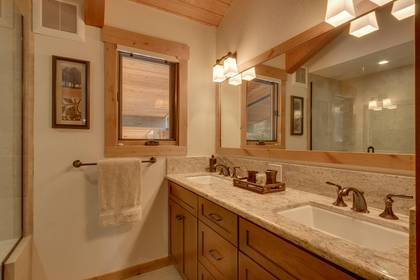 [26]
[27]
[28]
[29]
[30]
[31]
[32]
[33]
[34]
[35]
[36]
[37]
[38]
4 Bedrooms
2 Baths
Access to Swimming Pool
Ski Area Property
Community Hot Tub
This comfortable mountain home will bring you back time and time again with modern accommodations and easy access to all Northstar has to offer including door-to-door shuttle service.



The living room on the main ground level has plush leather couches, a nice gas fireplace and 54" flatscreen TV. Modern finishes including primarily wood floors, granite tiled entry way, marble top counters with modern appliances, and a touch of tasteful Tahoe decor give you a nice quality Tahoe cabin feel. The private deck outback from the dining and living room, is perfect for a small snow play area. This lower ground level also has the master bedroom with a king bed and beautiful ensuite master bathroom, as well as a second bedroom with queen mattress. Two additional bedrooms, each with two twin beds, are located on the second upstairs level along with a private sitting room with flat-screen TV and pull out couch.



Enjoy the on demand, dial up shuttle service which picks you up at your front door and takes you to the Northstar Village and/or Rec Center only 1 mile away. Convenience, comfort, and close proximity to Northstar Village/Ski Resort make this property a great home base for ski trips and mountain getaways.



• Approx. 1600 sq ft.

• Gas fireplace

• Remodeled kitchen with all new appliances

• Dining table seats 6 (1 extra dining room chair available if needed)

• No Pets 

• Two 50'' Flatscreen TVs in main lower living room & upstairs family room

• Modern marble top counter bathrooms w/ tiled floor & glass door showers

• Gas BBQ grill

• Door-to-Door Ski Shuttle



BED CONFIGURATION



Master BR 1 - King w/ ensuite shower/tub (Main/Ground)

BR 2 - Queen (Main/Ground)

BR 3 - 2 Twin Beds (Upstairs)

BR 4 - 2 Twin Beds (Upstairs)

Full Bath - shower only (Upstairs)



ABOUT THE AREA



For the modern family seeking a mountain escape complete with unmatched amenities, Northstar California Resort combines California cool with high-end luxury. Halfway between Truckee, one of North America's coolest mountain towns, and the gorgeous North Shore of Lake Tahoe, Northstar is a destination on the rise, having poured nearly a billion dollars into creating Lake Tahoe's premier luxury snow sports experience.

In the winter, enjoy access to almost 100 trails and over 3,000 skiable acres, impeccable grooming, incredible tree skiing and enough variety to challenge every level of skier. Take advantage of world class terrain parks, cross country skiing, a youth Adventure Park, and a 9000 square foot ice rink surrounded by fire pits and a rink side bar.



A true four seasons resort, summer in Northstar is not to be missed. Play the 18 hole championship golf course, brave the bungee trampoline, or access one of the countless biking or hiking trails right outside your door. When you're ready for a day at the lake, sandy beaches await, only ten minutes from your door. Included with your rental are guest cards providing access to the Northstar Property Owners Association amenities. Guest access fees are currently $5 per person per day (cash only).



AMENITIES INCLUDE ACCESS TO NPOA REC CENTER w/:



• Door to door shuttle service (no charge)

• Work-out facility

• Heated Lap Pool open year-round

• Covered Shaped outdoor Adult Spa

• 26' diameter outdoor Family Spa

• 10' x 15' outdoor Adult Spa (families okay when Family Spa closed)

• Game Room - air-hockey, foosball, ping pong, video games, pool tables, TV room



POLICIES & DISCLOSURES



IMPORTANT - All Rates and Cleaning Fee Include all local Occupancy Taxes.   A Damage Waiver Fee is also included. The DWF covers you for up to $3000 of accidental damage during your stay.  Contact us directly if a traditional Security Deposit is preferred.  NO ADDITIONAL CHARGES will be applied upon booking. 



1.As a result of Covid-19, public, private, or HOA amenities may be limited, or may not available at all.  No refunds or adjustments in the terms of this Agreement will be made based on changes to public or private amenities as such policies or decisions are not within TRPM's control. 

* All of our homes feature a full kitchen, washer and dryer, outdoor grill, and wireless internet (any exceptions will be noted above).
Amenities
Internet
Fireplace
Washer
Dryer
Garage
Living Room
Ironing Board
Linens Provided
Towels Provided
Iron
Internet Access
Cable/satellite TV
Parking space
TV
Towels provided
Washing machine
Lock Box
Linen provided
Dates
Price
07/15/20 - 07/15/20

$192

/nt

07/15/20 - 09/30/20

$6,600

/month

07/16/20 - 07/16/20

$173

/nt

07/17/20 - 07/18/20

$192

/nt

07/19/20 - 07/19/20

$173

/nt

07/20/20 - 07/22/20

$192

/nt

07/23/20 - 07/23/20

$173

/nt

07/24/20 - 07/25/20

$192

/nt

07/26/20 - 07/26/20

$173

/nt

07/27/20 - 07/31/20

$192

/nt

08/01/20 - 08/15/20

$222

/nt

08/16/20 - 08/20/20

$202

/nt

08/21/20 - 08/22/20

$222

/nt

08/23/20 - 08/27/20

$202

/nt

08/28/20 - 08/29/20

$222

/nt

08/30/20 - 09/30/20

$202

/nt

10/01/20 - 11/21/20

$202

/nt

10/01/20 - 11/30/20

$6,600

/month

11/25/20 - 11/30/20

$202

/nt

12/01/20 - 12/30/20

$202

/nt

12/01/20 - 04/30/21

$6,600

/month

12/31/20 - 12/31/20

$232

/nt

01/01/21 - 04/30/21

$202

/nt

05/01/21 - 05/31/21

$202

/nt

05/01/21 - 05/31/21

$6,600

/month

06/01/21 - 06/30/21

$202

/nt

06/01/21 - 07/31/21

$6,600

/month

07/12/21 - 07/31/21

$202

/nt