Floor Plan
https://tours.photo-tecture.com/public/vtour/display/1694422#!/
Virtual Tour
https://my.matterport.com/show/?m=gSsJF3ZnAja
Master Bedroom w/ ensuite bath (Upstairs)

Bedroom 2 (Upstairs)

Bedroom 3 (Upstairs)

Bedroom 4 (Downstairs)

Bedroom 5 (Downstairs)

Additional Area

Sitting Room - Sofa Sleeper
Wonderful Home
Reviewed on 2021-09-21 by
Guadalupe
Updated on 2021-09-21
This house is beautiful. The kitchen is well equip, the toy room was a treat for our 4 young ones and the home was very clean. The beautiful view, off the back deck, was amazing. We highly recommend this home.
Mountain Peak Lodge
Reviewed on 2021-07-26 by
Shea
Updated on 2021-07-26
Mountain Peak Lodge is an absolutely amazing property! The views of the valley into Northstar are stunning, we enjoyed nearly every sunrise and sunset out on the patio for breakfast/coffee and dinner. The house is well outfitted with linens, towels, and has all the finest finishings, making for quite an extravagant vacation. Tahoe Getaways staff were unbelievably responsive, and I wouldn't hesitate to rent our next vacation home through them. By way of example, we had noticed the jacuzzi water had turned a slight green and called out of concern, they sent an individual out the same day to diagnose and solve the problem. Check-in to check-out, and overall communication was superb. Thank you for making our vacation one of the best we've had in years!
Great place for family gathering!
Reviewed on 2021-07-05 by
Marilyn
Updated on 2021-07-05
The Mountain Peak Lodge at Tahoe Donner was a wonderful place for our extended family gathering. We had 11 people comfortably staying in the house for four nights. The kitchen was well equipped, the hot tub was lovely, the deck accommodated all of us for dinners and the view was spectacular. The listing says no AC but there was a fan in every closet, just in case. All of us thoroughly enjoyed our stay there.
Great house
Reviewed on 2019-11-26 by
James K.
Updated on 2019-11-26
Serene and beautiful
Reviewed on 2019-08-02 by
Nazanin H.
Updated on 2019-08-02
We stayed in this house over the July 4th weekend. The managing company is amazing. The house is really clean, with everything you may need. The floor plan is very practical. We were 10 people, 4 couples and 2 kids. Everyone had their rooms with lots of towels, .... The hot tub was very nice. View is amazing. It is a happy and welcoming house. We would definitely stay there if we go back to Donner...
[2]
Location
Mountain Peak Lodge at Tahoe Donner
Condo type
Summer 3 NT Mountain Peak Lodge at Tahoe Donner
Property Features
Additional Area Sitting Room - Sofa Sleeper
Custom
Private Hot Tub
Community Hot Tub
Game Room/Media Room
Outdoor Furniture (Seasonal)
Access to Private Beach
Access to Fitness Center
Access to Swimming Pool
Access to Tennis Courts
Gas Grill (Seasonal- Summer Only)
Wireless Internet
Cable Television
Gas Fireplace
Washer
Dryer
Dishwasher
Full Kitchen
Coffee Maker
Driveway Parking for 3
Garage Parking for 2
Foosball Table
No Pets
Additional Sleeping Area Sitting Room - Sofa Sleeper
King Bed
NO A/C
Entertainment
Television
Satellite or Cable Service
Foosball
Laptop Friendly
Game room
Pool/Spa
Swimming Pool
Hot Tub
Jacuzzi
Jacuzzi/hot tub
Attractions
Autumn Foliage
Marina
Museums
Health Beauty Spa
Local Features
Babysitting
Fitness Center
Groceries
Hospital
Laundromat
Massage Therapist
Medical Services
More…
Don't wait -
10
people are currently interested in reserving this property!

Master Bedroom (King)
Bedroom 2 (King)
Bedroom 3 (Twin Single)
Bedroom 4 (King)
Bedroom 5 (Queen)
Private Hot Tub
Community Hot Tub
Game Room/Media Room
Outdoor Furniture (Seasonal)
Access to Private Beach
Access to Fitness Center
Access to Swimming Pool
Access to Tennis Courts
Gas Grill
Wireless Internet
Cable Television
Gas Fireplace
Washer
Dryer
Dishwasher
Full Kitchen
Coffee Maker
Driveway Parking for 3
Garage Parking for 2
Foosball Table
No Pets
Additional Sleeping Area
King Bed
NO A/C
Available Specials
14359 Ski Slope Way
96161
Truckee
,
CA
United States
39° 20' 47.0868" N, 120° 15' 37.602" W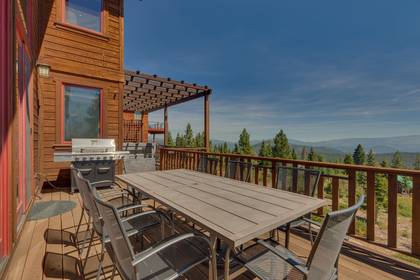 [9]
[10]
[11]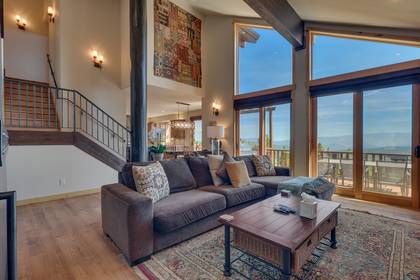 [12]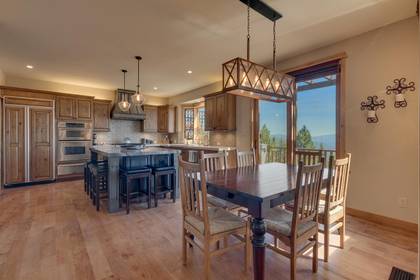 [13]
[14]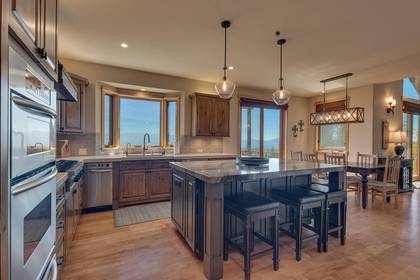 [15]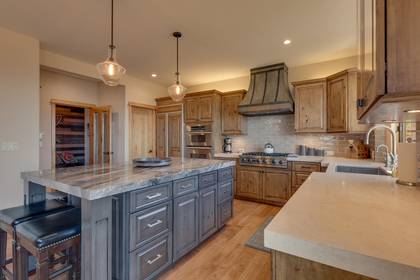 [16]
[17]
[18]
[19]
[20]
[21]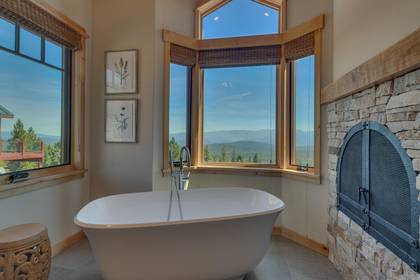 [22]
[23]
[24]
[25]
[26]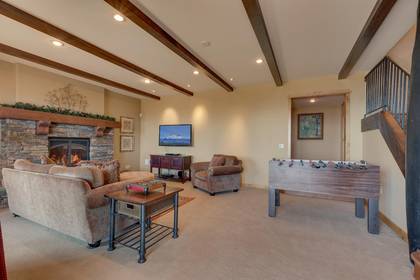 [27]
[28]
[29]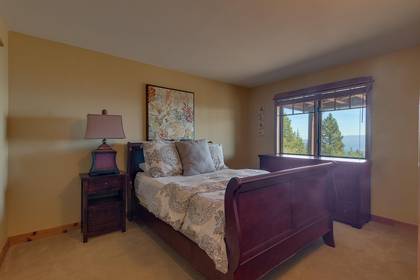 [30]
[31]
[32]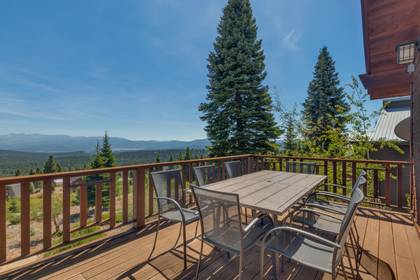 [33]
[34]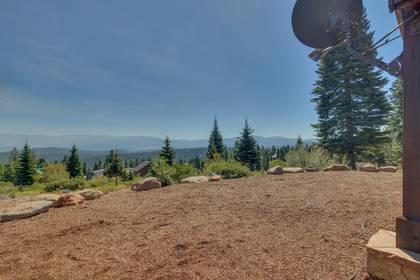 [35]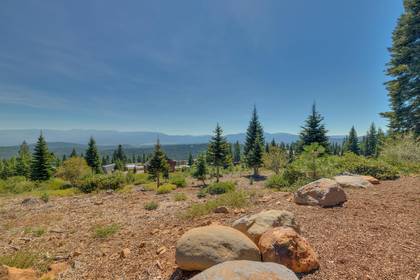 [36]
[37]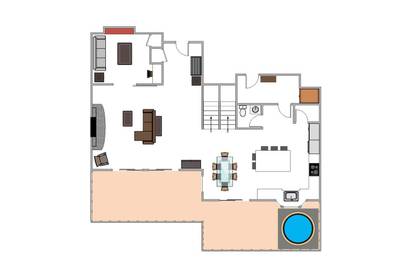 [38]
[39]
5 Bedrooms
3.5 Baths
Access to Swimming Pool
Additional Sleeping Area
Additional Area
Luxury
Private Hot Tub
Community Hot Tub
Elevate your next vacation with a visit to Mountain Peak Lodge. This five bedroom Tahoe Donner vacation rental spans over 3,300 square feet and three levels of luxury mountain living. Extensively remodeled and offering sweeping mountain views from the main living spaces and the majority of the bedrooms, this home is truly one of a kind.
The main living area features a comfortable sectional, gas fireplace, and a television large enough to rival the size of the mountain views. Off the great room is a separate sitting room which can be closed off via a barn door. Inside, the sofa and television can become a hangout for small children, close enough for adults to keep watch, or the desk can turn into a private work space behind a closed door. For those who think communal meals are one of the best parts of vacation, the gourmet kitchen will take dinner to the next level. A six burner Viking range and full suite of leading appliances are complimented by marble and quartzite counter tops and a large island.
Upstairs, a gorgeous Master suite offers mountain views and is outfitted with a King bed, double sided gas fireplace, and en suite bath where you can enjoy the fireplace from the Victoria + Albert Amiata soaking tub. Two additional bedrooms - one of which is designed for the children to be close by - and a full bath round out the home's upper level.
Downstairs, you'll find the game room with foosball table, television, seating area and another gas fireplace. The final two bedrooms are also on this lower level, each with mountain views, and sharing a full bath.
On the outdoor deck, a large hot tub can be enjoyed year round. During the summer months, gather around the firepit, fire up the gas grill, or enjoy a cup of morning coffee while soaking in the serenity of the Sierras.
GOLD LEVEL PROPERTY
• 3300 Square Feet
• Panoramic views of Carson Range
• Hot tub
• Outdoor fire pit
• Separate main floor sitting room with TV and Desk
• Downstairs game room with foosball
• Access to Tahoe Donner amenities (See Details Below)
•  No Pets
ABOUT THE AREA
Tahoe Donner is one of America's largest homeowner's associations, with nearly 6,500 properties and 25,000 members enjoying over 7,000 acres in the Sierra Nevada mountains.
In the winter, enjoy on site access to cross country and downhill skiing, and a snow play area which is a favorite among our younger visitors. In the summer, take advantage of the championship golf course and clubhouse, or bring the family to one of the private swimming pool complexes. You'll also have access to a private beach club at Donner Lake, where you can avoid the crowds and spend a day paddle boarding, kayaking, or sunbathing on provided chaise lounges.
Dining options within the community include The Lodge Restaurant and Pub, winner of the 2015 Open Table Diners' Choice Award, and Pizza on the Hill, a casual spot perfect for the whole family.
Compared to other North Shore Tahoe locations, staying in Tahoe Donner cuts the drive from the bay area down by close to 45 minutes, so you'll be enjoying the first cocktail of your vacation while others are still stuck in traffic. Tahoe Donner is minutes away from Historic Downtown Truckee, about 12 miles from Northstar California, and 16 miles from Palisades Tahoe.
Included with your rental are two guest cards providing access to the amenities available in Tahoe Donner. Each guest card allows access for up to four guests over the age of 6. Guest access fees are currently $17 per person per day. Children under 7 are free. Daily Access Fees are only good for single use; they are no longer transferable across amenities.  All images of Tahoe Donner amenities are provided courtesy of Tahoe Donner.
TAHOE DONNER AMENITIES INCLUDE:
• Rec center with work-out facility
• Swimming Pools and hot tub
• Fitness classes
• Downhill ski area (great for kids!)
• Cross country ski area
• Equestrian center
• Tennis center
• 18-hole golf and driving range
• Hiking, and so much more!
POLICIES & DISCLOSURES:
1. Maximum daytime and nighttime occupancy is 11 adults.
2. Parking for 5 vehicles. Street parking is prohibited year-round. 
3. This home is located in an area with potential for very high snow load. 4WD/AWD with snow tires or chains required during the winter months.
4. This home has Fixed Wireless Internet, which can be impacted by weather events such as snow storms, and is not as fast as traditional Internet speeds found in urban areas.  Refunds will not be issued for internet service interruptions.
5. The gas grill is only available during the summer months.
6. Due to Extreme Fire Danger – The use of ANY outdoor firepit or fireplace is strictly prohibited at any of our rental properties. We appreciate your understanding and cooperation as we work to keep our community safe from wildfires. 
7. Sorry, absolutely no pets.
Town of Truckee Certificate STR21-00776
Amenities
Internet
Fireplace
Heating
Washer
Dryer
Parking
Garage
Living Room
Game Room
Hair Dryer
Ironing Board
Linens Provided
Towels Provided
Iron
Shampoo
Carbon Monoxide Detector
First Aid Kit
Safety Card
Fire Extinguisher
Hangers
Smoke Detector
Essentials
Internet Access
Cable/satellite TV
Parking space
Parking space Accessible
TV
Linens provided
Towels provided
Gym
Private Entrance
Self Check-In
Lock Box Lock Box
Deadbolt Lock
Outdoor Lighting
Bed Linens
Extra Pillows And Blankets
Dates
Price
08/17/2022 - 08/18/2022

$530

/nt

08/19/2022 - 08/20/2022

$590

/nt

08/21/2022 - 08/21/2022

$502

/nt

08/22/2022 - 08/25/2022

$530

/nt

08/26/2022 - 08/27/2022

$590

/nt

08/28/2022 - 08/28/2022

$502

/nt

08/29/2022 - 09/01/2022

$552

/nt

09/02/2022 - 09/04/2022

$615

/nt

09/05/2022 - 09/05/2022

$552

/nt

09/06/2022 - 09/08/2022

$500

/nt

09/09/2022 - 09/10/2022

$650

/nt

09/11/2022 - 09/15/2022

$500

/nt

09/16/2022 - 09/17/2022

$650

/nt

09/18/2022 - 09/22/2022

$500

/nt

09/23/2022 - 09/24/2022

$650

/nt

09/25/2022 - 09/29/2022

$500

/nt

09/30/2022 - 09/30/2022

$650

/nt

10/01/2022 - 10/01/2022

$631

/nt

10/02/2022 - 10/06/2022

$485

/nt

10/07/2022 - 10/08/2022

$631

/nt

10/09/2022 - 10/13/2022

$485

/nt

10/14/2022 - 10/15/2022

$631

/nt

10/16/2022 - 10/20/2022

$485

/nt

10/21/2022 - 10/22/2022

$631

/nt

10/23/2022 - 10/27/2022

$485

/nt

10/28/2022 - 10/29/2022

$631

/nt

10/30/2022 - 11/03/2022

$485

/nt

11/04/2022 - 11/05/2022

$631

/nt

11/06/2022 - 11/10/2022

$485

/nt

11/11/2022 - 11/12/2022

$631

/nt

11/13/2022 - 11/15/2022

$485

/nt

11/16/2022 - 11/17/2022

$500

/nt

11/18/2022 - 11/19/2022

$650

/nt

11/20/2022 - 11/21/2022

$500

/nt

11/22/2022 - 11/26/2022

$879

/nt

11/27/2022 - 12/01/2022

$500

/nt

12/02/2022 - 12/03/2022

$650

/nt

12/04/2022 - 12/06/2022

$500

/nt

12/07/2022 - 12/07/2022

$596

/nt

12/08/2022 - 12/11/2022

$716

/nt

12/12/2022 - 12/14/2022

$596

/nt

12/15/2022 - 12/16/2022

$716

/nt

12/17/2022 - 12/22/2022

$1,300

/nt

12/23/2022 - 12/25/2022

$1,690

/nt

12/26/2022 - 01/01/2023

$2,239

/nt

01/02/2023 - 01/05/2023

$1,625

/nt

01/06/2023 - 01/07/2023

$994

/nt

01/08/2023 - 01/08/2023

$751

/nt

01/09/2023 - 01/11/2023

$626

/nt

01/12/2023 - 01/12/2023

$751

/nt

01/13/2023 - 01/15/2023

$1,082

/nt

01/16/2023 - 01/18/2023

$626

/nt

01/19/2023 - 01/22/2023

$751

/nt

01/23/2023 - 01/25/2023

$626

/nt

01/26/2023 - 01/29/2023

$751

/nt

01/30/2023 - 01/31/2023

$626

/nt

02/01/2023 - 02/01/2023

$596

/nt

02/02/2023 - 02/05/2023

$716

/nt

02/06/2023 - 02/08/2023

$596

/nt

02/09/2023 - 02/12/2023

$716

/nt

02/13/2023 - 02/15/2023

$596

/nt

02/16/2023 - 02/16/2023

$716

/nt

02/17/2023 - 02/19/2023

$1,360

/nt

02/20/2023 - 02/20/2023

$1,254

/nt

02/21/2023 - 02/23/2023

$1,068

/nt

02/24/2023 - 02/25/2023

$1,301

/nt

02/26/2023 - 02/26/2023

$787

/nt

02/27/2023 - 03/01/2023

$596

/nt

03/02/2023 - 03/05/2023

$716

/nt

03/06/2023 - 03/08/2023

$596

/nt

03/09/2023 - 03/12/2023

$716

/nt

03/13/2023 - 03/15/2023

$596

/nt

03/16/2023 - 03/19/2023

$716

/nt

03/20/2023 - 03/22/2023

$596

/nt

03/23/2023 - 03/26/2023

$716

/nt

03/27/2023 - 03/29/2023

$596

/nt

03/30/2023 - 03/31/2023

$716

/nt

04/01/2023 - 04/01/2023

$650

/nt

04/02/2023 - 04/06/2023

$500

/nt

04/07/2023 - 04/08/2023

$650

/nt

04/09/2023 - 04/13/2023

$500

/nt

04/14/2023 - 04/15/2023

$650

/nt

04/16/2023 - 04/20/2023

$500

/nt

04/21/2023 - 04/22/2023

$650

/nt

04/23/2023 - 04/27/2023

$500

/nt

04/28/2023 - 04/29/2023

$650

/nt

04/30/2023 - 05/04/2023

$500

/nt

05/05/2023 - 05/06/2023

$650

/nt

05/07/2023 - 05/11/2023

$500

/nt

05/12/2023 - 05/13/2023

$650

/nt

05/14/2023 - 05/18/2023

$500

/nt

05/19/2023 - 05/20/2023

$650

/nt

05/21/2023 - 05/25/2023

$500

/nt

05/26/2023 - 05/28/2023

$615

/nt

05/29/2023 - 06/01/2023

$552

/nt

06/02/2023 - 06/04/2023

$615

/nt

06/05/2023 - 06/08/2023

$552

/nt

06/09/2023 - 06/11/2023

$615

/nt

06/12/2023 - 06/15/2023

$552

/nt

06/16/2023 - 06/18/2023

$615

/nt

06/19/2023 - 06/20/2023

$552

/nt

06/21/2023 - 06/21/2023

$595

/nt

06/22/2023 - 06/25/2023

$700

/nt

06/26/2023 - 06/27/2023

$595

/nt

06/28/2023 - 06/28/2023

$655

/nt

06/29/2023 - 07/05/2023

$1,045

/nt

07/06/2023 - 07/07/2023

$950

/nt

07/08/2023 - 07/09/2023

$700

/nt

07/10/2023 - 07/12/2023

$595

/nt

07/13/2023 - 07/13/2023

$700

/nt

07/14/2023 - 07/16/2023

$805

/nt

07/17/2023 - 07/19/2023

$684

/nt

07/20/2023 - 07/23/2023

$805

/nt

07/24/2023 - 07/26/2023

$684

/nt

07/27/2023 - 07/30/2023

$805

/nt

07/31/2023 - 07/31/2023

$684

/nt

08/01/2023 - 08/02/2023

$595

/nt

08/03/2023 - 08/06/2023

$700

/nt

08/07/2023 - 08/09/2023

$595

/nt

08/10/2023 - 08/13/2023

$700

/nt

08/14/2023 - 08/16/2023

$595

/nt

08/17/2023 - 08/19/2023

$700

/nt