Floor Plan
https://www.us.open2view.com/tour/unbranded/photo/4515
Primary Bedroom w/ ensuite bath (Upstairs)

JR Primary Bedroom w/ ensuite bath (Main Floor)

Bedroom 3 w/ ensuite bath (Main Floor)
Contemporary Lake View Retreat
Reviewed on 2022-10-06 by
William
Updated on 2022-10-06
Beautifully designed 3 Bed, 3 Bath, ideal for extended family or friends. Plenty of space for everyone and perfect for entertaining with the open kitchen, great room and deck floor plans. I will definitely go back to this awesome lake view home. Take your favorite kitchen condiments and spices.
Peaceful with Fantastic views
Reviewed on 2022-05-26 by
Susan
Updated on 2022-05-26
Breathtaking views from every window and deck . The house was spotless, airy and very comfortable. One of our favorite surprises was filling the living room with our music through the speakers mounted on the vaulted ceiling. We would absolutely stay here again.
Review for 8/21 stay
Reviewed on 2021-08-15 by
Joham
Updated on 2021-08-15
Lovely well equipped home. Great location, well maintained, clean and comfortable. Deck with hot tub and lake views. For electric vehicles need an extension cord (there is an outdoor plug next to door).
Would stay here again and again
Reviewed on 2021-07-20 by
Meredith
Updated on 2021-07-20
This house was just perfect for our family getaway. The house is built from really nice materials and feels sturdy and secure. It's open concept layout and bathroom attached to each of the three bedrooms was a home run for us. The beds were really comfy and the deck (and peek of Lake Tahoe) were highly praised by our group. The kitchen was stocked with nice dishes, silverware and cookware, which was great for us because we ate in most nights. The fridge was hard to close (good thing it has an alarm!) and we missed a few items in the kitchen like tongs and bbq utensils but got along fine without them. We highly recommend and will definitely stay here again!
Relaxing vacation
Reviewed on 2019-07-27 by
Monica
Updated on 2019-07-27
The house was more impressive in person than the pictures.The lake views were amazing from both the top and bottom decks,especially at sunset.We had a small issue with the hot tub and one of the doors but they took care of it the same day.Great customer service. Close to beaches and shopping, but gar enough for quiet and tranquility. The hiking trail at the end of the road was a nice bonus. Kitchen was stocked with essential tools for quick or full meals. Teenagers loved the reliable and fast Wifi and we loved the hot tub at the end of the day.
Relaxing vacation
Reviewed on 2019-07-27 by
Monica
Updated on 2019-07-27
The house was more impressive in person than the pictures.The lake views were amazing from both the top and bottom decks,especially at sunset.We had a small issue with the hot tub and one of the doors but they took care of it the same day.Great customer service. Close to beaches and shopping, but far enough for quiet and tranquility. The hiking trail at the end of the road was a nice bonus. Kitchen was stocked with essential tools for quick or full meals. Teenagers loved the reliable and fast Wifi and we loved the hot tub at the end of the day.
Tahoe get away
Reviewed on 2019-07-19 by
Namrita C.
Updated on 2019-07-19
Enjoyed staying at this property. Clean, charming, well equipped with gorgeous views
Beautiful home in a wonderful setting
Reviewed on 2019-07-15 by
Carol
Updated on 2019-07-15
Rented this home with my 2 children and elderly parents. It was lovely and perfect for our group. The house is elegantly furnished and the deck is delightful at all times of day. We loved sitting outside at night counting Stars and my teens loved the hot tub. The proximity to bliss parks hiking and sugar pine point forbs swimming a nd kayaking was great.
Beautiful house in a great location
Reviewed on 2019-07-02 by
Marcos
Updated on 2019-07-02
The house is very well equipped and has an excellent view of the lake. The hosts were super friendly and communicative. Close to trails, beach and Tahoe city.
Tahoma
Reviewed on 2018-09-19 by
Fabio
Updated on 2018-09-19
Good experience. we had problems with the lockbox. Some of the usual household supplies were missing such as drying rack for dishes, place mats(only 3 available), small towels ,wash cloth and bath mats not available .It would also have been helpful to have instructions for TV/DVD and Hot Tub.
Great house with a great view
Reviewed on 2018-08-26 by
Ryan
Updated on 2018-08-26
The Eco View house was perfect for our vacation. Close to anything you'd need, but secluded enough and quiet to be very peaceful, particularly at night and in the early morning. Great view of the lake through some impressive trees. House was clean; wifi worked perfectly; what more do you need? The staff at Tahoe Getaways was also great when I thought I had lost the key (thankfully I hadn't). Great experience all around.
Patel'sSummer2018Vacation
Reviewed on 2018-08-14 by
Girish
Updated on 2018-08-14
Very nice property. Couple of improvements for future tenants. 1) Reduce strong smell of Simple Green on first day; 2) Fix AC before next summer (AC was blowing warm air).
Manager Response:
Thank you for taking the time to review your stay! We appreciate the feedback. Future renters should note that this home is not equipped with Air Conditioning and the fan setting on the thermostat is just used to circulate air. 
A great family getaway
Reviewed on 2018-07-20 by
Noel
Updated on 2018-07-20
This is a great getaway for a multi-family vacation. We loved it.
Lake Tahoe Elegant and Relaxing Getaway
Reviewed on 2018-04-25 by
George
Updated on 2018-04-25
Thank you for the wonderful Lake Tahoe vacation my family and I enjoyed last week at the Eco View house. The house and its convenient location, stunning views, and elegant design aesthetic of the home were a perfect recipe for a relaxing time away.
Nice stay
Reviewed on 2018-03-26 by
Brian
Updated on 2018-03-26
The house is awesome. Word of advice, if you use the stove vent and have a fire going, open the sliding door a little or the window. Fan can suck the smoke back from the chimney.
Exactly what we wanted
Reviewed on 2017-11-26 by
Todd
Updated on 2017-11-26
It was everything we wanted. Perfect views and location. The inside was perfect with a great wood burning fireplace and the kitchen was awesome to cook in. Would definitely come back here.
Perfect Weekend Getaway
Reviewed on 2017-10-25 by
Rhonda
Updated on 2017-10-25
Went to Lake Tahoe for the first time to celebrate multi-generational birthdays with family living in CA & AZ. Very lovely accommodations & perfect set up for 3 different family units to have both personal & group spaces. High end kitchen & baths. Stairs may be an issue for very young or very old.
Great modern cabin in Tahoma, Lake Tahoe
Reviewed on 2017-09-24 by
Joseph
Updated on 2017-09-24
Updated and modern cabin in Tahoma on the west shore of Lake Tahoe. Open floor plan with two en suite bedrooms downstairs and a large master bedroom upstairs with another sitting room with a balcony a short flight of stairs attached to it.
Amazing and peaceful Eco View Lake view retreat home.
Reviewed on 2017-08-14 by
Yolanda
Updated on 2017-08-14
This exceptionally beautiful vacation rental was perfect and fulfilled all our needs for the week. The amazing and spiritual view was the sweet topping. Perfect location with a great bakery and Tahoma Market so close. The management staff is very responsive and courteous. This was our second year and next summer will be our third year to enjoy this lovely vacation home. Kudos to the owner!
Manager Response:
Thank you for the wonderful feedback. We would welcome you back anytime!
Home in tahoma on antelope way
Reviewed on 2017-07-15 by
Conrad
Updated on 2017-07-15
Overall well appointed house. Air conditioning does not keep up to temperature at all. Pots in kitchen need to be non stick, and screens need to be on all windows.
Manager Response:
Thanks for taking the time to review your stay! Like most homes in Lake Tahoe, this home does not have air conditioning, but fans are provided for all rooms not already equipped with ceiling fans.
Our stay
Reviewed on 2017-07-01 by
Natasha
Updated on 2017-07-01
Our stay was a delight. The home was clean and spacious, the back deck was surrounded by gorgeous trees. Plus, you can see the lake from the distance. We recommend others to visit.
Great place for quiet and peace!
Reviewed on 2017-06-07 by
Mee
Updated on 2017-06-07
Our stay at the Eco View was awesome! Such a beautiful view of the lake. It was great to have some nice peaceful and quiet time. Loved the third floor balcony view of the lake! The whole house was perfect, not too big and not too small. I will definitely return again!
Great!
Reviewed on 2017-04-19 by
Danny
Updated on 2017-04-19
Wonderful stay!
Reviewed on 2017-03-31 by
Jessica
Updated on 2017-03-31
Clean, modern, and comfortable home with beautiful views of the lake and mountains! The hot tub was great for relaxing in the evenings under the stars and listening to nothing but the snow melt. The location is perfect if you're looking for peace and quiet - away from more of the touristy areas, but we found it easy to get around to other parts of the lake and enjoyed the scenery of the drive. Only complaint is that the house was a bit short on some basic supplies. For instance, there was no hand soap in any of the bathrooms, no dishwasher packets or dish soap, etc. Overall though, we loved our stay and can't wait to come back!
If you're coming for snow, consider 4WD
Reviewed on 2017-02-27 by
Brad
Updated on 2017-02-27
Great house, loved the view! Lovely decorations and architecture! But it was up a bit of a hill on some slightly-less-maintained roads, and we had trouble getting all the way there with our snow-chain-equipped FWD car. If we came again, we'd rent a 4WD. Super convenient to Homewood -- easy to get there early for reliable parking.
Spacious modern retreat
Reviewed on 2017-01-06 by
Laurie
Updated on 2017-01-06
We had a wonderful stay. Lots of windows to watch the snow fall. Very well insulated. The master is huge with its own deck, but only a queen bed. Lots of beautiful but slippery wood floors and stairs, so be careful with small kiddos. Beautiful modern home in a great location close to Homewood Ski Area.
Good location, decent lake view
Reviewed on 2016-11-16 by
Omar
Updated on 2016-11-16
It's a good cabin ,but it miss an outdoor seating area no outdoor fire place to seat to enjoy the view.
The cabin is good equipped and the kitchen as well everything you might need it will be there
Tahoma
Reviewed on 2016-11-05 by
Linda
Updated on 2016-11-05
Very nice, quiet,and relaxing. One suggestion is that I found the oven racks and BBQ rack put in upside down. When I realized they were in place incorrectly, they were hot and not able to be handled. The cleaning staff doesn't seem to understand the proper placement.
Tahoe Vacafion
Reviewed on 2016-08-21 by
Kiley
Updated on 2016-08-21
Beautiful views of the lake! Very clean house, loved the location in respects to towns and things to do. We had an issue with the washer not working and they sent someone out within the hour on a Sunday to take a look at it, speedy service! The only negative thing we noticed is there are A LOT of bees around Lake Tahoe and were outside on the deck of the house, the house could have used more bee traps.
Annual summer in tahoe
Reviewed on 2016-07-27 by
Rod
Updated on 2016-07-27
We have stayed here in the past and really like the house. Like the open floor plan and the natural light. The kitchen cabinets are a mess. Used a Teflon pan and the black Teflon flakes were all over my food. Had to throw out my food. Kitchen cleaning supplies are TOO limited. We stayed 10 days and got 2 dishwasher packets and half a sponge. I am confident the rent covered the cost of dishwashing soap for each day and a full size sponge. All necessary cleaning supplies should be provided to ensure things get cleaned.
beautiful views
Reviewed on 2016-07-22 by
Keyko
Updated on 2016-07-22
Memorial Weekend at Eco View house
Reviewed on 2016-06-03 by
Innshei
Updated on 2016-06-03
We had a great vacation in this house. The family, 5 of us, stayed in the house for 5 nights, relaxing and enjoying the beauty of Tahoe. The view is the best part. We will certainly come back and will recommend to others as well.
Incredible combination of Architecture and Nature
Reviewed on 2016-01-25 by
Yihang
Updated on 2016-01-25
First of all, this property is incredibly well designed. This is coming from a picky architect. I find myself measuring the dimensions and jotting it down for future reference.
The common areas work incredibly well for a family of 3-5. Cooking and eating breakfast was an incredible experience with majestic views and high quality furnishing throughout.
The rooms are well proportioned and each have an en suite. Everything about this place is quality over quantity. If you just need the cheapest place to cram 12 people then this is not the place.
Amazing stay at the eco view
Reviewed on 2015-12-20 by
Jennie
Updated on 2015-12-20
We had such a wonderful time at this home! I would recommend it to anyone looking for a lovely, relaxing holiday. The view from the hot tub is incredible and, and the kitchen is perfect. Can't wait to go back!!
Beautiful Tahoe Home!
Reviewed on 2015-11-17 by
Sabeena
Updated on 2015-11-17
This is an AMAZING home - great amenities, good location, and beautiful decor! We would love to come back!
Amazing stay
Reviewed on 2015-09-25 by
Kharmel
Updated on 2015-09-25
We had a great stay! The house was immaculate with all the necessarily amenities and more! Would definitely stay again!
Tahoma vacation
Reviewed on 2015-09-12 by
Rod
Updated on 2015-09-12
Great house. We look forward to staying here again. We had to contact property management twice while there. The power company came to the house to leave a notification that power would be cut if bill not paid and the dishwasher was leaking . Management took care of problems.
Tahoe Family Retreat
Reviewed on 2015-08-09 by
Sherri
Updated on 2015-08-09
Overall, this property was great. Location and view were spectacular. The home was the just the right size for our family of 6. The kitchen area was nice, however the provided cooking utensils were not the quality we were accustomed to. Bakeware was very limited. The kitchen was lacking the needed towels/washcloths upon arrival, however Tahoe Getaways brought some to us within a day or two. Just a tip, bring a bag of ice as the ice maker doesn't work! The outdoor grill was nice to have, but wasn't well kept. The furniture in the living room was ok, but overall feels like a 'hodge-podge' of furniture was put together. This property is not kid friendly as the detailing of the furniture/stairs are more modern with sharp metal edges and a concrete hearth below the fireplace. Bedrooms are a nice size and each has an en-suite bath to accompany. I would recommend this property to others that want to sit back, relax and enjoy the views of Lake Tahoe. I would not recommend this property for small children or for those that want to be close to populated areas such as Tahoe city (20 min drive), South lake Tahoe (approx. 45 min drive). The local area around this property is sparce, having a small market and a pizza place close by along with a few other small businesses. Tahoe Getaways was great to work with, and very responsive to our concerns/needs during our stay!
our stay at Eco View
Reviewed on 2015-07-30 by
Sunela
Updated on 2015-07-30
The only thing we didn't like about our stay at Eco View was how short it was. This is a gorgeous, fully equipped, extremely clean, comfortable home where you could easily enjoy a week or two. It is as it appears in the lovely photos. It is near enough to Lake Tahoe for water sports, shops and restaurants. We can't recommend it enough.
Peaceful family vacation
Reviewed on 2015-07-15 by
Allison
Updated on 2015-07-15
We stayed for a week in late June. Fabulous property with great views of the lake. Loved that the hot tub was right on the deck off the kitchen - super for keeping an eye on the kids. Excellent master suite and plenty of room for the kids to have their own space downstairs. Great proximity to the lake and market while feeling "far away". Loved it!
Tahoe blue
Reviewed on 2015-07-10 by
Henry
Updated on 2015-07-10
Perfect Home Away from Home
Reviewed on 2015-06-21 by
Kathy
Updated on 2015-06-21
The home was exactly as pictured and almost perfectly located between North and South Tahoe. The Tahoma market was convenient for picking up stuff that we forgot at the larger supermarket. The view plus the jacuzzi was great for relaxing after a morning/afternoon hike at DL Bliss State Park, Eagle Lake, and Rubicon Peak. So much more to explore nearby without the traffic of South Lake Tahoe. The layout, space, kitchen amenities were perfect for 4 adults and 2 kids (ages 2 and 5). We love home cooked meals and this kitchen provided practically everything you can ever need. I would definitely come back if I were to stay in this part of Tahoe. Property management informed me upon check-in the washer was inoperable and had it temporarily fixed the next day while waiting for parts and by the second full day it was fully functional. Great customer service and would recommend this rental company and home!
Inspiring home
Reviewed on 2015-03-26 by
Kenneth
Updated on 2015-03-26
House was even better than the pictures capture. Breathtaking views, incredible kitchen and baths. Perfect in every way.
Love this house
Reviewed on 2015-01-13 by
Harry
Updated on 2015-01-13
New Years 2015
Reviewed on 2015-01-06 by
Jake
Updated on 2015-01-06
Couple days around NYE 2015
Eco View - Lake View Retreat
Reviewed on 2014-10-02 by
Stephen
Updated on 2014-10-02
Beautiful property and location ideal for touring around Lake Tahoe. Superb views.
Fantastic vacation
Reviewed on 2014-09-12 by
Kimberly
Updated on 2014-09-12
Wow! This rental is nothing but amazing. The view is spectacular and everything is updated. We had 6 guests and everyone fit comfortably. We will stay here again. We went to Swiss Lakewood restaurant one night for dinner and it was wonderful too. If this is your first stay you MUST go to Emerald Bay, its breathtakingly beautiful.
August in Tahoe at Eco View Lake View Retreat
Reviewed on 2014-09-04 by
Karen
Updated on 2014-09-04
Wonderful location; excellent week to be in Tahoe area as crowds were minimal during week; location is quiet and close to stores, shopping, beaches, marinas, restaurants. The Sugar Pine Point state park had the most fantastic beach. You had to hike down about 10 minutes but well worth it. the house was clean and quiet. the kitchen was amazing with a chef's kitchen and stove and oven. Nice dishware. comfortable rooms. Bathroom in each bedroom which is nice for guests. the living room furniture and overall ambience isn't cabin cozy type stuff, but nonetheless comfortable and clean, and the photos are exactly as you get. the upstairs reading room is a prize.
Eco View Vacation
Reviewed on 2014-08-26 by
Robert
Updated on 2014-08-26
We had a great time. Beautiful home.
Vacation review
Reviewed on 2014-08-13 by
George
Updated on 2014-08-13
eco view: a wonderful view of the lake, quiet, open clear spaces
Reviewed on 2014-07-12 by
Michael
Updated on 2014-07-12
Our family thoroughly enjoyed the stay at Eco View. Children had easy access to the lake for swimming, adults either walked or jogged along the roads to enjoy the scenery. The fireplace worked well. The flow between kitchen space and living area was most appreciated for family time together.
great stay
Reviewed on 2014-05-03 by
Jeremy
Updated on 2014-05-03
"The Folks Who Live on the Hill"
Reviewed on 2014-04-04 by
Jeannie
Updated on 2014-04-04
Beautiful home---tasteful, clean lines (think Dwell Magazine).
Views of the lake from almost every window.
Located high on a hill, on a dead-end road.
Privacy and great architectural acoustics!
It was a pleasure.
Eco view house
Reviewed on 2014-01-31 by
Karen
Updated on 2014-01-31
The home was clean and ready for our arrival. We love this house and the modern style of architecture is refreshing. The master shower is a bumb deal and very cold, so we showered down stairs. Great property. We'd love to yup it if ever for sale!! We don't recommend t friends because we don't want to share our rental.
[2]
JR Primary Bedroom
1 Queen
Location
Eco View - Lake View Retreat
Condo type
3 Bedroom Eco View - Lake View Retreat
Custom
Private Hot Tub
Outdoor Furniture (Seasonal)
Near Bike Path
Lake View
Gas Grill
Wireless Internet
Cable Television
Wood Fireplace
Washer
Dryer
Dishwasher
Full Kitchen
Coffee Maker
Driveway Parking for 3
No Pets
NO A/C
Suitability
Children Welcome
Pets Not Allowed
Smoking Not Allowed
Accessibility Ask
Minimum Age Limit 25
Free Parking
Fireplace
Decked area
Central heating
Hot Water
Private Living Room
Lock On Bedroom Door
Entertainment
Television
Stereo
Satellite or Cable Service
Books
Laptop Friendly
Pool/Spa
Hot Tub
Jacuzzi
Jacuzzi/hot tub
Attractions
Marina
Museums
Health Beauty Spa
Local Features
Babysitting
Fitness Center
Groceries
Hospital
Laundromat
Medical Services
Themes
Family
Away From It All
Adventure
Sports Activities
Location Types
Lake
Mountain
Resort
River
Rural
Town
Village
Lake View
Water View
Mountain View
Water views
Mountain views
Rural/countryside retreats
Beach or lakeside relaxation
More…
Don't wait -
26
people are currently interested in reserving this property!
Amazing Lake Views, Hot Tub, Chef's Kitchen, Fireplace

Primary Bedroom (Queen)
JR Primary Bedroom (Queen)
Bedroom 3 (Twin Single)
Private Hot Tub
Outdoor Furniture (Seasonal)
Near Bike Path
Lake View
Gas Grill
Wireless Internet
Cable Television
Wood Fireplace
Washer
Dryer
Dishwasher
Full Kitchen
Coffee Maker
Driveway Parking for 3
No Pets
NO A/C
Available Specials
7169 Antelope Way
96142
Tahoma
,
CA
United States
39° 3' 45.5544" N, 120° 8' 12.9588" W
[9]
[10]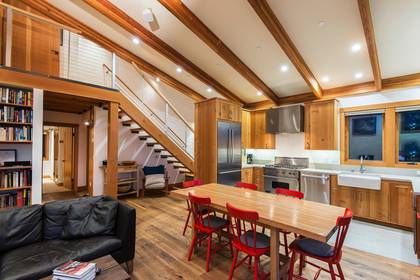 [11]
[12]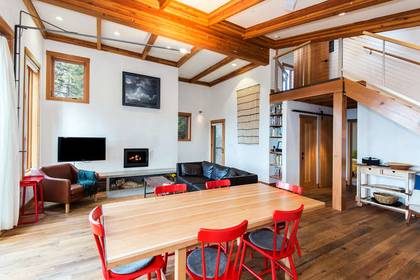 [13]
[14]
[15]
[16]
[17]
[18]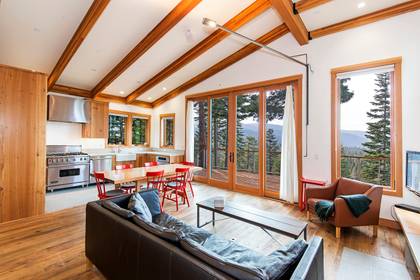 [19]
[20]
[21]
[22]
[23]
[24]
[25]
[26]
[27]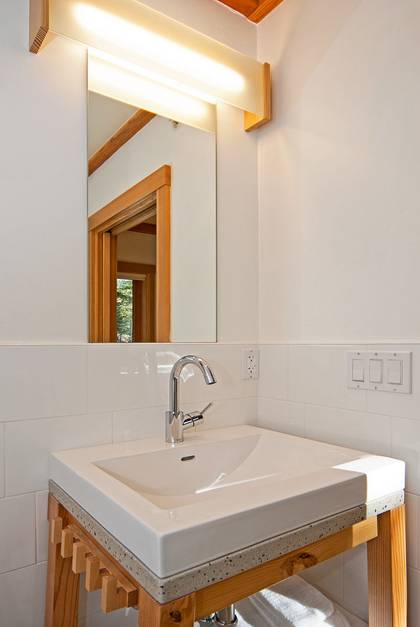 [28]
[29]
[30]
[31]
[32]
[33]
[34]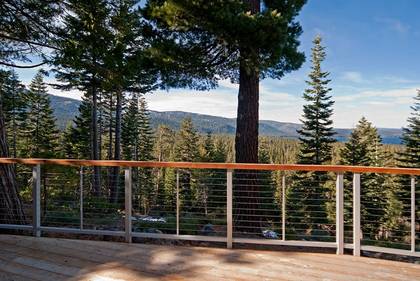 [35]
[36]
[37]
3 Bedrooms
3 Baths
Lake View
Private Hot Tub
Some say the west shore is the best shore. This house fuels that argument! Sited on a low ridge close to where paved road becomes wilderness trail, the house looks out on one of the more beautiful views of the northwest lakeshore.
Hiking, mountain bike and ski trails are minutes from the front door. It's a short drive to fabulous beaches and after a day on the water, open the tall sliding doors to cook in a bright modern kitchen, then gather on the cedar deck as the sun falls to your left over the western ridge. Enjoy a cup of coffee on the upper deck as the lake silvers in the dawn.
With three bedrooms, three full baths, an upper sitting room and a common kitchen/living area, this house design artfully mixes private and public space. Eco View is a special place to unwind or engage, a place guests are sure to come back to year after year!
GOLD LEVEL PROPERTY
• 1,750 Square Feet
• Private Hot tub on main back deck with stunning lake view
• Remarkable lake view
• Wood Burning Fireplace
• Chef's Kitchen Includes: Leibherr refrigerator, Viking range, second oven, extensive, quality cooking accessories
• Newly built, balancing green efficiencies and sustainable low impact design with stunning vistas and Modern-Tahoe living space.
•  No Pets
ABOUT THE AREA
Located halfway between Homewood and Meek's Bay along Lake Tahoe's west shore, you'll find Tahoma, a quiet and quintessential Tahoe town. A true escape from the hectic pace of city life, Tahoma offers access to picturesque beaches, nearby hiking and biking trails, and the oldest lake front bar and restaurant in Tahoe.
During the summer month, visit the public beach at Chamber's Landing, less than a 10 minute bike ride, or just a three minute drive from your home. The sandy beach is next to Chambers Landing Bar and Grill, or stop at the Tahoma PDQ market and pick up a picnic lunch on your way to the lake. Venture south to Sugar Pine Point State Park, again less than ten minutes via car or bike, to enjoy sandy beaches, hiking trails, fishing, and a picnic area.
During the ski season, you just minutes from Homewood Mountain Resort. Or travel to Palisades Tahoe (formally known as Squaw/Alpine) which is the largest ski resort in Lake Tahoe. Palisades Tahoe has a shuttle that runs continuously between the base area of Olympic Valley & Alpine Meadows when both resorts are open for operations, weather, and traffic permitting.
POLICIES & DISCLOSURES:
1. Maximum daytime and nighttime occupancy is 6 adults.
2. Parking for 3 vehicles. Street parking is prohibited year-round.
3. This house is without a garage or covered walkway approach. Access is paved and the driveway plowed after six inches of accumulation. Tahoe Getaways will shovel the walkway in advance of your arrival. Should it snow during your stay, shovels are provided.
4. 4WD IS recommended during the winter months as travel in this neighborhood can be difficult during winter storms.
5. Due to Extreme Fire Danger – The use of ANY outdoor firepit or fireplace is strictly prohibited at any of our rental properties. We appreciate your understanding and cooperation as we work to keep our community safe from wildfires. 
El Dorado County Regulations:
1. Quiet hours must be observed between 10:00 p.m. and 8:00 a.m.
2. Maximum occupancy is enforced at all times.
3. Any violations may result in a fine.
El Dorado County Certificate VHR21-1001
El Dorado County Transient Occupancy Certificate T63041
Amenities
Internet
Fireplace
Wood Stove
Heating
Washer
Dryer
Parking
Telephone
Living Room
Hair Dryer
Ironing Board
Linens Provided
Towels Provided
Iron
Shampoo
Carbon Monoxide Detector
First Aid Kit
Fire Extinguisher
Hangers
Smoke Detector
Internet Access
Cable/satellite TV
Parking space Accessible
Parking space
TV
Linens provided
Towels provided
Private Entrance
Self Check-In
Lock Box Lock Box
Outdoor Lighting
Bed Linens
Extra Pillows And Blankets
Conditioner
Dates
Price
11/27/2022 - 12/15/2022

$400

/nt

12/16/2022 - 12/17/2022

$500

/nt

12/18/2022 - 12/20/2022

$450

/nt

12/21/2022 - 12/22/2022

$675

/nt

12/23/2022 - 12/25/2022

$750

/nt

12/26/2022 - 12/26/2022

$850

/nt

12/27/2022 - 12/29/2022

$1,157

/nt

12/30/2022 - 01/01/2023

$950

/nt

01/02/2023 - 01/02/2023

$900

/nt

01/03/2023 - 01/03/2023

$500

/nt

01/04/2023 - 01/04/2023

$385

/nt

01/05/2023 - 01/05/2023

$450

/nt

01/06/2023 - 01/07/2023

$583

/nt

01/08/2023 - 01/08/2023

$441

/nt

01/09/2023 - 01/11/2023

$375

/nt

01/12/2023 - 01/12/2023

$441

/nt

01/13/2023 - 01/15/2023

$660

/nt

01/16/2023 - 01/18/2023

$375

/nt

01/19/2023 - 01/22/2023

$441

/nt

01/23/2023 - 01/25/2023

$375

/nt

01/26/2023 - 01/29/2023

$441

/nt

01/30/2023 - 01/31/2023

$375

/nt

02/01/2023 - 02/01/2023

$385

/nt

02/02/2023 - 02/05/2023

$450

/nt

02/06/2023 - 02/08/2023

$385

/nt

02/09/2023 - 02/12/2023

$450

/nt

02/13/2023 - 02/15/2023

$385

/nt

02/16/2023 - 02/16/2023

$482

/nt

02/17/2023 - 02/19/2023

$933

/nt

02/20/2023 - 02/20/2023

$860

/nt

02/21/2023 - 02/21/2023

$721

/nt

02/22/2023 - 02/23/2023

$830

/nt

02/24/2023 - 02/24/2023

$968

/nt

02/25/2023 - 02/25/2023

$904

/nt

02/26/2023 - 02/26/2023

$569

/nt

02/27/2023 - 02/27/2023

$443

/nt

02/28/2023 - 03/01/2023

$385

/nt

03/02/2023 - 03/05/2023

$450

/nt

03/06/2023 - 03/08/2023

$385

/nt

03/09/2023 - 03/12/2023

$450

/nt

03/13/2023 - 03/15/2023

$385

/nt

03/16/2023 - 03/19/2023

$450

/nt

03/20/2023 - 03/22/2023

$385

/nt

03/23/2023 - 03/26/2023

$450

/nt

03/27/2023 - 03/29/2023

$385

/nt

03/30/2023 - 04/02/2023

$450

/nt

04/03/2023 - 04/05/2023

$385

/nt

04/06/2023 - 04/09/2023

$450

/nt

04/10/2023 - 04/12/2023

$385

/nt

04/13/2023 - 04/15/2023

$450

/nt

04/16/2023 - 04/20/2023

$400

/nt

04/21/2023 - 04/22/2023

$450

/nt

04/23/2023 - 04/27/2023

$400

/nt

04/28/2023 - 04/29/2023

$450

/nt

04/30/2023 - 05/04/2023

$400

/nt

05/05/2023 - 05/06/2023

$450

/nt

05/07/2023 - 05/11/2023

$400

/nt

05/12/2023 - 05/13/2023

$450

/nt

05/14/2023 - 05/18/2023

$400

/nt

05/19/2023 - 05/20/2023

$450

/nt

05/21/2023 - 05/25/2023

$400

/nt

05/26/2023 - 05/27/2023

$450

/nt

05/28/2023 - 06/01/2023

$400

/nt

06/02/2023 - 06/03/2023

$450

/nt

06/04/2023 - 06/06/2023

$400

/nt

06/07/2023 - 06/08/2023

$450

/nt

06/09/2023 - 06/11/2023

$575

/nt

06/12/2023 - 06/15/2023

$450

/nt

06/16/2023 - 06/18/2023

$575

/nt

06/19/2023 - 06/22/2023

$450

/nt

06/23/2023 - 06/24/2023

$575

/nt

06/25/2023 - 06/25/2023

$600

/nt

06/26/2023 - 06/27/2023

$510

/nt

06/28/2023 - 06/28/2023

$561

/nt

06/29/2023 - 07/05/2023

$825

/nt

07/06/2023 - 07/07/2023

$750

/nt

07/08/2023 - 07/09/2023

$600

/nt

07/10/2023 - 07/12/2023

$510

/nt

07/13/2023 - 07/13/2023

$600

/nt

07/14/2023 - 07/16/2023

$690

/nt

07/17/2023 - 07/19/2023

$587

/nt

07/20/2023 - 07/23/2023

$690

/nt

07/24/2023 - 07/26/2023

$587

/nt

07/27/2023 - 07/30/2023

$690

/nt

07/31/2023 - 07/31/2023

$587

/nt

08/01/2023 - 08/02/2023

$510

/nt

08/03/2023 - 08/06/2023

$600

/nt

08/07/2023 - 08/09/2023

$510

/nt

08/10/2023 - 08/13/2023

$600

/nt

08/14/2023 - 08/16/2023

$510

/nt

08/17/2023 - 08/19/2023

$600

/nt

08/20/2023 - 08/20/2023

$575

/nt

08/21/2023 - 08/24/2023

$450

/nt

08/25/2023 - 08/27/2023

$575

/nt

08/28/2023 - 08/30/2023

$450

/nt

08/31/2023 - 08/31/2023

$518

/nt

09/01/2023 - 09/03/2023

$661

/nt

09/04/2023 - 09/04/2023

$450

/nt

09/05/2023 - 09/07/2023

$400

/nt

09/08/2023 - 09/09/2023

$450

/nt

09/10/2023 - 09/14/2023

$400

/nt

09/15/2023 - 09/16/2023

$450

/nt

09/17/2023 - 09/21/2023

$400

/nt

09/22/2023 - 09/23/2023

$450

/nt

09/24/2023 - 09/28/2023

$400

/nt

09/29/2023 - 09/30/2023

$450

/nt

10/01/2023 - 10/05/2023

$400

/nt

10/06/2023 - 10/07/2023

$450

/nt

10/08/2023 - 10/12/2023

$400

/nt

10/13/2023 - 10/14/2023

$450

/nt

10/15/2023 - 10/19/2023

$400

/nt

10/20/2023 - 10/21/2023

$450

/nt

10/22/2023 - 10/26/2023

$400

/nt

10/27/2023 - 10/28/2023

$450

/nt

10/29/2023 - 11/02/2023

$400

/nt

11/03/2023 - 11/04/2023

$450

/nt

11/05/2023 - 11/09/2023

$400

/nt

11/10/2023 - 11/11/2023

$450

/nt

11/12/2023 - 11/16/2023

$400

/nt

11/17/2023 - 11/18/2023

$450

/nt

11/19/2023 - 11/20/2023

$400

/nt

11/21/2023 - 11/25/2023

$600

/nt

11/26/2023 - 11/30/2023

$400

/nt

12/01/2023 - 12/02/2023

$450

/nt