Themes
Family
Luxury
Romantic
Adventure
Master Bedroom w/ ensuite bath (Main)

JR Master Bedroom w/ ensuite bath (Main)

JR Master Bedroom w/ ensuite bath (Upstairs)

Bedroom 4 w/ ensuite bath (Upstairs)

Additional Sleeping Area
Nice place
Reviewed on 2020-01-16 by
david k.
Updated on 2020-01-16
Nice place, it would of been much better if the internet worked and there was a TV in the family room. I can't believe in today's world there would be only TV's in the bedrooms.
Manager Response:
We are sorry to hear that the internet wasn't working for you. I had our team swing by the home after your departure and it seems to be working great currently. Had we known it was an issue for you we would have loved to help you troubleshoot to get it back up and running! Most times it just takes a simple power cycle of the router or modem.
4 Star
Reviewed on 2019-08-01 by
Barbara
Updated on 2019-08-01
House is wonderful. Doesn't get five star cuz no AC. Tahoe getaways ridiculously strict on the number of people allowed at any one time in the home. I respect boundaries as much as anyone but a 4600 sq ft home should be enjoyed by others gathering at old Greenwood at the same time. To be told grandparents can't dven come by for coffee if it exceeds 10 bodies at craftsman lodge is absurd. (Especially when one of the ten is only a three mo old baby)!
Manager Response:
Thank you for your review! Like most homes in the region, it is true that this home is not equipped with Air Conditioning. I'm sorry you felt our staff was strict on these occupancy limitations.We did however discuss with you and your son that we would honor making a one time exception for your group seeing as one child was an infant. We did this in an effort to accommodate your group, so I am sorry to see this in a review. To give a bit of background, the vacation rental market is under exceptional scrutiny currently. Higher regulations and potential limitation of rental permits are looming overhead and have already been put in place in nearby counties In order to be good stewards of our space not only to our guests, but also to our home owners, neighbors, and stakeholders alike, we have to do what we can to ensure our policies are upheld. It is our duty to ensure we are able to rent this beautiful home out for years to come!
Sbaffi Visit
Reviewed on 2019-07-18 by
David
Updated on 2019-07-18
As always we loved the Craftsman Lodge. We are only rating it a 4 as there were several things that could have been better. 1) The dryer has an issue, does not heat and dry clothes. 2) I think we may have been the first guests of the season: Upon arrival I found my wife dusting the lamps and tables inside as they were dusty, there were no kitchen dish towels, I found a blower in the garage and I cleaned the patio, garage, and driveway. I think that is it, but wanted to let you know that it just was not as clean and everything working as we have experienced in the past.
Manager Response:
Thank you for providing this feedback. We apologize if the clean was not up to our standards. I wish we had known upon your check-in as we are happy to send our cleaners back if things may have gotten missed. Since your stay, we have had the vent in the back of the dryer replaced and it seems to have solved the issue. We hope to make it up to you next time around!
Great family home!
Reviewed on 2018-09-05 by
Chris
Updated on 2018-09-05
Perfect place for 3 families and kids
Family Vacation 2018
Reviewed on 2018-08-10 by
Debra
Updated on 2018-08-10
My family enjoyed our stay at the Craftsman Lodge. It was clean, spacious, with a very well equipped kitchen and wonderfully furnished home. We found it very comfortable. Tahoe Getaway was great from the reservation process, to the access to the property and check out. Very efficient. We have vacationed in various homes in Old Greenwood, we would definitely come back to this lovely home.
The Mellow Vacation
Reviewed on 2018-08-04 by
Mike
Updated on 2018-08-04
We had a great time the house was the perfect size for our group.
Family Vacation at Old Greenwood Lodge Cabin
Reviewed on 2018-07-31 by
Carolyn
Updated on 2018-07-31
We had an outstanding time! There was plenty of room in this lodge cabin and we thoroughly enjoyed out time together.
Tahoe Ski Vacation
Reviewed on 2018-01-13 by
Tim
Updated on 2018-01-13
Our family and extended family (8 adults, 2 kids)stayed here for 7 nights. It is one of the best places we've stayed for vacation. There was plenty of comfortable furniture for a large group and we especially loved the round dining table that made dinnertime more cozy. We had a bit of trouble figuring out the heating system. The first day and last day it was fine, but in between, the 2 masters downstairs froze and the upstairs was so hot. However, we used the fireplaces at night and added a comforter. It really wasn't a big deal at all. The fireplace in the living room was absolutely gorgeous...the photos do not do it justice. And the moose head was a fun touch. The kitchen was well stocked with large pots and pans as one would hope to find when feeding a large group. The appliances all worked well. Overall it was just a fabulous place for our group. Only one small complaint was that the cleaning crew missed some beer bottles and other items under/around the sofas.
Great home!
Reviewed on 2017-08-01 by
Amy
Updated on 2017-08-01
We had a great stay at this home. The home had plenty of space, was clean, and was stocked to make everything so easy. The location was perfect and the clubhouse was a great addition to our stay. We would definitely recommend this home and would book again!
Manager Response:
Thank you for your review! We look forward to having you back.
Beautiful property.... Except lots of mice =/
Reviewed on 2017-02-16 by
Mary
Updated on 2017-02-16
Without the mice, this property would have been perfect. There were times we would sit with our feet up just in case another mouse ran passed us =/ Mouse droppings everywhere
A big, beautiful house
Reviewed on 2016-07-26 by
Russ
Updated on 2016-07-26
Nicely sited with a woodsey feel. Large rooms and lots of them. Modern and up to date. But zero amenities. Why, for a multi-thousand dollar stay the house couldn't be supplied with the soap, shampoo and conditioner you would find in the most minimal hotel, I don't understand. But to be sure, we would return. A key to our successful stay was the Club with its multiple swimming pools that the kids loved.
Awesome!
Reviewed on 2016-06-02 by
Chris S.
Updated on 2016-06-02
Great place to stay for 8 adults golfing for the weekend! 10/10 would recommend!
Retired Couples Golf Getaway
Reviewed on 2015-10-03 by
Roger
Updated on 2015-10-03
This house is perfect for four couples, with separate bedrooms and bathrooms each. To sit around the fire pit after a day of golf is very relaxing. The furnishings of this house are what you'd expect from someone's home, not a rental property.
Old Greenwood is a Perfect Vacation Spot
Reviewed on 2015-07-26 by
Alvin
Updated on 2015-07-26
The Craftsman Lodge was welcoming, well equipped, perfectly set up for three separate adults with its two master suites downstairs and 2 spacious bedrooms upstairs. It was about a mile from the Pavilion, making it a nice walk. The house is fresh and beautiful.
Luxury rental in Truckee near the slopes
Reviewed on 2015-02-22 by
Lisa
Updated on 2015-02-22
A gorgeous luxury home with lots of room for multiple families to share. We loved the big fireplaces, gorgeous kitchen and subdivision amenities (fitness center w/ classes, pool, hot tub, etc).
Better Than Expected
Reviewed on 2014-09-07 by
Roger P.
Updated on 2014-09-07
This property exceeded our expectations in every way. It does not have the feel of a rental property, rather it has the decor and all those nice little creature comforts one would expect from someone's upscale home, which of course it is. We will definitely rent this again.
Fabulous weekend
Reviewed on 2014-06-25 by
Laura
Updated on 2014-06-25
We had a wonderful time at the Craftsman Lodge. It was perfect for 3 families and so spacious. Beautiful rooms, kitchen, outdoor BBQ area. The house had everything we needed. Loved the facilities at Old Greenwood for the kids and the golf. Would definitely come back. Only issue was the roadwork during our stay. We experienced significant delays as they repaved the roads and at one pt our road was completely closed off. They made us drive through the fresh tar which wasn't great for our vehicles. Not a fault of the cabin itself, would have been nice to have known in advance. There was also a mouse in the house, but it is Tahoe so not a huge problem :-)
Great house great location
Reviewed on 2014-04-16 by
Caron
Updated on 2014-04-16
Had a fabulous stay in a beautiful home nestled in old greenwood . The house comfortably sleeps 10 but could stretch to 12. Fully kitted kitchen. Great outdoor fire pit .
[2]
Custom
Community Hot Tub
Outdoor Furniture (Seasonal)
Access to Fitness Center
Ski Shuttle Service
Access to Swimming Pool
Pool Table
Access to Tennis Courts
Gas Grill
Wireless Internet
Cable Television
DVD Player
Gas Fireplace
Washer
Dryer
Dishwasher
Full Kitchen
Coffee Maker
Driveway Parking for 2
Garage Parking for 2
Limited Mobility Accessible
No Pets
Condo type
4 Bedroom Craftsman Lodge at Old Greenwood
Available Specials
Community Hot Tub
Outdoor Furniture (Seasonal)
Access to Fitness Center
Ski Shuttle Service
Access to Swimming Pool
Pool Table
Access to Tennis Courts
Gas Grill
Wireless Internet
Cable Television
DVD Player
Gas Fireplace
Washer
Dryer
Dishwasher
Full Kitchen
Coffee Maker
Driveway Parking for 2
Garage Parking for 2
Limited Mobility Accessible
No Pets

Master Bedroom (King)
JR Master Bedroom (King)
JR Master Bedroom (King)
Bedroom 4 (Twin Single)
Beautiful, Spacious 4BR in Old Greenwood w/ Pool Table
Don't wait -
4
people are currently interested in reserving this property!
More…
Location
Craftsman Lodge at Old Greenwood
Location Types
Mountain
Resort
Golf Course View
Mountain View
Mountain views
Pool/Spa
Swimming Pool
Hot Tub
Heated Pool
Jacuzzi
Heated outdoor pool
Unheated outdoor pool
Children's pool
Jacuzzi/hot tub
Outdoor pool shared
Unheated outdoor pool shared
Heated Outdoor Pool Shared
Entertainment
Television
Pool Table
DVD Player
Satellite or Cable Service
Laptop Friendly
Stereo system
DVD player
Game room
12778 Caleb
96161
Truckee
,
CA
United States
39° 20' 24.576" N, 120° 9' 18.684" W
[6]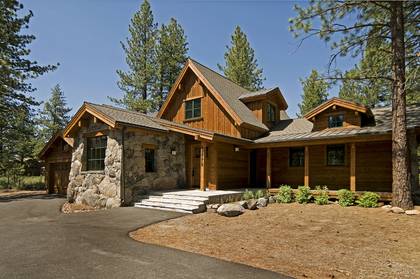 [7]
[8]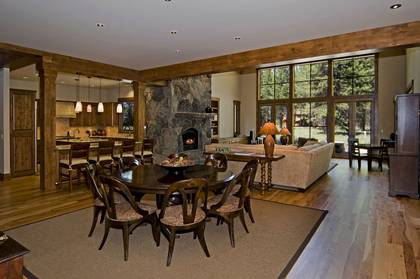 [9]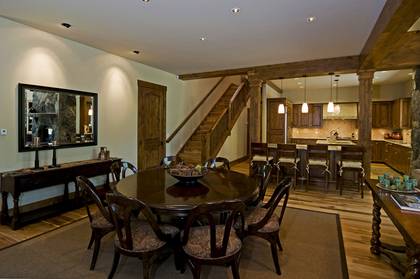 [10]
[11]
[12]
[13]
[14]
[15]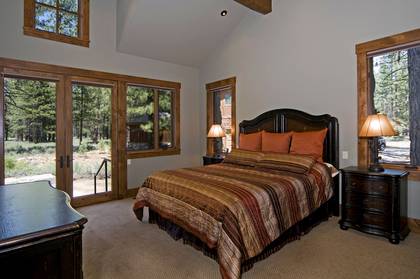 [16]
[17]
[18]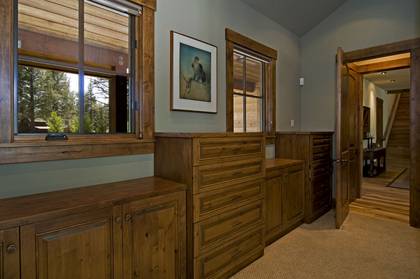 [19]
[20]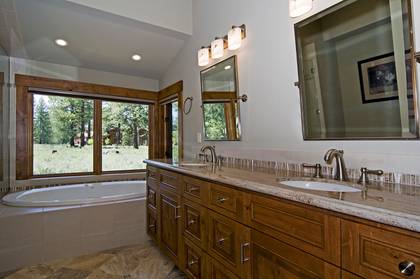 [21]
[22]
[23]
[24]
[25]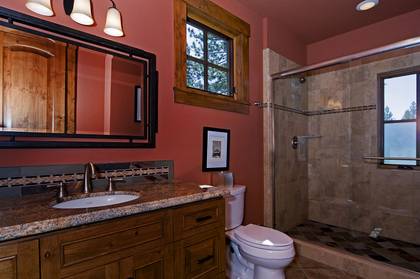 [26]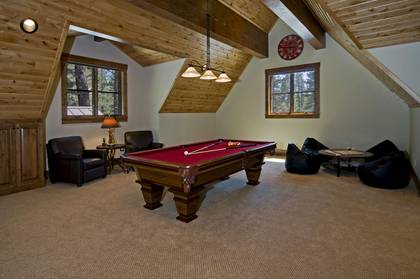 [27]
[28]
[29]
[30]
[31]
[32]
[33]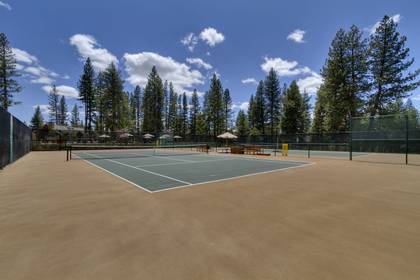 [34]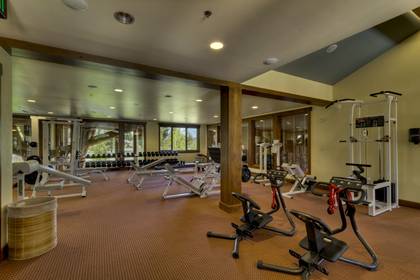 [35]
[36]
4 Bedrooms
4.5 Baths
Access to Swimming Pool
Luxury
Community Hot Tub
Enjoy the distinct design and beauty at this luxurious rental home with all the imaginable upgrades, located in the exclusive Old Greenwood golf course resort community in Truckee. Perfect for families or corporate outings, everyone will love this spacious and elegant Tahoe Lodge Style home, oriented perfectly to capture privacy. The beautiful custom woodwork and stonework throughout is sure to impress the most discerning tastes.

Twin master suites flank the spacious great room, each with a gas fireplace and sliding glass doors for quick access to nature. New furnishings throughout this vacation home include excellent quality beds, linens and pillows. An office and loft with pool table (located upstairs) compliment the grand living spaces, as does the sitting porch along the front entry.

Only a short drive or convenient shuttle ride to Northstar ski resort, and just minutes to Old Town Truckee for fabulous dining, shopping and community events.

GOLD LEVEL PROPERTY

• 4500 sq ft

• Pool table

• Luxury accommodations and grand furnishings

• Shuttle to Northstar

• Old Greenwood HOA Amenities and Clubhouse (see details below)

• Three Gas Fireplaces

• Gated golf course community

• Minutes to historic downtown Truckee

• No Pets

ABOUT THE AREA

Nestled near the historic town of Truckee on 600 acres of towering pines and blue-sage covered hills, Old Greenwood is a premier four-season resort community. Every day offers an opportunity to play – on the Old Greenwood golf course or at the Pavilion, the mountains, the trails and Lake Tahoe.

When you enjoy a round at the Jack Nicklaus Signature Designed Course, you'll see firsthand that it received Jack's highest level of personal attention. Off the course, you'll be drawn to the Pavilion with its state-of-the art fitness facilities, tennis courts, a family pool with water slide, game room, kid's discovery center, full-service spa, adult pool and Bearfoot Bar & Grill. There's also a "sports lawn" with basketball and bocce courts. Or escape all your cares and go for a long meditative hike or bike ride on the trails straight from the property.

When you're ready to hit the slopes, visit nearby Squaw Valley or Alpine Meadows, or step into a shuttle that will take you right to Northstar California in minutes. Be sure to schedule a massage in the Pavilion Spa as the final touch. And right around the corner, you'll enjoy the quaint charm of Downtown Truckee with its restaurants shops, cultural events and much more for you and your family.  

Access to the Old Greenwood Pavilion is available for an additional charge. Access to the Old Greenwood Pavilion is available for an additional charge. A $72/night amenity fee will be added upon request for access. Please contact us if amenity access is desired

AMENITIES INCLUDE:

• Rec center with work-out facility and fitness classes

• Family friendly swimming pool with water slide

• Adults only lap pool with three lanes

• Two hot tubs

• Tennis Courts (Instruction and Private classes available)

• Game room

• Ski Shuttle to Northstar California during winter

• 18-hole golf course

POLICIES & DISCLOSURES:

1. A new home is under construction across the street. While Old Greenwood has strict construction rules, the potential for a nuisance exists.

2. Access to the Old Greenwood Pavilion is available for an additional charge. A $72/night amenity fee will be added upon request for access. Please contact us if amenity access is desired.

* All of our homes feature a full kitchen, washer and dryer, outdoor grill, and wireless internet (any exceptions will be noted above).

Truckee Town ID # 62-1
Amenities
Internet
Free Wifi
Fireplace
Heating
Washer
Dryer
Parking
Garage
Telephone
Living Room
Hair Dryer
Ironing Board
Linens Provided
Towels Provided
Iron
Carbon Monoxide Detector
Fire Extinguisher
Hangers
Smoke Detector
Internet Access
Cable/satellite TV
Parking space
TV
Linens provided
Towels provided
Washing machine
Gym
Private Entrance
Lock Box
Linen provided
Outdoor Lighting
Bed Linens
Dates
Price
06/01/20 - 06/04/20

$520

/nt

06/05/20 - 06/06/20

$600

/nt

06/07/20 - 06/11/20

$520

/nt

06/12/20 - 06/13/20

$600

/nt

06/14/20 - 06/14/20

$500

/nt

06/15/20 - 06/18/20

$520

/nt

06/19/20 - 06/20/20

$600

/nt

06/21/20 - 06/25/20

$520

/nt

06/26/20 - 06/26/20

$600

/nt

06/27/20 - 06/27/20

$640

/nt

06/28/20 - 06/28/20

$640

/nt

06/29/20 - 07/01/20

$520

/nt

07/02/20 - 07/02/20

$640

/nt

07/03/20 - 07/04/20

$800

/nt

07/05/20 - 07/05/20

$640

/nt

07/06/20 - 07/08/20

$520

/nt

07/09/20 - 07/12/20

$640

/nt

07/13/20 - 07/15/20

$520

/nt

07/16/20 - 07/19/20

$640

/nt

07/20/20 - 07/22/20

$520

/nt

07/23/20 - 07/23/20

$640

/nt

07/24/20 - 07/24/20

$764

/nt

07/25/20 - 07/26/20

$764

/nt

07/27/20 - 07/29/20

$649

/nt

07/30/20 - 07/31/20

$764

/nt

08/01/20 - 08/02/20

$784

/nt

08/03/20 - 08/05/20

$666

/nt

08/06/20 - 08/08/20

$784

/nt

08/09/20 - 08/09/20

$640

/nt

08/10/20 - 08/12/20

$520

/nt

08/13/20 - 08/15/20

$640

/nt

08/16/20 - 08/16/20

$544

/nt

08/17/20 - 08/18/20

$520

/nt

08/19/20 - 08/19/20

$520

/nt

08/20/20 - 08/22/20

$640

/nt

08/23/20 - 08/23/20

$544

/nt

08/24/20 - 08/26/20

$520

/nt

08/27/20 - 08/29/20

$640

/nt

08/30/20 - 08/30/20

$544

/nt

08/31/20 - 09/02/20

$520

/nt

09/03/20 - 09/05/20

$640

/nt

09/06/20 - 09/07/20

$520

/nt

09/08/20 - 09/10/20

$520

/nt

09/11/20 - 09/12/20

$600

/nt

09/13/20 - 09/17/20

$520

/nt

09/18/20 - 09/19/20

$600

/nt

09/20/20 - 09/24/20

$520

/nt

09/25/20 - 09/26/20

$600

/nt

09/27/20 - 10/01/20

$520

/nt

10/02/20 - 10/03/20

$600

/nt

10/04/20 - 10/08/20

$520

/nt

10/09/20 - 10/10/20

$600

/nt

10/11/20 - 10/15/20

$520

/nt

10/16/20 - 10/17/20

$600

/nt

10/18/20 - 10/22/20

$520

/nt

10/23/20 - 10/24/20

$600

/nt

10/25/20 - 10/29/20

$520

/nt

10/30/20 - 10/31/20

$600

/nt

11/01/20 - 11/05/20

$520

/nt

11/06/20 - 11/07/20

$600

/nt

11/08/20 - 11/12/20

$520

/nt

11/13/20 - 11/14/20

$600

/nt

11/15/20 - 11/19/20

$520

/nt

11/20/20 - 11/21/20

$600

/nt

11/22/20 - 11/24/20

$520

/nt

11/25/20 - 11/25/20

$553

/nt

11/26/20 - 11/26/20

$553

/nt

11/27/20 - 11/29/20

$650

/nt

11/30/20 - 12/03/20

$553

/nt

12/04/20 - 12/06/20

$650

/nt

12/07/20 - 12/10/20

$553

/nt

12/11/20 - 12/13/20

$650

/nt

12/14/20 - 12/17/20

$553

/nt

12/18/20 - 12/19/20

$975

/nt

12/20/20 - 12/23/20

$1,024

/nt

12/24/20 - 12/24/20

$1,024

/nt

12/25/20 - 12/25/20

$1,024

/nt

12/26/20 - 12/26/20

$1,260

/nt

12/27/20 - 01/02/21

$1,260

/nt

01/03/21 - 01/03/21

$650

/nt

01/04/21 - 01/07/21

$553

/nt

01/08/21 - 01/10/21

$650

/nt

01/11/21 - 01/13/21

$553

/nt

01/14/21 - 01/14/21

$635

/nt

01/15/21 - 01/17/21

$748

/nt

01/18/21 - 01/18/21

$635

/nt

01/19/21 - 01/21/21

$553

/nt

01/22/21 - 01/24/21

$650

/nt

01/25/21 - 01/28/21

$553

/nt

01/29/21 - 01/31/21

$650

/nt

02/01/21 - 02/04/21

$553

/nt

02/05/21 - 02/07/21

$650

/nt

02/08/21 - 02/11/21

$553

/nt

02/12/21 - 02/14/21

$998

/nt

02/15/21 - 02/15/21

$950

/nt

02/16/21 - 02/18/21

$770

/nt

02/19/21 - 02/19/21

$950

/nt

02/20/21 - 02/21/21

$650

/nt

02/22/21 - 02/25/21

$553

/nt

02/26/21 - 02/28/21

$650

/nt

03/01/21 - 03/04/21

$553

/nt

03/05/21 - 03/07/21

$650

/nt

03/08/21 - 03/11/21

$553

/nt

03/12/21 - 03/14/21

$650

/nt

03/15/21 - 03/18/21

$553

/nt

03/19/21 - 03/21/21

$650

/nt

03/22/21 - 03/25/21

$553

/nt

03/26/21 - 03/28/21

$650

/nt

03/29/21 - 03/31/21

$553

/nt

04/01/21 - 04/01/21

$520

/nt

04/02/21 - 04/03/21

$600

/nt

04/04/21 - 04/08/21

$520

/nt

04/09/21 - 04/10/21

$600

/nt

04/11/21 - 04/15/21

$520

/nt

04/16/21 - 04/17/21

$600

/nt

04/18/21 - 04/22/21

$520

/nt

04/23/21 - 04/24/21

$600

/nt

04/25/21 - 04/29/21

$520

/nt

04/30/21 - 05/01/21

$600

/nt

05/02/21 - 05/06/21

$520

/nt

05/07/21 - 05/08/21

$600

/nt

05/09/21 - 05/13/21

$520

/nt

05/14/21 - 05/15/21

$600

/nt

05/16/21 - 05/20/21

$520

/nt

05/21/21 - 05/22/21

$600

/nt

05/23/21 - 05/27/21

$520

/nt

05/28/21 - 05/29/21

$600

/nt

05/30/21 - 05/31/21

$520

/nt