Floor Plan
https://my.matterport.com/show/?m=xqxkRZitNHU
Primary Bedroom

Bedroom 2

Bedroom 3 Twin over Twin bunk, and additional Twin bed
Wonderful getaway
Reviewed on 2022-02-04 by
Joseph
Updated on 2022-02-04
Our family had a great time at Camp Telemark. The house was perfect for our family of four. Everything was as advertised and all the updates to the home made for a very comfortable stay. We would love to come back.
Beautiful home!
Reviewed on 2022-01-06 by
Jennifer
Updated on 2022-01-06
This home was absolutely beautiful! Rustic yet modern and lots of updates give it a really fresh clean and cozy feel. There were even extra dog bowls and a dog bed and toys for our little pup! Driveway is flat which is really ideal given the amount of snow that we had! No complaints at all and will definitely be looking to rent this house again in the future :-)
Review - Camp Telemark
Reviewed on 2021-11-26 by
Gabriel
Updated on 2021-11-26
very nice place with great hot tub and comfortable bed definitely recommend this place and working with the rental agency was great, they were very responsive and helpful
Many memories were made in this kid friendly home
Reviewed on 2021-06-19 by
Philomena
Updated on 2021-06-19
The most amazing thing about this home was that we felt we were guests in a friend's home ( we weren't). We wanted for nothing!! We had my 2 year old granddaughter with us and, after removing some potentially breakable objects, we really didn't have to worry too much about her breaking anything. We spent lots of time on the deck which was so spacious. The owners took great care to ensure everything was secure. Only reason I didn't give 5 stars was because 30 minutes prior to our arrival I received a call saying the oven/stove wasn't working so they placed some electric coil burners & a countertop oven that took a very long time to cook anything. The amenities that were available (pool, private beach) were wonderful. The process for making reservations which were required for the pool, was a bit tedious but worth it. Not sure why they need everyone's birthdate… seemed odd. You are either over 7 ( need to pay) or under 7 and don't. Also we found out after the 2nd day we paid for amenity access that the fee you pay per person is good for entrance to any of the amenities for that day. Unfortunately they didn't tell us that the first day we paid for pool reservations, we could have gone to the beach later that day on the same fee. Al that being said, we would happily go back to camp Telemark for another memorable family vacation.
Manager Response:
Thank you for your kind review and providing us with your feedback. While we try to email all of our guests with information in regards to the HOA amenities in advance, we are also available daily from 9:00-6:00 to answer any questions during our guests time in house. Future guests should note, we found the oven non-operational during our inspection of the property on the day Philomena arrived. While we did try to fix this during her stay, there were no appliance vendors available in such short notice. Rest assured, it has since been repaired.
[2]
Location
Camp Telemark at Tahoe Donner
Condo type
Summer 5 NT Camp Telemark at Tahoe Donner
Custom
Private Hot Tub
Community Hot Tub
Pet Friendly
Outdoor Furniture (Seasonal)
Access to Private Beach
Access to Fitness Center
Access to Swimming Pool
Access to Tennis Courts
Gas Grill
Wireless Internet
Cable Television
Wood Fireplace
Washer
Dryer
Full Kitchen
Coffee Maker
Driveway Parking for 2
Garage Parking for 2
Limited Mobility Accessible
King Bed
NO A/C
Suitability
Children Welcome
Pets Considered
Smoking Not Allowed
Accessibility Ask
Minimum Age Limit 25
Free Parking
Fireplace
Decked area
Central heating
Suitable for elderly
Hot Water
Private Living Room
Lock On Bedroom Door
Single Level Home
Entertainment
Television
Games
Satellite or Cable Service
Laptop Friendly
Pool/Spa
Swimming Pool
Hot Tub
Jacuzzi
Jacuzzi/hot tub
Outdoor pool shared
Heated Outdoor Pool Shared
Attractions
Marina
Museums
Health Beauty Spa
Local Features
ATM Bank
Babysitting
Fitness Center
Groceries
Hospital
Laundromat
Massage Therapist
Medical Services
Themes
Family
Romantic
Away From It All
Adventure
Sports Activities
Location Types
Downtown
Lake
Mountain
Resort
River
Rural
Town
Village
Rural/countryside retreats
Beach or lakeside relaxation
Lake Access
More…
Don't wait -
10
people are currently interested in reserving this property!
Quiet Cabin w/ Gorgeous Décor! Hot Tub- Fireplace- Pet Friendly- Amenities

Primary Bedroom (King)
Bedroom 2 (Queen)
Bedroom 3 (Twin Single)
Private Hot Tub
Community Hot Tub
Pet Friendly
Outdoor Furniture (Seasonal)
Access to Private Beach
Access to Fitness Center
Access to Swimming Pool
Access to Tennis Courts
Gas Grill
Wireless Internet
Cable Television
Wood Fireplace
Washer
Dryer
Full Kitchen
Coffee Maker
Driveway Parking for 2
Garage Parking for 2
Limited Mobility Accessible
King Bed
NO A/C
Available Specials
12285 Telemark Place
96161
Truckee
,
CA
United States
39° 21' 23.5476" N, 120° 12' 48.1788" W
[11]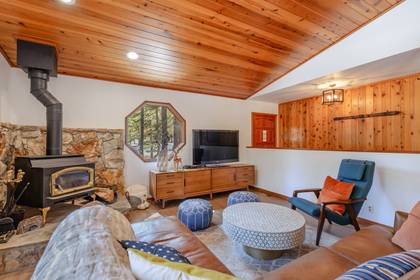 [12]
[13]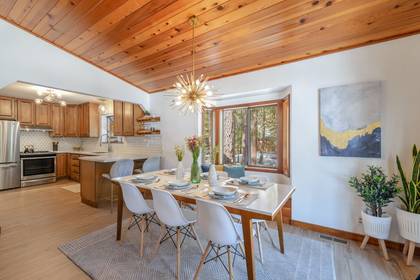 [14]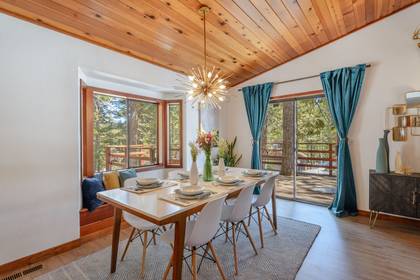 [15]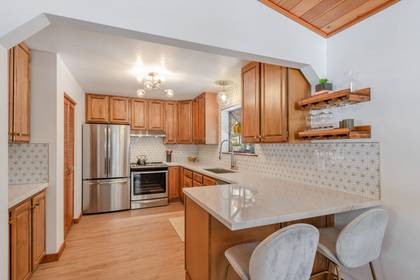 [16]
[17]
[18]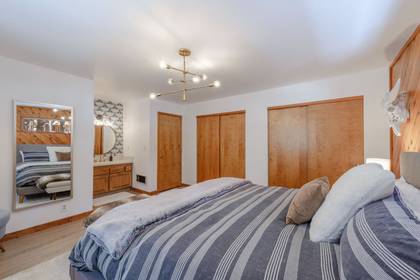 [19]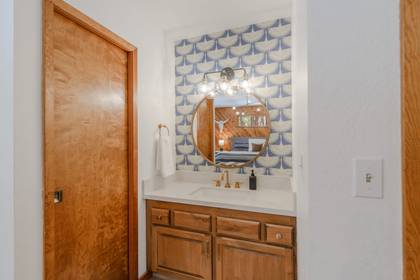 [20]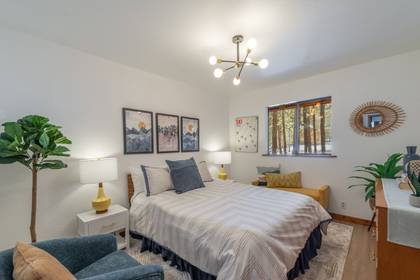 [21]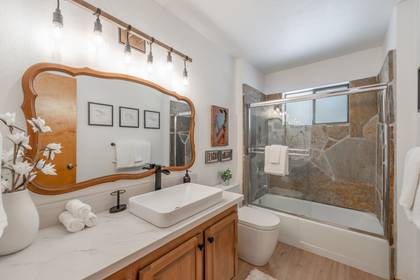 [22]
[23]
[24]
[25]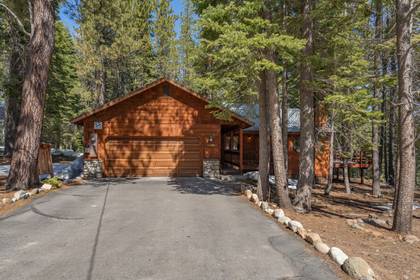 [26]
[27]
[28]
[29]
[30]
[31]
[32]
[33]
[34]
[35]
[36]
[37]
3 Bedrooms
2 Baths
Access to Fitness Center
Access to Swimming Pool
King Bed
Pet Friendly
Private Hot Tub
Community Hot Tub
No matter the season, Camp Telemark is the perfect place to get away from the big city and enjoy the comfort of cabin living!
We don't believe you have to forego style and updates when looking for your perfect mountainside cabin, and this adorable 3 bedroom demonstrates just that. The main living space is furnished with modern touches that bring out and accentuate the home's original design. Pops of color, custom wallpaper, updated applicances, and stylish lighting fixtures are sprinkled through the home. 
The master bedroom boasts a King bed, and an updated ensuite bathroom whose vanity opens into the sleeping quarters. The second bedroom, equipped with a Queen bed, as well as a kids bunk room which can sleep three, provides space for the whole family. These two share a bathroom just adjacent. 
The spacious deck with hot tub is sure to be enjoyed as well. In the summertime, BBQ and relax on the patio and listen to the sound of the Chickadee's song in the trees above over the oversized lot with room to roam. Camp Telemark boasts close proximity to hiking and biking trials as well as easy access to Alder Creek Road for egress/ingress in the winter (plus a pancake flat driveway).
Let's face it, the decision is easy- this one is for you!
SILVER LEVEL PROPERTY
• Approx. 1,520 Sq. Ft
• Hot Tub
• Wood Stove
• Corner Lot on a Quiet Street 
• One Story Ranchette
•  Limited Mobility Accessible
• Well traveled dog welcome (firm 1 dog maximum)- Fee applies
ABOUT THE AREA
Tahoe Donner is one of America's largest homeowner's associations, with nearly 6,500 properties and 25,000 members enjoying over 7,000 acres in the Sierra Nevada mountains. In the winter, enjoy on site access to cross country and downhill skiing, and a snow play area which is a favorite among our younger visitors. In the summer, take advantage of the championship golf course and clubhouse or bring the family to one of the private swimming pool complexes. You'll also have access to a private beach club at Donner Lake, where you can avoid the crowds and spend a day paddle boarding, kayaking or sunbathing on provided chaise lounges.
Dining options within the community include The Lodge Restaurant and Pub, winner of the 2015 Open Table Diners' Choice Award, and Pizza on the Hill, a casual spot perfect for the whole family.
Compared to other North Shore Tahoe locations, staying in Tahoe Donner cuts the drive from the bay area down by close to 45 minutes, so you'll be enjoying the first cocktail of your vacation while others are still stuck in traffic. Tahoe Donner is minutes away from Historic Downtown Truckee, about 12 miles from Northstar California and 16 miles from Palisades Tahoe (formally known as Squaw Valley/Alpine Meadows).
Included with your rental are two guest cards providing access to the amenities available in Tahoe Donner. Each guest card allows access for up to four guests over the age of 6. Daily fee for rental guest per person per day. Children under 7 are free. All images of Tahoe Donner amenities are provided courtesy of Tahoe Donner.
TAHOE DONNER AMENITIES INCLUDE:
• Rec center with work-out facility
• Swimming Pools and hot tub
• Fitness classes
• Downhill ski area (great for kids!)
• Cross country ski area
• Equestrian center
• Tennis center
• 18-hole golf and driving range
• Hiking, and so much more!
POLICIES AND DISCLOSURES: 
1. Maximum daytime and nighttime occupancy is 7 adults.
2. Parking for 4 vehicles. Street parking is prohibited year-round.
3. 4WD vehicles advised during the winter months.
4. Due to Extreme Fire Danger – The use of ANY outdoor firepit or fireplace is strictly prohibited at any of our rental properties. We appreciate your understanding and cooperation as we work to keep our community safe from wildfires. 
Town of Truckee Certificate STR21-01354
 
Amenities
Internet
Wood Stove
Heating
Washer
Dryer
Parking
Garage
Living Room
Hair Dryer
Ironing Board
Linens Provided
Towels Provided
Iron
Shampoo
Carbon Monoxide Detector
First Aid Kit
Fire Extinguisher
Hangers
Smoke Detector
Internet Access
Cable/satellite TV
Parking space
Parking space Accessible
TV
Linens provided
Towels provided
Gym
Private Entrance
Self Check-In
Lock Box Lock Box
Deadbolt Lock
Outdoor Lighting
Bed Linens
Extra Pillows And Blankets
Conditioner
Dates
Price
11/27/2022 - 11/27/2022

$293

/nt

11/28/2022 - 12/01/2022

$309

/nt

12/02/2022 - 12/03/2022

$350

/nt

12/04/2022 - 12/07/2022

$309

/nt

12/08/2022 - 12/08/2022

$300

/nt

12/09/2022 - 12/10/2022

$350

/nt

12/11/2022 - 12/11/2022

$300

/nt

12/12/2022 - 12/14/2022

$309

/nt

12/15/2022 - 12/18/2022

$466

/nt

12/19/2022 - 12/20/2022

$389

/nt

12/21/2022 - 12/22/2022

$585

/nt

12/23/2022 - 12/25/2022

$700

/nt

12/26/2022 - 01/03/2023

$800

/nt

01/04/2023 - 01/04/2023

$389

/nt

01/05/2023 - 01/05/2023

$466

/nt

01/06/2023 - 01/07/2023

$648

/nt

01/08/2023 - 01/08/2023

$490

/nt

01/09/2023 - 01/11/2023

$408

/nt

01/12/2023 - 01/12/2023

$490

/nt

01/13/2023 - 01/15/2023

$741

/nt

01/16/2023 - 01/18/2023

$408

/nt

01/19/2023 - 01/22/2023

$490

/nt

01/23/2023 - 01/25/2023

$408

/nt

01/26/2023 - 01/29/2023

$490

/nt

01/30/2023 - 01/31/2023

$408

/nt

02/01/2023 - 02/01/2023

$389

/nt

02/02/2023 - 02/05/2023

$466

/nt

02/06/2023 - 02/08/2023

$389

/nt

02/09/2023 - 02/12/2023

$466

/nt

02/13/2023 - 02/15/2023

$389

/nt

02/16/2023 - 02/16/2023

$466

/nt

02/17/2023 - 02/19/2023

$769

/nt

02/20/2023 - 02/20/2023

$709

/nt

02/21/2023 - 02/21/2023

$584

/nt

02/22/2023 - 02/23/2023

$671

/nt

02/24/2023 - 02/25/2023

$846

/nt

02/26/2023 - 02/26/2023

$590

/nt

02/27/2023 - 02/27/2023

$447

/nt

02/28/2023 - 03/01/2023

$389

/nt

03/02/2023 - 03/05/2023

$466

/nt

03/06/2023 - 03/08/2023

$389

/nt

03/09/2023 - 03/12/2023

$466

/nt

03/13/2023 - 03/15/2023

$389

/nt

03/16/2023 - 03/19/2023

$466

/nt

03/20/2023 - 03/22/2023

$389

/nt

03/23/2023 - 03/25/2023

$466

/nt

03/26/2023 - 03/30/2023

$309

/nt

03/31/2023 - 04/01/2023

$350

/nt

04/02/2023 - 04/06/2023

$309

/nt

04/07/2023 - 04/08/2023

$350

/nt

04/09/2023 - 04/13/2023

$309

/nt

04/14/2023 - 04/15/2023

$350

/nt

04/16/2023 - 04/20/2023

$309

/nt

04/21/2023 - 04/22/2023

$350

/nt

04/23/2023 - 04/27/2023

$309

/nt

04/28/2023 - 04/29/2023

$350

/nt

04/30/2023 - 05/04/2023

$309

/nt

05/05/2023 - 05/06/2023

$350

/nt

05/07/2023 - 05/11/2023

$309

/nt

05/12/2023 - 05/13/2023

$350

/nt

05/14/2023 - 05/18/2023

$309

/nt

05/19/2023 - 05/20/2023

$350

/nt

05/21/2023 - 05/25/2023

$309

/nt

05/26/2023 - 05/28/2023

$420

/nt

05/29/2023 - 06/01/2023

$360

/nt

06/02/2023 - 06/04/2023

$420

/nt

06/05/2023 - 06/08/2023

$360

/nt

06/09/2023 - 06/11/2023

$420

/nt

06/12/2023 - 06/15/2023

$360

/nt

06/16/2023 - 06/18/2023

$420

/nt

06/19/2023 - 06/20/2023

$360

/nt

06/21/2023 - 06/21/2023

$407

/nt

06/22/2023 - 06/25/2023

$473

/nt

06/26/2023 - 06/27/2023

$407

/nt

06/28/2023 - 06/28/2023

$448

/nt

06/29/2023 - 07/05/2023

$605

/nt

07/06/2023 - 07/07/2023

$550

/nt

07/08/2023 - 07/09/2023

$473

/nt

07/10/2023 - 07/12/2023

$407

/nt

07/13/2023 - 07/13/2023

$473

/nt

07/14/2023 - 07/16/2023

$544

/nt

07/17/2023 - 07/19/2023

$468

/nt

07/20/2023 - 07/23/2023

$544

/nt

07/24/2023 - 07/26/2023

$468

/nt

07/27/2023 - 07/30/2023

$544

/nt

07/31/2023 - 07/31/2023

$468

/nt

08/01/2023 - 08/02/2023

$407

/nt

08/03/2023 - 08/06/2023

$473

/nt

08/07/2023 - 08/09/2023

$407

/nt

08/10/2023 - 08/13/2023

$473

/nt

08/14/2023 - 08/16/2023

$407

/nt

08/17/2023 - 08/19/2023

$473

/nt

08/20/2023 - 08/20/2023

$420

/nt

08/21/2023 - 08/24/2023

$360

/nt

08/25/2023 - 08/27/2023

$420

/nt

08/28/2023 - 08/30/2023

$360

/nt

08/31/2023 - 08/31/2023

$414

/nt

09/01/2023 - 09/03/2023

$483

/nt

09/04/2023 - 09/04/2023

$360

/nt

09/05/2023 - 09/07/2023

$309

/nt

09/08/2023 - 09/09/2023

$350

/nt

09/10/2023 - 09/14/2023

$309

/nt

09/15/2023 - 09/16/2023

$350

/nt

09/17/2023 - 09/21/2023

$309

/nt

09/22/2023 - 09/23/2023

$350

/nt

09/24/2023 - 09/28/2023

$309

/nt

09/29/2023 - 09/30/2023

$350

/nt

10/01/2023 - 10/05/2023

$309

/nt

10/06/2023 - 10/07/2023

$350

/nt

10/08/2023 - 10/12/2023

$309

/nt

10/13/2023 - 10/14/2023

$350

/nt

10/15/2023 - 10/19/2023

$309

/nt

10/20/2023 - 10/21/2023

$350

/nt

10/22/2023 - 10/26/2023

$309

/nt

10/27/2023 - 10/28/2023

$350

/nt

10/29/2023 - 11/02/2023

$309

/nt

11/03/2023 - 11/04/2023

$350

/nt

11/05/2023 - 11/09/2023

$309

/nt

11/10/2023 - 11/11/2023

$350

/nt

11/12/2023 - 11/16/2023

$309

/nt

11/17/2023 - 11/18/2023

$350

/nt

11/21/2023 - 11/25/2023

$536

/nt