Master Bedroom w/ ensuite (Main Floor)

Jr Master Bedroom w/ ensuite (Upstairs)

Bedroom 3 (Upstairs)

Bedroom 4 (Upstairs)

Bedroom 5 Two Full -over-Full Bunk Beds (Upstairs)
[2]
Location
Big Chief Lodge at Martis Camp
Condo type
Monthly Lease Only Big Chief Lodge at Martis Camp
Location Area
Martis - Lahontan - Schafffer's Mill
Property Features
Ski Lease Rate $50,000/MO - AVAILABLE FOR 2022-2023 SEASON
Custom
Private Hot Tub
Game Room/Media Room
Outdoor Furniture (Seasonal)
Monthly Rental
Ski Lease
Pool Table
Access to Tennis Courts
Gas Grill
Wireless Internet
Cable Television
Gas Fireplace
Washer
Dryer
Dishwasher
Full Kitchen
Coffee Maker
Driveway Parking for 3
Garage Parking for 2
No Pets
King Bed
Remote Workspace
Summer Lease
Suitability
Children Welcome
Pets Not Allowed
Smoking Not Allowed
Accessibility Ask
Minimum Age Limit 25
Free Parking
Fireplace
Decked area
Central heating
Hot Water
Private Living Room
Lock On Bedroom Door
Entertainment
Television
Stereo
Pool Table
Satellite or Cable Service
Laptop Friendly
Game room
Pool/Spa
Hot Tub
Jacuzzi
Jacuzzi/hot tub
Attractions
Marina
Museums
Health Beauty Spa
Local Features
ATM Bank
Babysitting
Fitness Center
Groceries
Hospital
Laundromat
Massage Therapist
Medical Services
More…
Don't wait -
20
people are currently interested in reserving this property!
Covered Outdoor Kitchen and Living Space- Hot Tub- Pool Table- Private Tennis Court

Master Bedroom (King)
Jr Master Bedroom (King)
Bedroom 3 (King)
Bedroom 4 (King)
Bedroom 5 (Double)
Private Hot Tub
Game Room/Media Room
Outdoor Furniture (Seasonal)
Monthly Rental
Ski Lease
Pool Table
Access to Tennis Courts
Gas Grill
Wireless Internet
Cable Television
Gas Fireplace
Washer
Dryer
Dishwasher
Full Kitchen
Coffee Maker
Driveway Parking for 3
Garage Parking for 2
No Pets
King Bed
Remote Workspace
Summer Lease
Available Specials
8590 Kilbarchan
96161
Truckee
,
CA
United States
39° 17' 19.0464" N, 120° 10' 19.29" W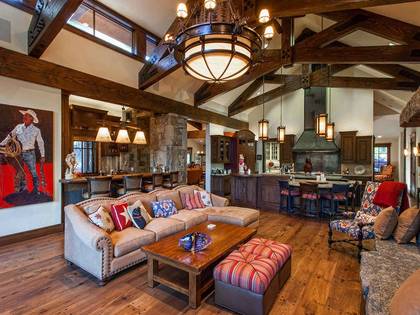 [6]
[7]
[8]
[9]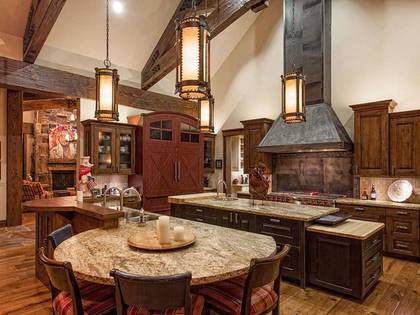 [10]
[11]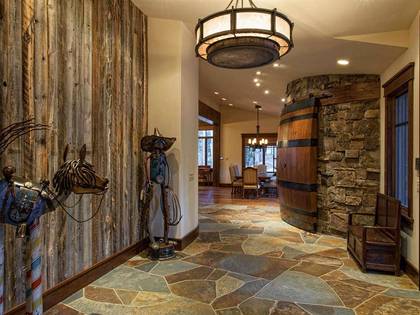 [12]
[13]
[14]
[15]
[16]
[17]
[18]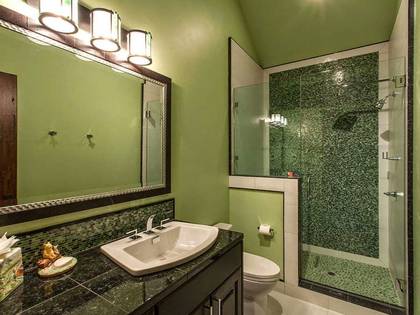 [19]
[20]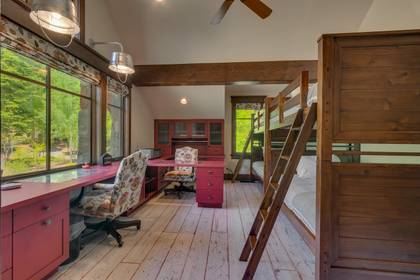 [21]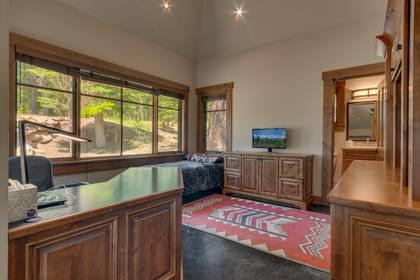 [22]
[23]
[24]
[25]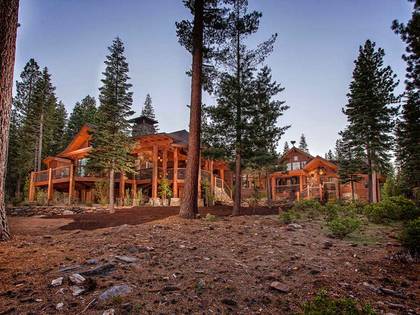 [26]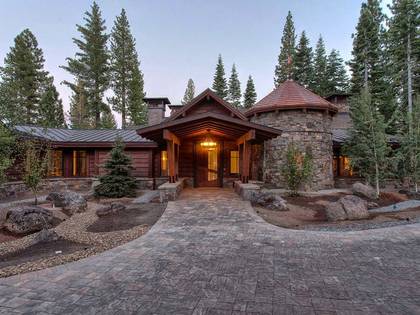 [27]
[28]
[29]
5 Bedrooms
4.5 Baths
King Bed
Remote Workspace
Ski Lease
Summer Lease
Monthly Rental
Luxury
MONTHLY RENTAL  AVAILABLE 
"Game, Set, Relax!" at this one-of-a-kind four bedroom, complete with it's own private tennis court, thoughtful outdoor spaces, and a gorgeous, high-end kitchen. This luxury Martis Camp estate offers the perfect balance of amenities that speak to both your adventurous spirit, and those that promote the relaxation you seek from an extended mountain vacation.
Drenched in comfort and rustic elegance, you really can't beat the offerings here. On the main floor, you'll find two great rooms, a deluxe dining area, full pub-style bar, and chef's kitchen, as well as an indoor jacuzzi. Plus, a plush California King in the main level bedroom rounds out that floor with an ensuite bathroom, and private deck of it's own.  On the second floor you'll find the 4 additional bedrooms (three of these with King beds as well) and a media room with a flat-screen TV. 
Off the back of the house lies a spacious covered deck with plenty of comfortable seating, an outdoor kitchen, beverage fridge, outdoor fireplace and even a flat screen TV.  In the summertime, you'll find a fully equipped regulation size tennis court within property lines, and a secondary structure across from the garage offers a pool table, office space, and another full bathroom. Whether inside or out, this home is sure to impress.
PLEASE NOTE: If desired (and available), you even have the option to lease the neighboring 2 BR home as one massive 3.5 acre compound. See it's listing here, and inquire about availability and an inclusive rate for the entire compound. 
31 DAY MINIMUM AT ALL TIMES
**All leases are individually negotiated and are subject to owner approval, thus the date picker will only show estimated pricing**
• 9,814 square ft
• Private Tennis Court
• Outdoor Kitchen, Fireplace and TV
• Indoor Hot Tub
• Pool Table
• Work Space
• Indoor Pub Style Bar
ABOUT THE AREA
Located midway between historic Truckee, California and North Lake Tahoe, Martis Camp is a 2,177-acre private, luxury community, which Barron's ranked as Tahoe's Best Place to Own a Second Home. The forests, meadows and creeks of this private Tahoe luxury community comfortably embrace its custom homes, estates and cabins.
POLICIES & DISCLOSURES:
1. THIS HOME IS NOT AVAILABLE FOR SHORT TERM RENTAL. A 31+ NIGHT STAY IS REQUIRED AT ALL TIMES. Online Booking Unavailable - Lease Agreement must be fully executed between Landlord and Tenant. Date Picker will provide pricing ESTIMATE
2. While not mandatory to be a Martis Camp member to rent this property, access to all Martis Camp community amenities/services is restricted to members only. If you are not a Martis Camp member, please contact us to discuss suitability of this property.
3. The wine cellar will be locked and is not available to tenants.
Amenities
Internet
Fireplace
Heating
Washer
Dryer
Parking
Garage
Living Room
Game Room
Hair Dryer
Ironing Board
Linens Provided
Towels Provided
Iron
Carbon Monoxide Detector
First Aid Kit
Fire Extinguisher
Hangers
Smoke Detector
Internet Access
Cable/satellite TV
Parking space Accessible
Parking space
TV
Linens provided
Towels provided
Private Entrance
Self Check-In
Lock Box Lock Box
Deadbolt Lock
Bed Linens
Dates
Price
11/27/2022 - 12/17/2022

$1,750

/nt

12/18/2022 - 12/24/2022

$2,500

/nt

12/25/2022 - 01/02/2023

$3,900

/nt

01/03/2023 - 01/04/2023

$3,500

/nt

01/05/2023 - 02/13/2023

$1,750

/nt

02/14/2023 - 02/16/2023

$2,000

/nt

02/17/2023 - 02/25/2023

$3,000

/nt

02/26/2023 - 03/05/2023

$2,540

/nt

03/06/2023 - 03/31/2023

$1,750

/nt

04/01/2023 - 05/31/2023

$1,660

/nt

06/01/2023 - 06/22/2023

$2,000

/nt

06/23/2023 - 06/27/2023

$2,866

/nt

06/28/2023 - 07/05/2023

$3,153

/nt

07/06/2023 - 07/31/2023

$2,866

/nt

08/01/2023 - 08/15/2023

$2,540

/nt

08/16/2023 - 09/30/2023

$2,000

/nt

10/01/2023 - 11/20/2023

$1,660

/nt

11/21/2023 - 12/02/2023

$1,750

/nt